Cool folks, new skills, rad trails and a sweet bike in Fruita, CO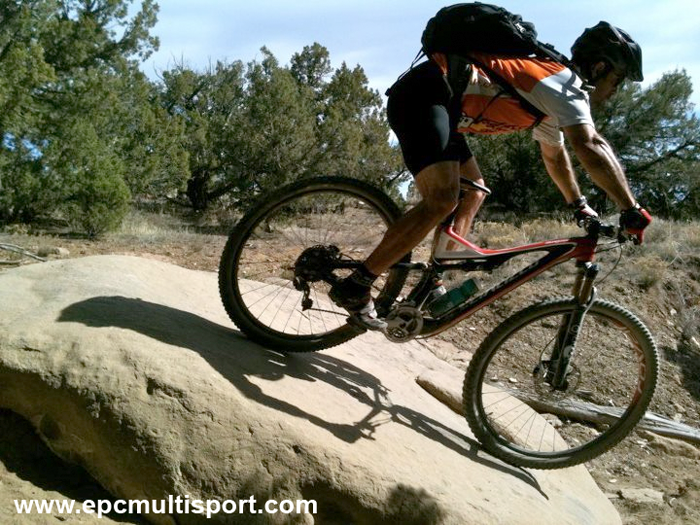 Last weekend I taught a skills clinic with EPC Multisport in Fruita, and it was rad.
A quick hit featuring: EPC Multisport, Fruita Bike Park, 18 Road trails, Kokopelli trails and the incredible Stumpy 29 S-EVO
---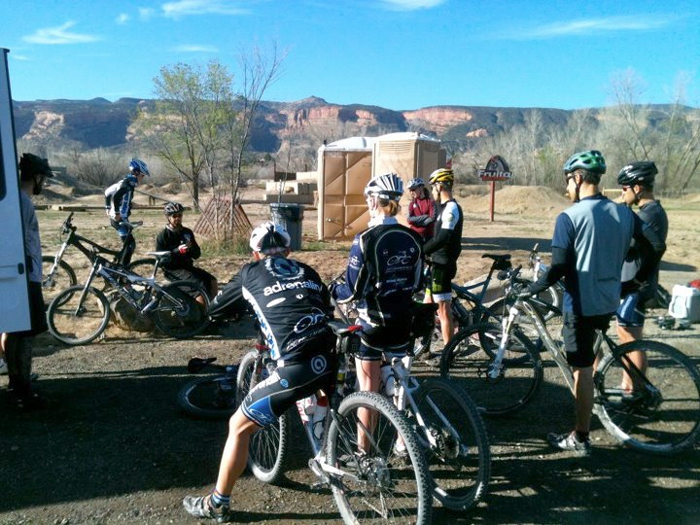 Greeting the EPC Multisport crew at Fruita Bike Park.
Fruita Bike Park
It's on the north side of the freeway, between the mobile home park and the river.
• It's big, with a pump track, jump lines and various rock/wood features.
• It does not look like it's been maintained. The dirt looks to be free and rocky. Cheap dirt now, expensive maintenance later.
The neighborhood kids were loving it — and it was perfect for learning core skills before we hit the trails.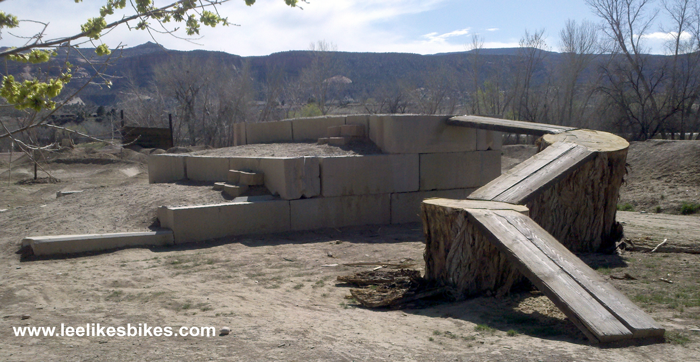 Really cool idea, but I'd like to see more of a progression on the ledges. Maybe some dirt wore away?
18 Road trails
The north side of the valley is smooth and flowy.
Prime Cut is the main climb. It's curvy, interesting and not steep. The triathletes and I sessioned a few dips to see how far we could pump uphill without pedaling. When you're pinning an Exterra off road tri, efficiency is a good thing.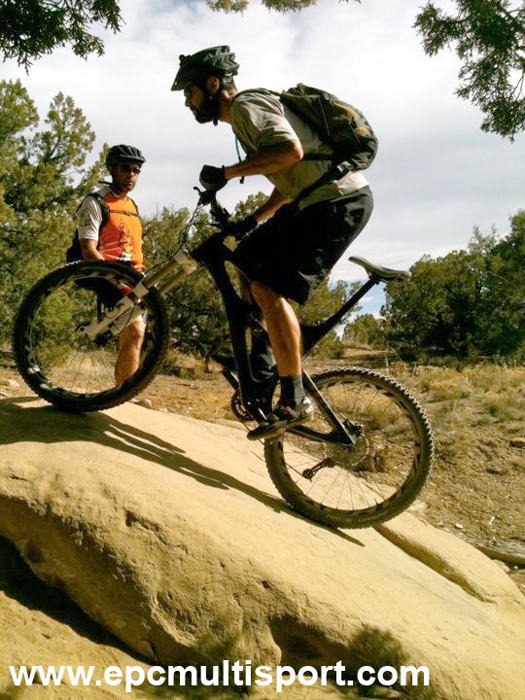 Matt rocks the tech climbing fu on Prime Cut.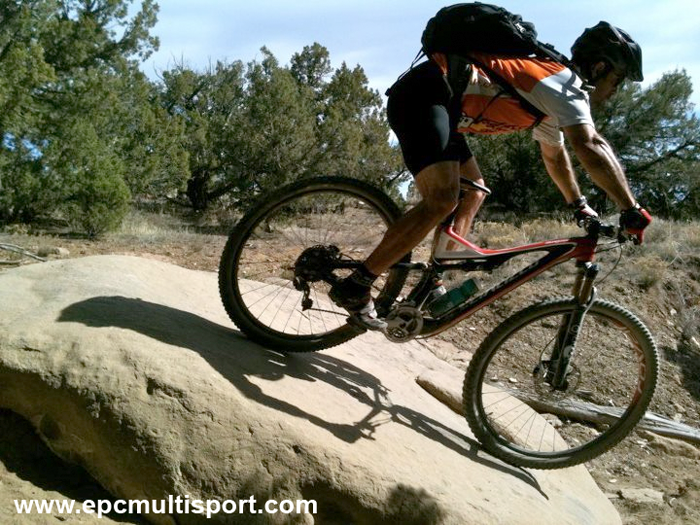 Down the same rock.
Joe's Ridge treats you to curvy scrub slalom and top-of-the-world ridge runs. I think this trail was on the cover of Bike magazine every issue for 10 years.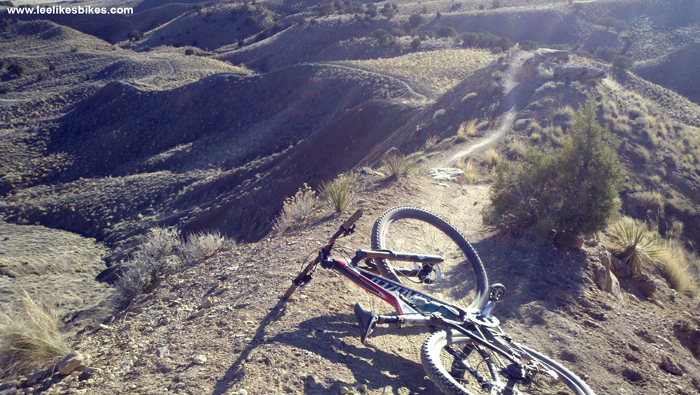 Mandatory tourist moment on Joe's Ridge.
Zipity Do Da is like Joe's Ridge for grownups. Big, exposed ridge lines. Steep chutes up and down: 1,000 watts to the top, 1,000 mph to the bottom.
Kessel Run is the king of flow. If you ride one trail in Fruita, this is the one. You can climb Prime Cut or buzz up the mellow dirt road. No matter what kind of a rider you are, you will be stoked on the mellow grade, mostly banked turns and Space Mountain sinuousness. This weekend the trail had everyone from families on Striders to nerds on carbon 29ers going for Strava records.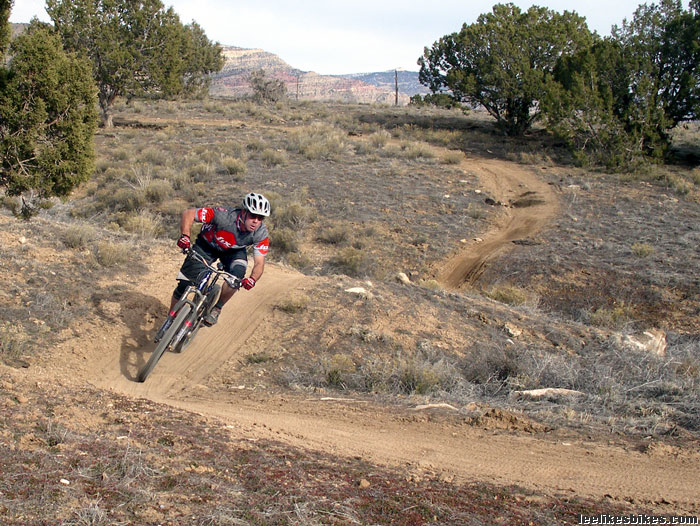 Flowing Kessel Run in 2007.
Kokopelli trails

Topping out on More Fun.
The south side of the valley is rocky and gnarly.
If you bring a non-riding friend to Fruita, stick to 18 Road. If you're a better/stronger rider looking for some Moab-esque gnar and river views, Kokopelli is your area.
Rustlers Loop is mellow and repeatable. If you're unsure, start here.
Horsethief Loop and Mary's Loop mix up the high speed turns, steep ledges and moderately coarse flow. Bring the kung fu. Road fitness alone won't do you much good.
Mack's Ridge is technical and rad.
More Fun (often called Less Fun) is the real deal. Steeper, coarser and radder.
From the 2005 archive: Fruita ride: Mary's Loop to More Fun

Doctor Jim Norman rips lower More Fun.
Stumpjumper FSR 29 Carbon S-EVO
I'm starting to get used to my Stumpjumper FSR 29 Expert Carbon with my special "S-EVO" build (S-Works level parts with EVO geometry and braaap).

A sign of effective suspension.
CLIMBING WHATEVER
Awesome. Lots of traction, nice roll. Good combo of stiffness and plushness. The 60mm stem at negative 10 degrees feels really good with the Shimano/PRO/Atherton low-rise DH bars.
SMOOTH TRAILS
On a trail like Kessel Run, where you're going fast and the turns get very tight, the bike starts to feel big and slow. The traction is there in a big way, but the lateral transitions feel draggy, and the pump isn't giving the love you expect. But, as Strava proves, you're not going slow. You're going pretty darn fast. I ran a #3, and I know I could find the seconds to be #1 on this bike.
ROCKY TRAILS
Oh man, awesome both up and down. The pump is definitely muted, but it's not as important as on the 26es. I was carrying such easy speed over the Mary's Loop rocks; I can't think of a better bike for that situation.
OVERALL
What a neat bike. A 26er would have delivered more pump and might have been more lively/fun on the smooth stuff, but the 29 S-EVO worked great overall.
Riding with EPC Multisport
What a cool group of people. Most are into XTERRA off-road triathlons. I think difficult sports weed out the jerks.
Those people climb faster than I do. I might have an edge in the technical stuff (for now), but give these monsters a chance to put power to dirt, and it's on. They were not pinning it, but they were definitely pushing my pace. Perfect a few weeks before Sea Otter.
Everyone said their minds were blown, and they already feel smoother and faster. It'll be awesome to see what these powerhouses do with their new skills.
Check out: EPC Multisport
Braaap!
Lee
---
Know more. Have more fun!
Join the leelikesbikes mailing list:
---
https://www.leelikesbikes.com/wp-content/uploads/2018/08/leelikesbikeslogoheader.jpg
0
0
leelikesbikes
https://www.leelikesbikes.com/wp-content/uploads/2018/08/leelikesbikeslogoheader.jpg
leelikesbikes
2012-04-02 13:46:27
2012-04-03 07:45:59
Cool folks, new skills, rad trails and a sweet bike in Fruita, CO