Your first Sea Otter: What to expect?
Hi Lee, my daughter and I are planning a road trip to Monterey for the Sea Otter Classic. She will be racing the cat 3 women downhill. This will be her first downhill race and our first Sea Otter Classic. She has been training with her bigger sister at Valmont and Golden BP. She is very excited but this is a 21 hrs road trip, the vibe, mob and who knows? As a racer / spectator how do you plan and prepare for event like this Lee?
Thank you.
Bill
---
Hey Bill,
You guys are stoked!
I am also planning a little road trip to Monterey for the Sea Otter Classic. I'm building the pro pump track, and I hope to race slalom and downhill.
Sea Otter is always an adventure. Some thoughts:
Living
• Get your lodging squared away! Camping at the venue is ideal, because you're living in the vibe, and you don't have that traffic jam into and out of the venue each day. I'll be camping in the paddock near the pro pump track.
• Bring clothes for any weather. It might be hot and dusty, cold and rainy or one then the other (then the other).
• Be over prepared. That's one benefit of driving rather than flying. Bring spare parts, truing stand, ARC welder, everything. Make sure the bikes are completely dialed BEFORE you load them for the drive.
• The crowds can be huge. Give yourself extra time to go everywhere and do everything.
• The days get very long. Be awesomely careful about drinking and eating. Carry snacks. Enjoy the food in the expo area. Don't worry: You will not gain weight at that place. Sunscreen.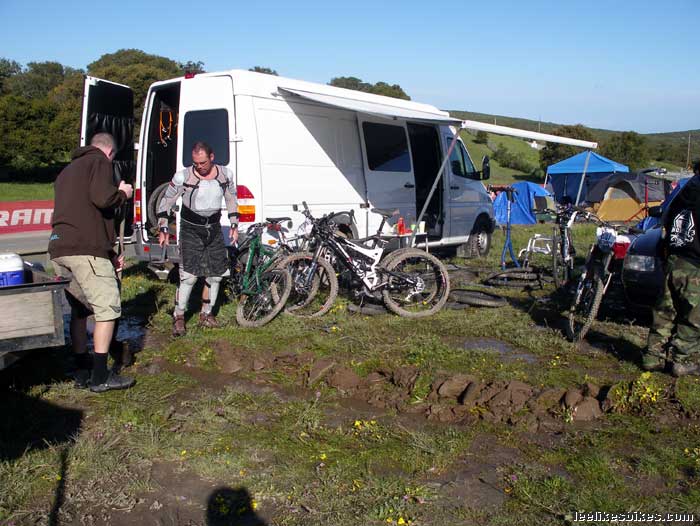 Sea Otter waterworks. A water main blew up, and Jon Watt and I were digging trenches with Specialized floor pumps.
Vibing
• You won't believe the sheer number of stoked bike people. We're all over the country (the world!), and a whole lot of us converge at the Otter. This is one of the few sports where you can interact with the superstars. Ask Brian Lopes how many dips he can do (at our last Feats of Strength he did 30, I did 31 and Bobbi Watt crushed us both with an easy 32).
• You're there for the race, but your experience has to be more than those two minutes. Watch the pro dual slalom and pump track. Cheer me on in Cat 1 slalom. Mess around on the public pump track and jumps. Check out the expo area. If you can, ride the XC course. It's really fun.
• I tend to tire myself out before my races, which isn't the smartest strategy, but I'm not driving to NorCal so I can rest.
• Bonus: If you can, you MUST do an XC ride in Santa Cruz. Check out the Soquel Demonstration forest. Awesome. The after-Otter trail ride is usually the highlight of my trip.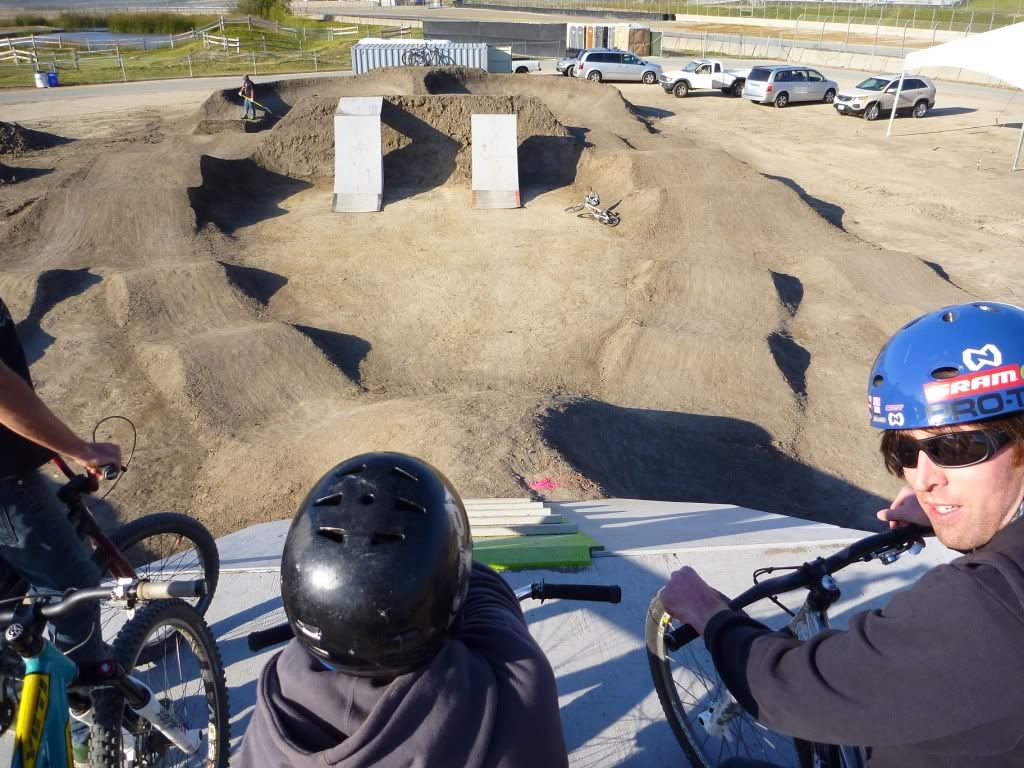 Last year's pro pump track event was quite the spectacle. We're planning a faster track for this year.
Spectating
• The venue is huge, and you will be walking a lot. Bring the right shoes and a backpack to carry clothes/drinks/food/camera.
• It will be fun to walk the DH course during pro and Cat 1 practice. Do this with your daughter and study the course as you go. The better she knows the course, the higher quality practice she'll get.

Pro slalom is mandatory. Eric Carter gets it done in '04.
Racing
• The Sea Otter downhill is not hard to ride, but it's hard to ride fast. Focus on the core skills of cornering, pumping, jumping and pedaling. If your daughter doesn't want to jump, that's OK. Just tell her to pump and pedal her brains out. All of the scary features have go-arounds.
• Whatever bike your daughter has been riding is perfect for the Sea Otter DH. While a lot of people ride full-on DH bikes, the sled isn't necessary to have fun or rip a fast time.
• Here is my Cat 3 winning strategy: Stay smooth through the jumps and turns at the top of the course. Make no mistakes. Save lots of energy until you cross the pavement. The last minute is dead flat. Spend everything you have! You should cross the line just as your body refuses to pedal again. Hmm, that's also my Cat 1 winning strategy. 🙂
• Of course, that approach requires some fitness. Assuming a solid base is already in place, have your daughter pin some two-minute all-out efforts. Twice a week this week and next. They will suck! But winning Otter — and rocking that winner's jersey — feels awfully good.
• Enjoy the fact you're at Otter, but when you hear the sixth beep, treat it like just another ride.
Have fun. Say hi!
Lee
---
Know more. Have more fun!
Join the leelikesbikes mailing list:
---
https://www.leelikesbikes.com/wp-content/uploads/2018/08/leelikesbikeslogoheader.jpg
0
0
leelikesbikes
https://www.leelikesbikes.com/wp-content/uploads/2018/08/leelikesbikeslogoheader.jpg
leelikesbikes
2012-04-03 08:47:03
2012-04-03 08:51:42
Your first Sea Otter: What to expect?