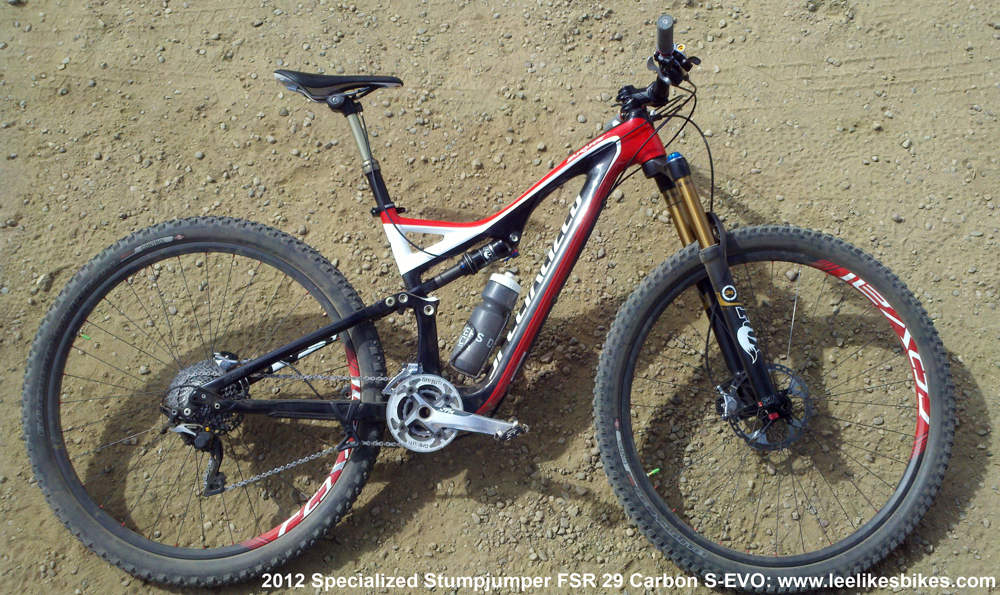 Hi Lee,
I purchased the book that you and Brian Lopes worked on together and it has helped me out tremendously. My question to you is 29 vs 26 and which one do you see yourself riding in the future? A little bit about my background. I used to race expert DH back in the late 90's, So I tend to like the more aggresive trails. I now ride mostly All mountain here in So-cal where the terrain is a lot like what you are riding in the Boulder area, long Dry steep climbs, with just the same on the descents. I was wondering what your opinions on 29ers are for this kind of riding? I Just read your article on the stumpy Evo and I must say you got my wheels turning. I know Lopes hates 29ers but do you think they have a place in the All mountain world? I'm debating between a Ibis Mojo SLR or a Niner Rip9 So I was just wanting your thoughts.
Thanks
Justin
---
Hey Justin,
Thanks for writing.
When I wrote MMBSii a few years ago (while my wife was pregnant with my twin girls; good times), I said 29ers seemed like a cool idea for certain types of riding (dirt roadies!), but they weren't for me. Brian Lopes was adamantly against them. Since then, the bikes have improved and I've opened my mind. Brian not so much. But he's the world champion.
Based on what I'm seeing in the market and what I'm experiencing on my new bike, I think yes, absolutely, 29ers have a place in the all mountain world.
Until recently the reasons 29ers would only be ridden by dirt roadies went something like:
• You can't get burly tires.
• The geometry sucks. Typically they were very steep, with long rear ends.
• 29ers don't have enough suspension travel. 80-100mm seemed to be the max (although a modern 100mm 29er is pretty bad ass).
• The wheels are too heavy and flexy.
• Only dirt roadies ride 29ers. Let's not underestimate the weight of the "cool" factor.
All of those issues are being resolved by the market. Today's long-travel 29ers (currently maxing in the 130- to 140-mm range) have quality parts, rippable geometry, plenty of suspension and are not terribly heavy. Oh, and rippers are ripping them.
Kona

House of the Big Wheel Part 1: Honzo and Satori from Kona Bikes on Vimeo.
Santa Cruz

Transition

Bandit Two9 Product Video from Transition Bikes on Vimeo.
And let's not forget the Stumpjumper 29 EVO and the Santa Cruz Tallboy LT.
As I'm finding, the combination of bigger wheels and less suspension creates a bike that rolls as well as (or better than?) a 160mm 26er yet climbs rough trails way easier (at least for this rider).
My Stumpy 29 S-EVO is pretty amazing up all kinds of hills, in tight situations and on some pretty major gnar. The only times I miss the longer travel Enduro are when I drop hard or hit really big things really fast. Those things rarely happen; the rest of the time I'm loving the 29er (I still don't know what this bike can do).
If you're not a stick-in-the-mud multi-time world champion, I think long-travel 29ers are definitely worth a try. A 130mm 29er definitely feels different than a 160mm 26er. You might like the difference, you might not.
If all goes well, I will run timed tests at the Sea Otter downhill later this month. Stumpy 29 S-EVO vs. Enduro 26 DH. That should be fun.
All bikes are rad.
Lee
PS: Soon we'll be riding 29ers with 160mm. Just you wait.
Check out the Lenz Sport PBJ.
---
Know more. Have more fun!
Join the leelikesbikes mailing list:
---
https://www.leelikesbikes.com/wp-content/uploads/2018/08/leelikesbikeslogoheader.jpg
0
0
leelikesbikes
https://www.leelikesbikes.com/wp-content/uploads/2018/08/leelikesbikeslogoheader.jpg
leelikesbikes
2012-04-05 06:59:27
2012-04-05 07:02:17
29er for all mountain?