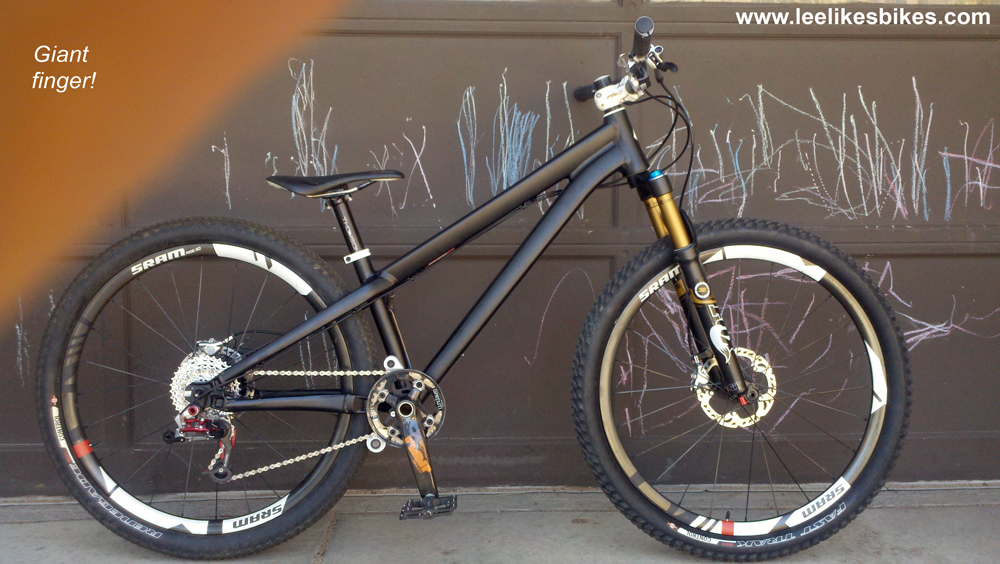 It's been a big year for sweet new bikes. First the Stumpjumper FSR 29 Carbon S-EVO and now a new p.bike, dubbed for now the p.pump.
We rode today. Check it out:
---
Mission
Go back to a dedicated pump/jump bike. Captain America has been a great all-around bike, but, as much pump track as I ride, I want to try ripping a bike that's dialed for that situation.
Captain America works well for a lot of things, but he is a compromise. Benefits of a pump-specific bike:
• Slacker head angle. I'm running 66es and 68s on the trail bikes. The Captain's 70 works but it doesn't feel as rail-able.
• Short chainstays. The Captain and even the 29 S-EVO can be manualled (and they are often), but shorter stays adds easy power to that operation. Also, I think the more rear-biased weight distribution increases pump when pushing through the feet.
• Stiffer. Again, The Captain can be railed. But the rear wheel does hit the chainstays in crazy corners like the ones in my yard. The bike has flex, which is great to a certain level of braaap. Above that, the bike feels sketchy.
• Lower. I don't think this is a major issue, but the seat is lower on a DJ bike than on an XC bike.
• Throwing down at the Sea Otter pro pump track event. If not in the final race, then while we're burning in the track.
The seat tube is too short to run a full post (does anyone know of a 500mm dropper post?). The Captain remains my daily driver/clinic bike.
Notable parts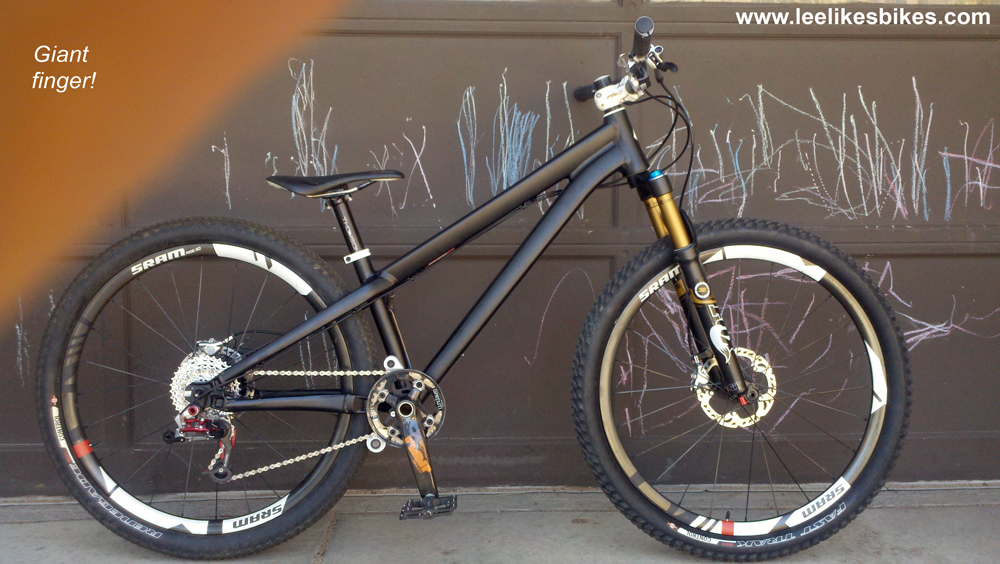 The p.pump concept bike.
• Specialized P3 frame. One of the classic DJ frames. Dialed geometry. Super stiff. Unbreakable. Not super heavy.
• Fox 831 fork. The class leader in pump and jump. Stiff and light, with valving that wants to be braaaped.
• SRAM Rise 60 wheels. Yep, I'm that balding guy with a totally sick bike and no style. These $2,000 carbon trail wheels made my Stumpy 26 feel like a new machine. Now that I've gone 29, the p.pump is a great place to enjoy their lightness, stiffness and absorbency.
• Shimano XTR Race brakes. OMG, these are mellow but powerful brakes. Just like the mind-blowing XTR Trail brakes on the Stumpy 29 S-EVO, but without the Servo-Wave levers.
• Shimano PRO Atherton 50mm stem with the Truvativ Boobar riser bars I won at last year's Sea Otter DS. Good fit and worry-free burl.
• Specialized Fast Trak 2.2 front tire and Renegade 2.1 rear tire. Ultimate fastness and hard-pack OKness in the back, a little extra bite in front. Control casings for both.
• Drivetrain is top-level SRAM 9 speed that I've been hanging onto.
• Fyxation Mesa MP pedals. Cheap, plastic and working fine so far. When it's time to Race (capital R) I'll probably clip in.
Pro build by Steve Shelp at The Fix Bike Shop.
Total weight: Less than 24 pounds.
Riding the bike
Huge surprise:
The best fork + one of the best frames + insane wheels + top level components = a nice-riding bike.
Duh!
More precisely:
Today I took a dirt jump class with the legendary Yellow from Yellow Designs. Yes, I was the student, and it was rad to learn new things. Trying to live in that sweet spot where ability meets challenge.
• OMG this bike is quick. Light and stiff generally leads to quick. Especially when most of the lightness is in the wheels.
• Manualing is easy and powerful! Holy cow man, snap!
• Pumping feels connected, precise and like, well, BRAAAP!
• We all know Specialized P.3s can jump. I had more fun jumping today than ever. Most of that credit goes to Yellow, but the bike is definitely not sucking.
• The dual slalom course was a whole other experience. I've been riding the Captain and the Stumpy 29 S-EVO, and I get down that track OK. But dude: Today was crazy. As an indication of speed, I was consistently jumping the step-up on the third straight, which has never happened. The rest of the track felt solid and fast (as opposed to sketchy, which can be confused with fast). We'll have to rock the lap timer.
Lots of "testing" to do. I'll get a lot of laps at Sea Otter.
Stay tuned.
Lee
---
Know more. Have more fun!
Join the leelikesbikes mailing list:
---
https://www.leelikesbikes.com/wp-content/uploads/2018/08/leelikesbikeslogoheader.jpg
0
0
leelikesbikes
https://www.leelikesbikes.com/wp-content/uploads/2018/08/leelikesbikeslogoheader.jpg
leelikesbikes
2012-04-06 15:30:36
2012-04-06 16:45:55
Day one on the p.pump