A year on Captain America

Captain America — my experimental Stumpjumper HT EVO 26 — has been fighting crime for almost a year. Here's the long-term report:
---
Goals for The Captain
Go back to basics with a do-all bike that will rock road, trail, pump, jump, BMX, clinics, baby trailer and whatever else comes up. I don't have time to ride a bunch of bikes, so I figure I'll be better on a bike I can ride often. Requirements:
• Straight seat tube so I can get full seatpost adjustment. The ability to go from full pedaling height to very low is mandatory.
• Decent geometry.
• Decently light and quick-feeling.
• Mounts for a water bottle cage. Hey man, that's nice to have.
• Patriotic colors.
The sum of his parts
• 2011 Stumpjumper HT 26 frame. Because Specialized did not offer this high-end hardtail in 26 in the U.S., The Captain had to come from Europe. The frame weighs about three pounds; way less than your typical DJ frame.
• Fox 831 fork. This 100mm-travel, 32mm-stanchions fork is optimized for pump, jump, DS and 4X. The burly chassis comes from the longer-travel 32s. Valving is firm for extra pump and support, and it's set up to handle ultra-high air pressure. Also, the spring rate is very progressive to support heaving loading and big hits. If I rode The Captain on trails, I'd prefer a softer, more linear, trail-focused fork. I can't think of anything better than the 831 for pump/jump.
• Sun Charger Pro wheels. Once I got the rear spokes tight enough to stop creaking when I sprinted, they were flawless. Light enough, stiff enough, etc.
• Gamut P20 with 33t Race Ring. Flawless.
• 50mm Answer DJ stem. The right dimensions, and it holds the Answer ProTAPER 780 DH bar onto the bike.
• Hayes Stroker brakes with 6″ rotors work great on this bike.
• Pedals swap between Answer Rove FR (very good pedals and a great value at $70) and Point One Racing Podium (super sexy, effective and $180).
• X-Fusion Hilo 100 adjustable seatpost. Mine worked fine until it exploded a few months ago. Right now I'm running a shorty post on my pump track. I will likely go for a 5″ Command Post.
• Tires. I spent most of the year on my fave 2.3 Eskar Controls. Right now I'm running a 2.3 Renegade XC race tire on the back, and it feels very fast, very good on my pump track. I plan to run a Renegade in front too.
The resulting bike is longer, steeper and taller than a typical DJ bike. Compared with an XC bike, his cockpit is shorter and the suspension is way stiffer. The Captain weighs about 25 pounds, which is light for a pumper/jumper.
Riding The Captain
Overall: This has been a great experiment. I often ride from home to Valmont Bike Park, run an XC-focused clinic, drop the seat, rip some pump/jump, ride errands then ride back home. The Captain is perfect for this. While a dedicated DJ or trail bike will be more ideally suited to those purposes, The Captain works pretty darn well everywhere.
VIDEO PREMIERE! I am not happy with my speaking parts in this video (Awkward! Stiff! Not how I act in a clinic, I swear!), but it shows The Captain handling a range of Valmont terrain:
Pump track: A dedicated DJ bike like the p.bikes definitely feels better for dedicated pump — especially on a tight/tricky track — but The Captain works well enough for a world title:
And, since I ride The Captain all the time, I'm familiar with him, and he's my go-to pump machine.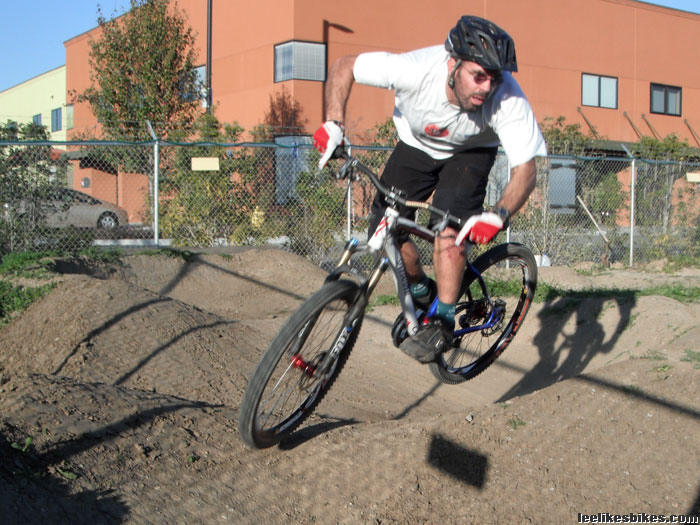 Whipping between turns at the Fox Racing Shox pump track.
Dirt jumping: Awesome for me. The Captain is light and responsive, and he flies fine. I don't throw crazy tricks, so the long wheelbase and high top tube are non issues. Plus I get to raise the seat and pedal back to the start.
BMX: Based on my work with the book Pro BMX Skills, I know a fair amount about BMX ttechnique, but I seldom have time to actually ride or race BMX. At last year's indoor BMX race, The Captain mixed it up just fine in both the cruiser and MTB classes. For me, this comes down to familiarity. If I ride The Captain daily, I'm going to race him more confidently than the 20″ or 24″ BMX I rarely ride.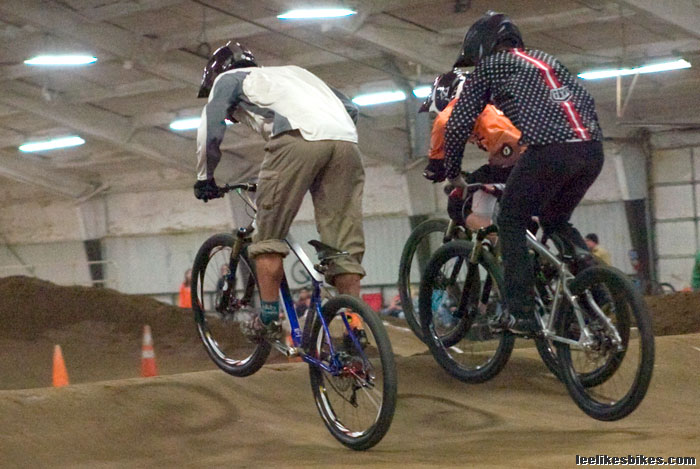 Over the first jump and in the mix!
Natural terrain: On smoother trails and big, pump-able rocks, The Captain is ultra quick and fun (see Valmont video above). On chattery trails, he beats me to death. Blame the rigid frame, high tire pressure, stiff fork and bad shoulders. I ride trail so rarely, I'd prefer to enjoy it on a suspended trail bike.
Here I am riding The Captain on a moderately choppy section in Santa Cruz. I hold on just fine, but you can see I don't trust the corner.
Teaching: Ideal. With an adjustable seatpost I can switch from XC to DJ mode in a second. There's no better way to master or teach skills than on a stiff 26 hardtail with flat pedals. (OK, a 20 is better.)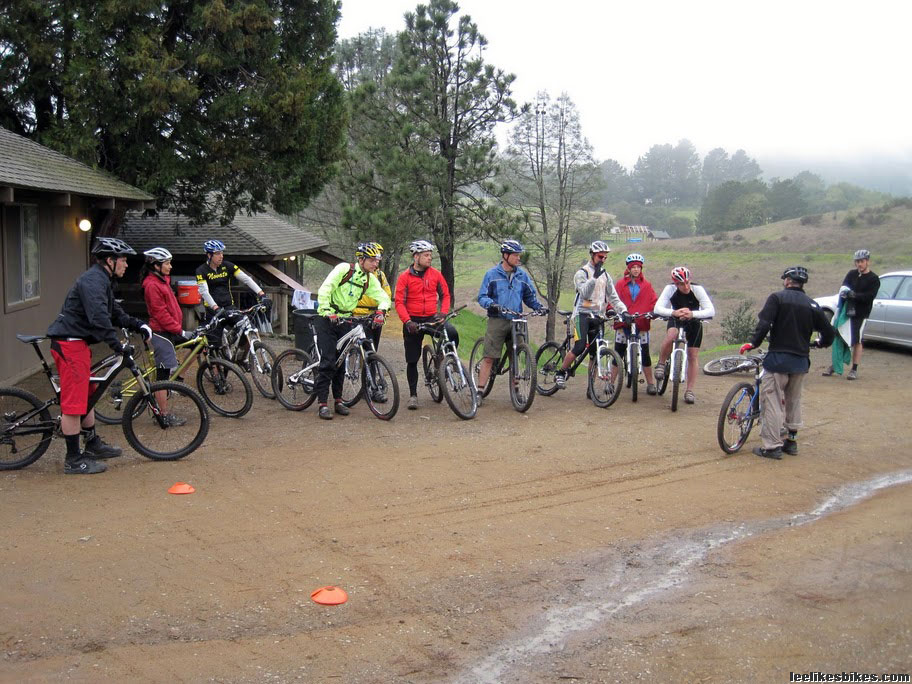 Coaching high school coaches in NorCal. When I teach with The Captain, there are no excuses for suspension or clip-in pedals. Note Curtis Keene on the left: he's an awesome co-coach.
Silly: At Valmont Bike Park I like to do non-stop laps of the slalom course and slopestyle and dirt jumps. Lower the seat and rip it, raise the seat and pedal to the start, repeat. The Captain is the perfect tool for this job.
Other people: People who are dialed on their DJ bikes do not like how The Captain rides. People who are more trail focused love him. BMXers who aren't familiar with any kind of mountain bike love him.
Limiting factors
Not the bike, that's for sure. While pump-specific geometry feels better on a serious pump track, The Captain is not holding me back in any real way.
At first I was worried about the "steep" head angle and "long" chainstays, but the bike corners and manuals just fine. Again, it's the rider. Brian Lopes' Ibis Tranny is almost identical, and he gets by.
The only comment would be flex. I expected The Captain to be flexy, and I actually wanted a bike that would give a bit to store energy and conform to the trail (I love the way a friend's titanium DJ bike feels). Overall I think The Captain feels very solid: stiff and responsive, yet with a nice, usable twang. However, in crazy turns like the ones on my pump track, the rear tire rubs the chainstays. This is with a big Specialized 2.3 tire, in a situation the bike is clearly not designed for. Unless you are cornering very hard, a Stumpy HT will be plenty stiff enough for you.
Do not do this: Part way through the summer, The Captain developed a very bad creak. I cleaned and lubed the bottom bracket and headset, and the creak continued. In the saddle, out of the saddle, pulling on the bars or not; I worried about a crack in the frame. When the seatpost spewed oil all over the frame, the creak stopped. I suppose I should clean and inspect the frame, but I'm not hearing a problem, so it's OK right?
But seriously: I have ridden The Captain beyond his intended use. I'll update this post with the inspection results.
Bottom line

The Captain at home on my backyard pump track. This section feels like trail.
If you want a fun do-all hardtail, you can be well served with an XC-focused bike like the Stumpjumper HT. If you worry about durability, you can go for something a bit burlier. Smaller companies like On-One make some sweet hardtails that split the difference between a full-on XC bike and a full-on DJ bike.
• If you're focused on pumping, jumping and mastering/teaching fundamental skills, rock a 26.
• If trail riding is your priority, go for a 29. Also consider a softer, more trail-oriented fork.
• For serious pump track events like Sea Otter and my back yard, I am going to try going back to a p.bike. While the p will be theoretically better, it'll be interesting to see whether I race it. Familiarity — and the resulting confidence — are important. I mean, the 20″ BMX is clearly fastest on a good track, but you won't see me racing it; I don't ride it enough.
For general day-to-day riding and teaching, I see myself riding The Captain or his successor. I'd love to try the new carbon Stumpy HT 26. Even lighter and stiffer would be sweet.
Versatile braaap!
Lee
---
Know more. Have more fun!
Join the leelikesbikes mailing list:
---
https://www.leelikesbikes.com/wp-content/uploads/2018/08/leelikesbikeslogoheader.jpg
0
0
leelikesbikes
https://www.leelikesbikes.com/wp-content/uploads/2018/08/leelikesbikeslogoheader.jpg
leelikesbikes
2011-12-21 13:38:28
2011-12-21 20:52:39
A year on Captain America