Week one: Stumpjumper FSR 29 Carbon S-EVO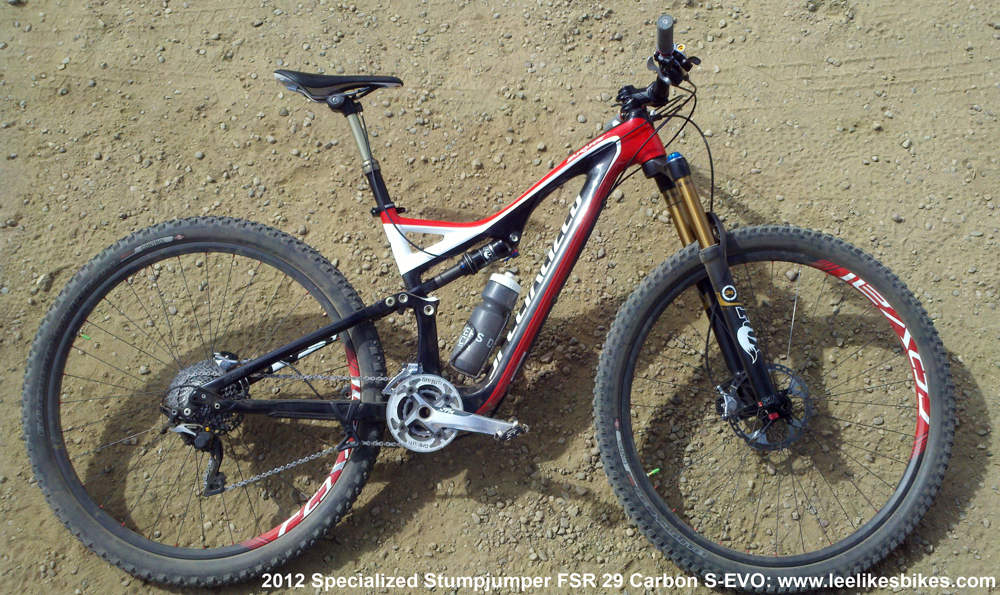 The Specialized Stumpjumper FSR 29 Carbon is finally built, rolling and changing some of my MTB ideas.
Early impressions:

---
Mission
Switch to a 29er trail bike. I've run the tests, I've done the math and I've obsessed enough to believe big wheels make sense on trail.
Create a bike that's Stumpy light, even tighter than a Stumpy and crosses into the rollability of an Enduro. Yes, that's right. Bigger wheels and less travel makes (I think) a bike that's quicker AND smoother.
Parts is parts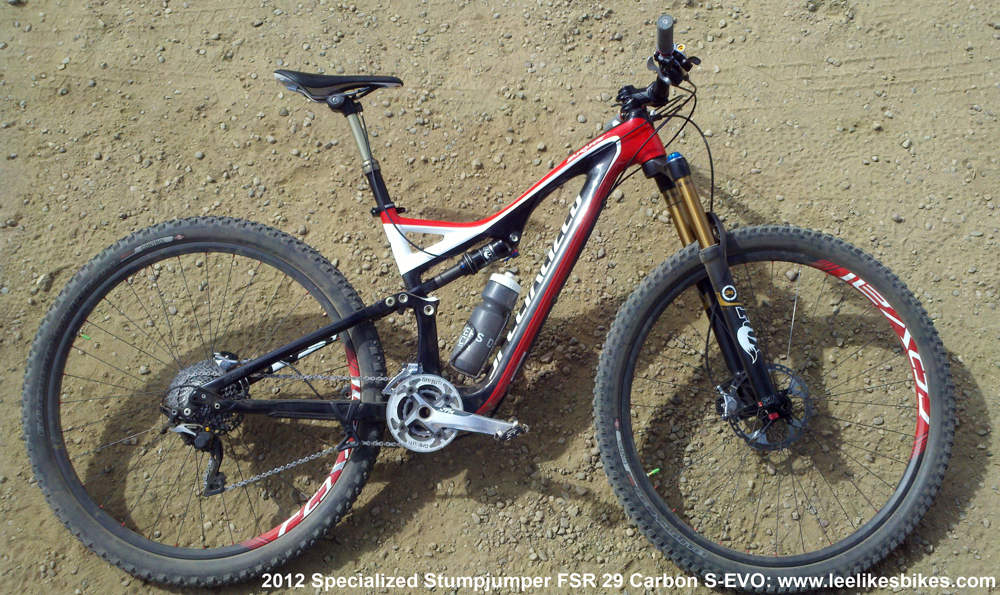 My dirt jump bike has a water bottle cage.
• Specialized Stumpjumper FSR 29 Expert Carbon frame.
• FOX FLOAT RP23 Adaptive Logic Boost Valve shock with 130 mm of rear wheel travel. I love the ability to dial in the firmness of the ProPedal "off" mode. I've been running the middle setting, which gives me something to pump against.
• FOX 34 FLOAT 29 140 FIT RLC fork set to 140 mm.
• Shimano XT/XTR drivetrain featuring the XTR Shadow Plus derailleur with its anti-chain-slap clutch. Oh yeah, and these beautiful cranks.
• Shimano XTR Trail brakes. Awesome. Hint: After you drag them down a long hill to burn them in, do not touch the rotors. They say Ice Tech, but they are not icy. As Shimano marketing manager Joe Lawwill told me: "Ice Tech is meant to keep your brakes cool, not your iced tea cold."
• Gamut P20 dual ring guide and bash guard. Right now I'm testing the stock Specialized Dangler chain guide, but I expect to go to the Gamut.
• Roval Control Trail SL 29 carbon wheels. Ridiculous. Light and stiff. Awesome feel when snap-pumping little turns.
• Pre-production Specialized Butcher 2.3 x 29 front tire. Control casing, tubeless at 33 psi. Available later this year. This tire is working great, but I gotta keep it fresh for Sea Otter.
• Specialized Ground Control 2.3 x 29 rear tire. Control casing, tubeless at 35 psi. I run the same tires on the Stumpy 26. Apples to apples.
• Shimano PRO Atherton DH low-rise bars. The widest bars I've ever had on a bicycle, and we all know where this goes.
• Specialized Pro Set II 60 mm stem. For $40 you get a solid stem with a set of shims that provide 10 different rise settings. I started at negative 16 degrees to get the bars as low as possible, but that was too low; now I'm at negative 10 degrees. The 60-mm length splits the difference between my Stumpy 26's 70 mm and the Enduro's 50 mm. I plan to try the 50 mm 0 degree Shimano PRO stem.
• Old-edition Specialized Command Post. The newer version is on its way.
• Old Shimano XT clip-in pedals. Yep, I'm clipping in for a while.
• Pro build by The Fix Bike Shop in Boulder, CO.
Total weight
About 27.5 pounds
Geometry note
The 34/140mm fork is one inch taller than the stock 32/130mm fork. It slackens the head angle from 69 to about 68 degrees and raises the bottom bracket a bit less than half an inch. I can lower the BB and increase rear travel with an EVO conversion, but I want to ride this setup for a while. (Besides, a higher BB might not be a bad on our rocky trails.)
The resulting bike has S-Works parts and EVO geometry. S-EVO?
FOX 34 FLOAT 29 140 FIT RLC fork
It is noticeably stiffer than the 32mm forks I've been running on 29ers. This, mated with the carbon frame, carbon rims and burly components, makes for a secure, confidence-enhancing feel. I am nowhere near pushing this bike to its limit.
Note: The Epic, Camber and Stumpy 29ers I've ridden did not suck. This bike is just rolling at a higher level of tightness.
FOX FLOAT RP23 Adaptive Logic Boost Valve shock
It's been said before, but the Specialized RP23's AutoSag feature rules. Just put extra air in, sit on the bike and press the little button. Done.
I usually set sag in my attack position, but that yields a softer shock than when you set sag while sitting. Since I'm now a dirt roadie, I hate all the sag when pedaling in the saddle. So I set the AutoSag while sitting, and it's perfect.
Let's talk about Adaptive Logic: This sweet feature gives you four levels of ProPedal — 0, 1, 2 and 3 — accessible in two modes. The "up" mode is set to 3, maximum firmness. The "down" mode can be set to 0, 1 or 2. I love this because you can control how your bike feels when you are Riding (capital R).
Suspension settings
For general trail riding, I'm running 4 out of 8 clicks of low speed compression up front and ProPedal setting 1 in the back. This feels balanced and plush, but not wallowy.
For bike park pump/jump, I'm running the fork's low speed compression at 8/8 and the rear ProPedal at 2. This doesn't affect the overall ride of the bike, but it does add a touch of firmness for pump action.
For extended remix road climbs, I'm liking the fork on lockout (with a pretty soft blowoff) and the shock in the 3 position. This would also work well for non-rough dirt climbs.
Riding it (so far)
Dirt jumping
Big and balanced. I'll say jumping a 29er vs a 26er is like jumping a 24 vs. a 20. It's a more muted experience. Not as snappy, but it feels smoooooth.
You get less pump on the backs, but you get more leeway on the fronts. On Day 2 I rode the Valmont Bike Park large DJ line about a dozen times. Near the end I was getting comfy and lazy, and rather than jump on and off the step-on/step-off, I just kind of jumped up and skimmed across the top rollers. It felt like riding a moto in a whoop section. Pretty sweet.
Slalom
The Valmont slalom track is currently dusty and loose, loose, loose. Riding Captain America feels really sketchy. The Stumpy S-EVO felt bigger and softer, but — man — it sure hooked up in the turns.
When it did let go, the drift was slower and more muted than with the same 26-inch tires. The bike manualled big but fine. It jumped big and balanced. I love the feeling of landing on a backside then converting all that downforce into cornering traction.
Slalom update: I did another 10 laps yesterday after getting more time on the bike, and it felt awesome. I was getting all my manual/jump options and finding myself pedaling earlier in all the turns.
Going up stuff
This bike climbs like a monster. The tires are pretty quick for how grippy they are. The ProPedal does its job. The wheels stay high in the bumps. I've been pulling way more gear than normal (the clips probably help).
Last weekend I led a very strong group up a rocky climb. I would normally have no business at the front of a group like that. A couple days ago I set a PR up an hour-long climb.
Going around stuff
Cornering is tripping me out!
• I'm going faster, so I feel like I'm missing some of the turns (Could it be the higher bottom bracket? Naw.).
• These high-speed edging turns seem to require more lean than with 26, but:
• The bike hooks up so well I have to learn a whole new traction limit.
• This is the craziest part: I just love to do these little snap-pump-turns, where I load the tires while initiating a quick direction change. It's a combo of pumping and cornering. On this bike, the connection between my feet and the ground is insanely, uh, connected. Credit the carbon frame, burly fork, stiff crankset and carbon wheels. It's just like braaap! and the bike snaps around.
Whatever you've heard about 29ers sucking: This does not apply to this bike.
Going over stuff
So I love to corner. I'm all about turning the sine wave on its side and just working all the pockets on a trail.
At one point on Day 1, I realized I didn't have to make all these turns. It's like my brain re-calibrated itself based on the new thing attached to my feet, and my eyes looked even straighter ahead. I've ridden this trail 100 times, and I love the quick side-to-side transitions around some big rocks.
On the Stumpy 29 S-EVO I saw the rocks, said Whatever and just plowed through them. I didn't do some beautiful pump move; I just went loose and just freaking plowed through them. The fork and shock that had been so pump-worthy both opened up and swallowed them. It was pretty crazy. And I guess it's time to learn how to ride (again).
Mystery gnar
Near Boulder, CO are a bunch of old mining trails. These tend to be steep, loose, rocky and not at all designed for flow. Oh, and they are all accessed by huge climbs.
I ride these trails carefully — who knows what's coming? — so there isn't much momentum. It's usually really hard to maintain balance and flow over the absolute randomness of sand, gravel and rocks. Even with flat pedals, I feel sketchy and often take feet off.
On the 29 S-EVO it was a very different experience. Even at low speed, the bike is way more likely to roll over rocks than catch on them. I keep thinking I'll need to unclip, but I just keep rolling. In the steeper/gnalier sections, the bike feels good. I'm going to leave it at "good" because I usually ride an Enduro on this stuff. The 29 S-EVO instills the same confidence — but it climbs more easily and rolls way more easily through the chatter.
That was pretty much the idea with this bike. I'll keep you posted as I learn more.
Lee
Steep horrors
Update March 22, 6 p.m.:
I just rode an extremely steep, rocky, loose and ancient dirt road. This thing is straight up gnarly. So gnarly all I could do was find my feet, drag brakes most of the way, let off in the craziest sections then get back on the binders. It was all about geometry, brakes, stability and balance.
The geometry felt totally up to the task (this is compared with a 66.5-degree Enduro). The XTR Trail brakes were controllable, powerful and did not fade. The FOX 34 felt stiff and planted. The balance wasn't too bad either. 🙂
---
Know more. Have more fun!
Join the leelikesbikes mailing list:
---
https://www.leelikesbikes.com/wp-content/uploads/2018/08/leelikesbikeslogoheader.jpg
0
0
leelikesbikes
https://www.leelikesbikes.com/wp-content/uploads/2018/08/leelikesbikeslogoheader.jpg
leelikesbikes
2012-03-22 14:30:26
2012-03-22 20:33:46
Week one: Stumpjumper FSR 29 Carbon S-EVO