Stumpy 29 S-EVO: Mountain man gnar

If you're racing 40something Cat 1 DS and DH at Sea Otter, all 29ers — especially my Specialized Stumpjumper FSR 29 Carbon S-EVO — suck. They are big, hoopty admissions of terrible riding ability. Stay away.
The rest of you, keep reading …
---
Phone photos by Farid Tabaian, Singletrack Maps.
Quick background
I've switched to a 29er trail bike. So far it isn't terrible.
Check out Week one: Stumpjumper FSR 29 Carbon S-EVO
Today's adventure
Left Hand Canyon Off Highway Vehicle Area has the gnarliest (legal) trails around Boulder. The whole place is steep, loose, rocky and violent — and conditions are different every time.
I know everyone says their trails are gnarly, but I'm telling you: I've ridden a few trails in my life, and LHC rates very high on the overall mountain man gnar scale. Most people ride LHC on 4x4s, motos and DH bikes — what a great place to really test a carbon 29er trail bike.
Check out Paul Bunyan riding at Left Hand Canyon.
Climbing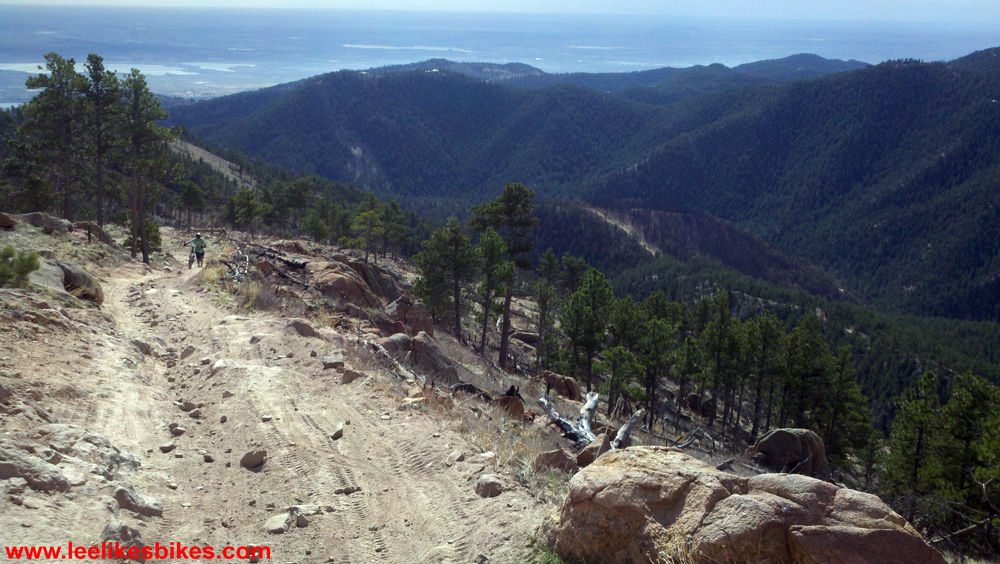 Farid, a strong man, does it the old fashioned way. Today I pedaled up this for the first time ever.
No matter what bicycle I am on, I hike almost the entire climb. It's just so steep, rocky and loose that it's easier (and faster) to get off and push. As a matter of fact, I've never seen anyone ride the entire climb feet-up. Not Jon Watt, not Von Borst, nobody. It's that tough.
Well, today I rode most of it. I just settled in (with clips), pedaled smoothly and cleared sections I've never been able to ride. My fitness is decent, but the bike got tons of traction and just rolled over things more easily. Today the limiting factors were power and confidence, not traction or momentum. The difference was staggering.

A little bobble, but stoked to be pedaling here!
Hiking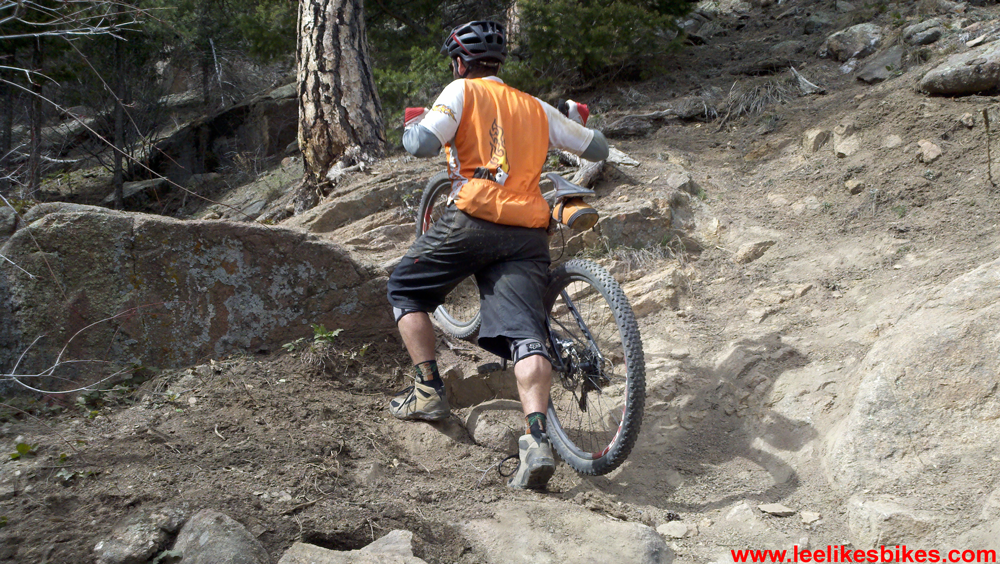 Negative rise stem aids hiking.
I swear I'm not some 29er zealot, but I've pushed a lot of bikes up a lot of hills, and the 29er is easier.
Why?
Angle of incidence.
Every time you hit a rock, there's less of a bonk and more of a roll.
When your DH bike weighs less than 28 pounds, that helps too.
Descending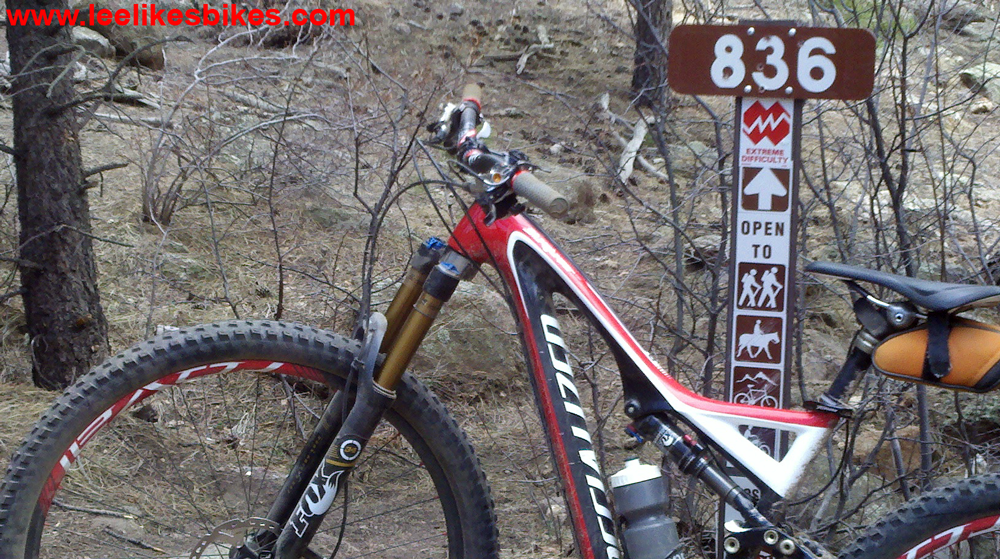 Not double black: Double red.
By now we all know 29ers plow through (or is it over?) small-to-medium chatter.
But what about big bumps and drops on a severely steep, deep, narrow and exposed trail?
The North Red Trail (aka Trail 836) is so steep, loose, rocky, ledgy and non-flowy that it's not double black: It's double red. Yeah, they have a double red. On this trail I highly value the Enduro's 66.5-degree head angle and stiff FOX 36 fork.
How would the Stumpy 29's 68-degree head angle and FOX 34 fork handle this gnarliest of gnarlies?
Just fine.
Today's conditions were extra eroded and loose. I did not pin it DH racer style, but I got down pretty smoothly and in one piece. The 29 S-EVO carried smooth speed over the gruesome rocks, and it held better than expected in the turns. On a trail like this I'm happy to find some flow and not get hurt. I don't think I would have ridden faster on anything less than a full DH bike (with pads and full face helmet).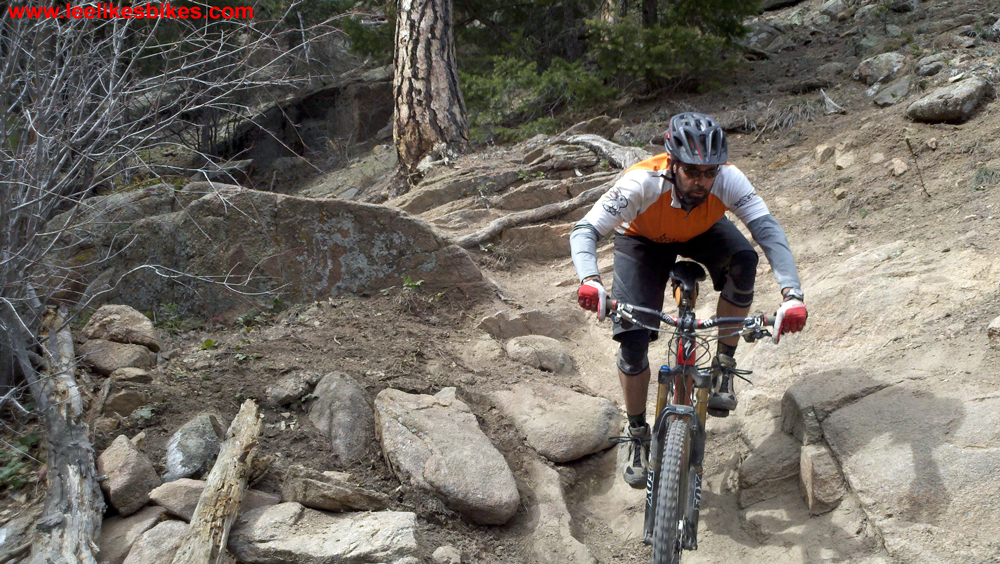 This is way steeper in person.
At one point I was trying to skitter through a sweeping, rutted right filled with baby heads, foot out because it's sketchy and I always pull my foot out there. As I felt the tightness gather in my throat, I realized, Wait a second, this isn't sketchy. I just clipped back in and kept railing. No big deal.
The main ridge has 100s of lines, all of which are rocky, random and a complete surprise. All you can do is stay centered and ride whatever appears. Today I got going so fast I didn't know what to do. It was nuts: Like I wasn't afraid, I just didn't know what to do with the speed. Good thing I caught a guy on a KTM, and he slowed me down.
I'm still missing some of the subtle line changes. I need to be less subtle.
I feel like I am leaving a lot of speed and flow on the table. I honestly don't know how to ride this bike to its potential. Yet.
Equipment notes
• Dude, these XTR Trail brakes are incredible. I used them a LOT today, and they always had the same feel and power. This builds confidence, which makes me think I should pin it harder.
• For trail riding I've been running the 34's low speed compression and the RP23's ProPedal at their middle settings. This gives a somewhat plush but very controlled ride. For part of the descent and traverse I tried both wide open. The bike felt wallowy, and I went back to middle/middle. I'm getting about 90% of travel front and rear, which saves some room for mistakes.
• The 60mm Specialized Pro Set stem at -10 degrees feels really good for general action, but something shorter and taller would help me stay balanced and confident on the ultra steeps. I plan to try a Shimano PRO 50mm.
• In this dust, sand and gravel, the 2.3 Butcher front tire hooked awesomely. The 2.3 Ground Control rear was out of its depth, but it got the job done. For dedicated gnar, a pair of 2.3 Butchers seems ideal. (That's what I run on the Enduro out here.) 2.3 x 29 Butchers won't be publicly available until later this year. I need to learn this one but keep it fresh for Sea Otter.
In all, today I climbed way faster/easier/better than ever, and I descended at least as well (or maybe better?) than on the Enduro.
29ers suck.
Lee
---
Know more. Have more fun!
Join the leelikesbikes mailing list:
---
https://www.leelikesbikes.com/wp-content/uploads/2018/08/leelikesbikeslogoheader.jpg
0
0
leelikesbikes
https://www.leelikesbikes.com/wp-content/uploads/2018/08/leelikesbikeslogoheader.jpg
leelikesbikes
2012-03-26 19:48:41
2012-03-26 20:05:59
Stumpy 29 S-EVO: Mountain man gnar