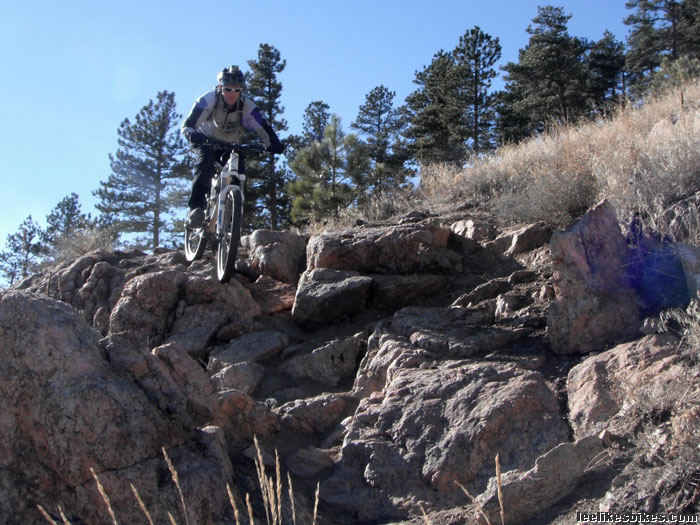 Last weekend's Left Hand Canyon OHV downhill training session featured special guest stars, some sturdy hiking and a snowy descent down North Red Trail.
With video!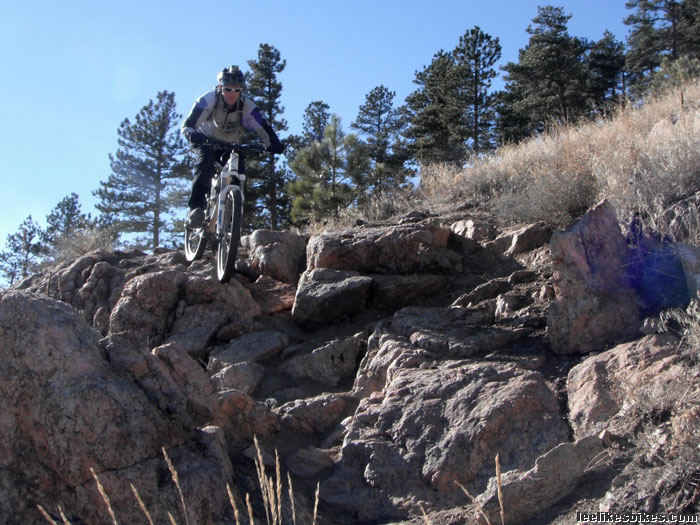 Russ pegs a tricky line on Upper Zach Johnson.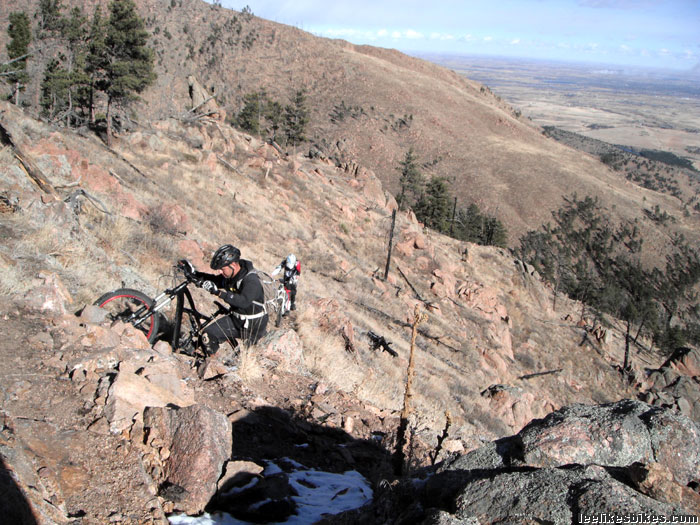 Farid and Alex hike up South Red. It's a lot of work, but it's SO worth it.
Mission: DH coaching/training with Alex, aka young Skywalker, a 15-year-old pinner.
Goals: Build on what we've been doing. Work on line choice and flow in sketchy conditions. Find those feet. Always find those feet.
Oh yeah, and rip it!
Crew: Alex, Farid, Russ and me. Alex rode his Socom. Russ rolled a Nomad. Farid and I rocked Enduros. Flat pedals all.
Route: We hiked up 842/841 (aka Zach Johnson because Zach broke his hip there) then 286D to the top. Drop down 836 (North Red). Hike up 837 (South Red). Pin it back down the rocky road and Zach Johnson. Three hours of stoke. Click here for a trail map
Conditions: It's been dry, but it snowed the night before. South-facing slopes were bright and dusty; north-facing slopes were dark and icy. The moto dudes were friendly and wanting to re-create the Atherton vs. Knight battle. (Not fair: My carbon Enduro costs more than your KTM.)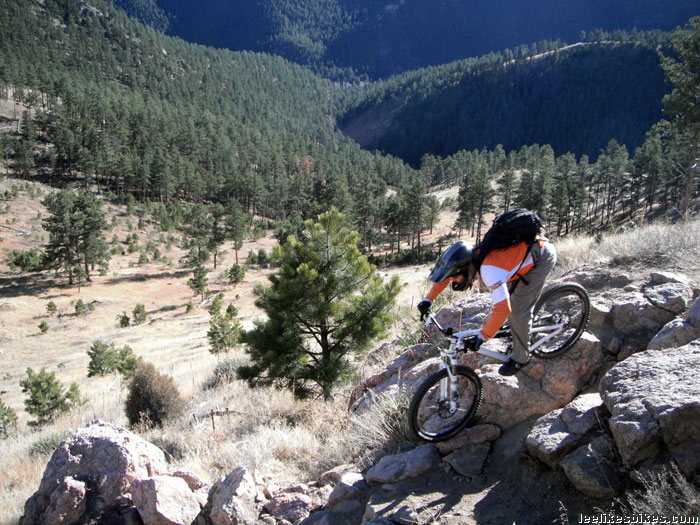 Don't. Look. Right. Some rocky exposure for the kids at home. Funny thing: This is way easier than avoiding the edge.
Findings:
The initial hike was, uh, sturdy. Ninety minutes of full-body base-work. I'm glad I work out at the gym and in my garage, but this is real Mountain Man fitness. At the top we geared up and watched Alex eat his mom's homemade banana bread.
Descending North Red was slick! But fun. There's something awesome about situations where you have to trust your bike, brain and body — and just let it roll. And slip.
Hiking up South Red was steep! But fun too, in its own way. Check out the hiking photos in the below video. At the top of the hike, Russ said, "Man, this is some serious Paul Bunyan riding."
The rocky road was random. There are so many lines — so many rocks — that precision is useless. Just pick a direction and ride whatever scrolls beneath your wheels. I have no idea what happened between the top and bottom — expect the part where my front wheel got stuck in a hole; thank goodness for the gym — but it was rad.
Zach Johnson was pinned. I rarely get to ride this trail top to bottom. With Russ' camera on my wheel, it was Game On! Rocks were clattered, ruts were channeled and corners were pumped. I don't enjoy pedaling my Enduro with downhill tires, but man they make it a DH weapon.
Video!
In the first part, Russ follows Alex down a snowy North Red Trail. After that, he follows me down Zach Johnson.
Video by Russ Ranney. Check out his Vimeo collection.
Left Hand Canyon from RR on Vimeo.
Related:
First descent: Red Trail at Left Hand Canyon
---
Know more. Have more fun!
Join the leelikesbikes mailing list:
---
https://www.leelikesbikes.com/wp-content/uploads/2018/08/leelikesbikeslogoheader.jpg
0
0
leelikesbikes
https://www.leelikesbikes.com/wp-content/uploads/2018/08/leelikesbikeslogoheader.jpg
leelikesbikes
2010-12-13 14:41:48
2010-12-13 14:54:51
Paul Bunyan riding