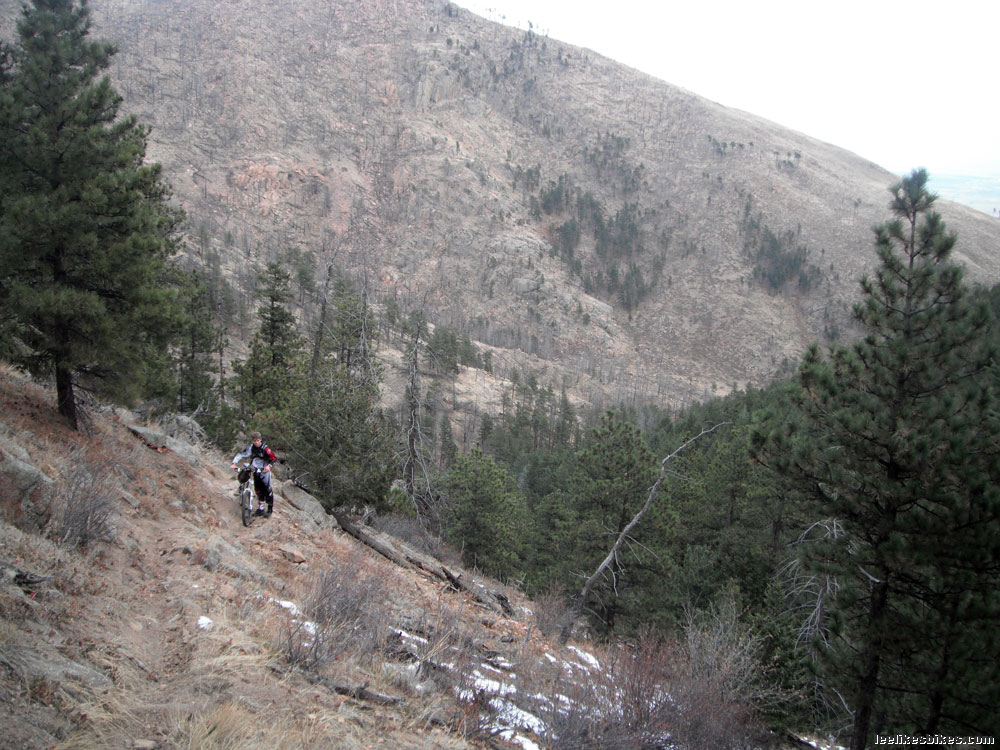 Today was an excellent mission at Left Hand Canyon: 175 minutes pushing a bike up hills; 25 minutes riding the bike down hills.
Featuring a first descent of North Red Trail.
Mission: DH coaching/training with Alex, aka young Skywalker, a 15-year-old pinner.
Goals: We've been paying a lot of attention to balance, position and range of motion. Last week we did detailed video analysis, and I gave him some mobility homework. I also told him to axe the clip-in pedals; they were allowing some bad habits.
Today was about three things:
1) Finding his feet and operating from the middle of the bike. Getting low. Lower.
2) Flowing — sight unseen — down gnarly terrain.
3) Pure work. Pushing the big bike up those hills is fantastic for endurance, foot-to-hand strength and general Mountain Man toughness.
Bikes: Alex rode his Intense Socom. I rocked my Carbon Enduro DH. We're both running flat pedals.
Route: Hike to the top (286 to 286E to 838 to 286D). Ride down North Red (836). Hike up North Red. Pin the main dirt road (286) back to the parking area. Click here for a trail map.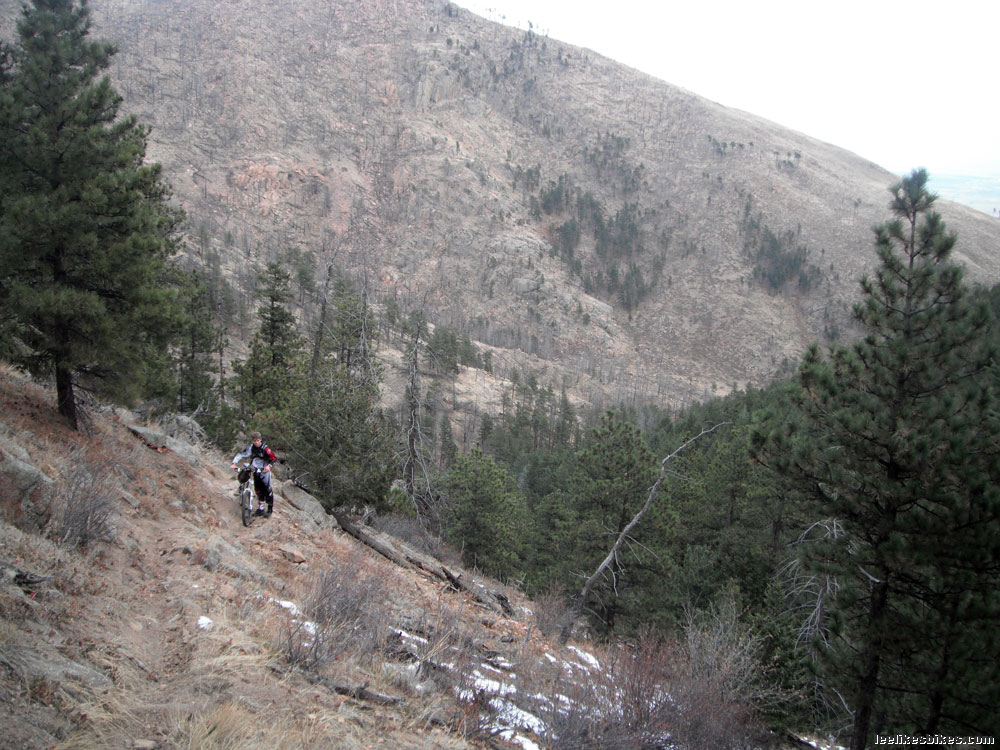 We were too busy hiking and riding to shoot, but I caught Alex cursing me on the way up North Red. By this time I was pushing his 40-something-pound Socom, and he was pushing my 30-something-pound Enduro.
Impressions:
Alex is a strong, fast kid. He is getting stronger and faster.
North Red is an awesome trail. Steep, rough, loose, tight and all that. Highlights include jagged rock falls and steep, tight, stair-stepped switchbacks. With stops for fallen trees and "DUDE THIS IS RADs," the descent took nine minutes. I think we can roll in the fours or fives. Perfect for DH racing.
I feel super strong and smooth. My skills are there, my training is working and my bike is fantastic.
Today was super fun. I love mountain biking. I mean I really love it!
Last week: First descent: Red Trail at Left Hand Canyon
---
Know more. Have more fun!
Join the leelikesbikes mailing list:
---
https://www.leelikesbikes.com/wp-content/uploads/2018/08/leelikesbikeslogoheader.jpg
0
0
leelikesbikes
https://www.leelikesbikes.com/wp-content/uploads/2018/08/leelikesbikeslogoheader.jpg
leelikesbikes
2010-12-05 22:03:36
2010-12-05 22:11:41
7:1 and stoked