First descent: Red Trail at Left Hand Canyon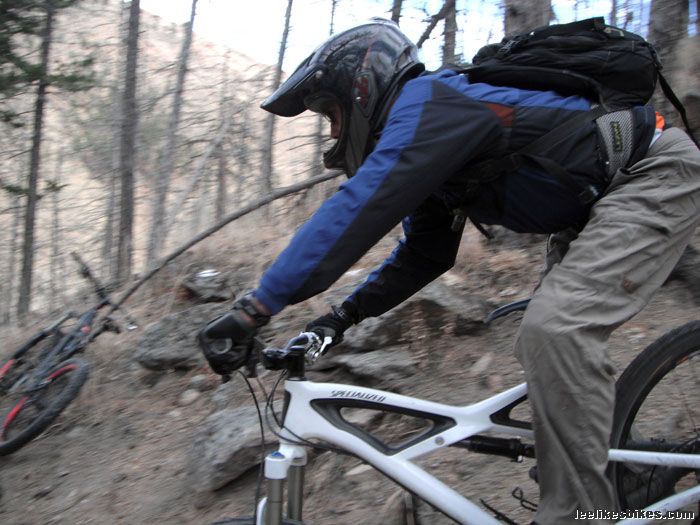 Today I enjoyed a real treat: A first run down a new double-red — DOUBLE EXTREME — trail near my house. The trail is designed for trials motorcycles. It's awesome on an Enduro (if you don't mind hiking).
I don't mind hiking.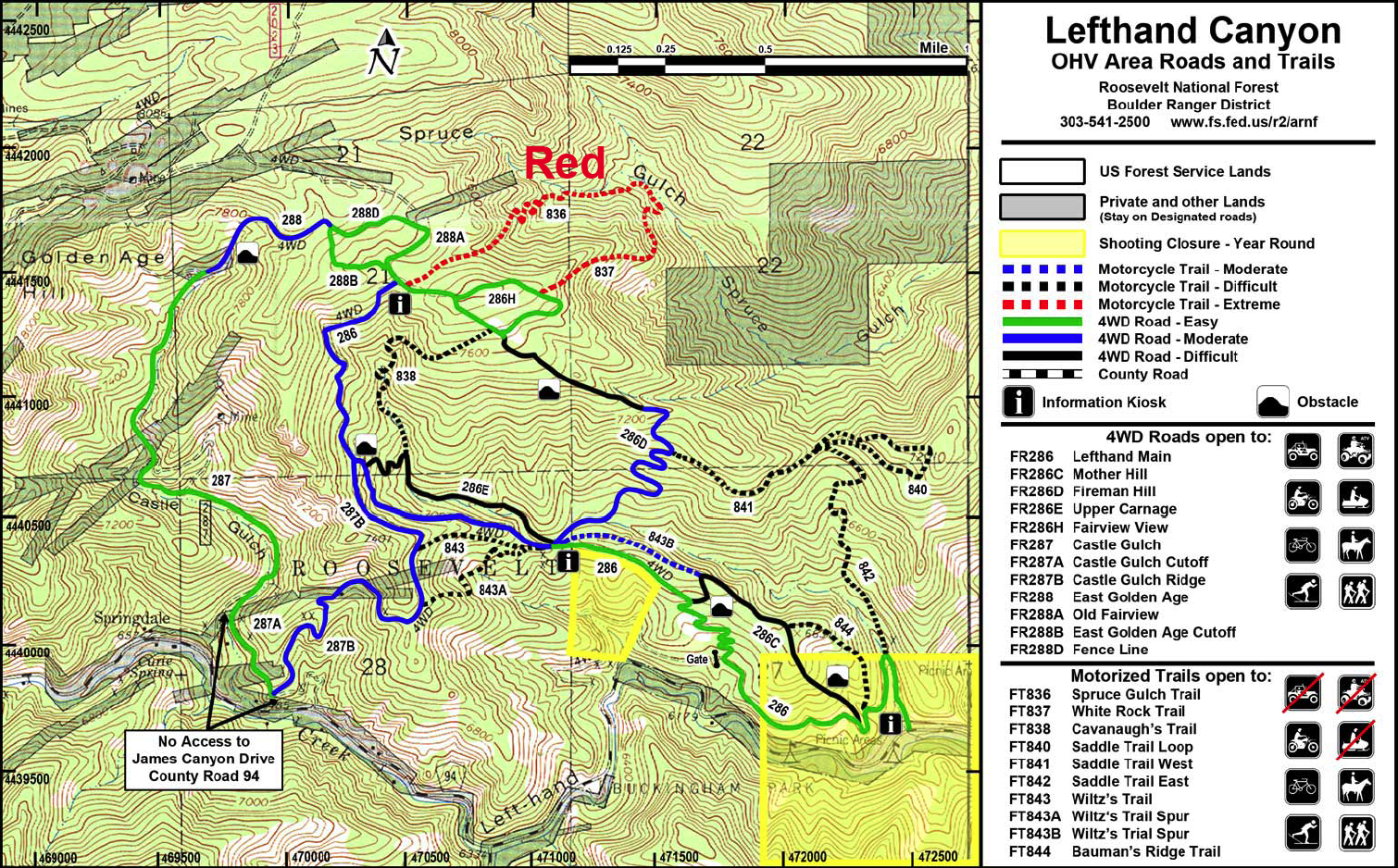 Click for big. Look for Red.
Crew: Farid (thanks for the photos) and me.
Bikes: We both rocked Enduros. Mine is white and good. His is black and evil.
Gear: I rolled 2.5-inch sticky downhill tires, 8-inch Hayes Stroker brakes, flat pedals, full face helmet and three layers (the 30-degree wind felt like daggers).
Trail names: The northern section, Trail 836, is called Spruce Gulch Trail. It drops from the upper junction to the bottom of Spruce Gulch. The southern piece, Trail 837, is called White Rock Trail. It climbs from Spruce Gulch to, uh, a white rock on the side of the main dirt road. I call both trails Red because the Forest Service gave them a double-red rating, which is apparently more EXTREME than double black.
Route: We hiked almost to the top of the park (about 90 windy minutes near threshold), rode down South Red into Spruce Gulch, hiked up North Red to the upper junction, then took the main dirt road back to the cars. Three hours total. Big adventure. Feel strong like bull.
Red is rad!
South Red is steep, ledgy, exposed and loose. The monster hike had me too tired for tension, which is ideal. I stayed low, ground into my pedals and rode everything feet up. The Mighty Enduro Carbon felt awesome, especially with the DH meats. I knew this trail was serious business, but I was able to stay totally relaxed and enjoy the ride, as they say.
North Red winds its way up a steep, wooded canyon. Who knew Left Hand Canyon had loam? The rock ledges and steep switchbacks would be a ton of fun on the way down. That's the next adventure: North-to-South Red.
I keep meaning to bring Ansel Adams on one of these rides. He's the only one I know who can actually make steep terrain look steep. Oh well, I guess he's busy in Yosemite.
Snap shots: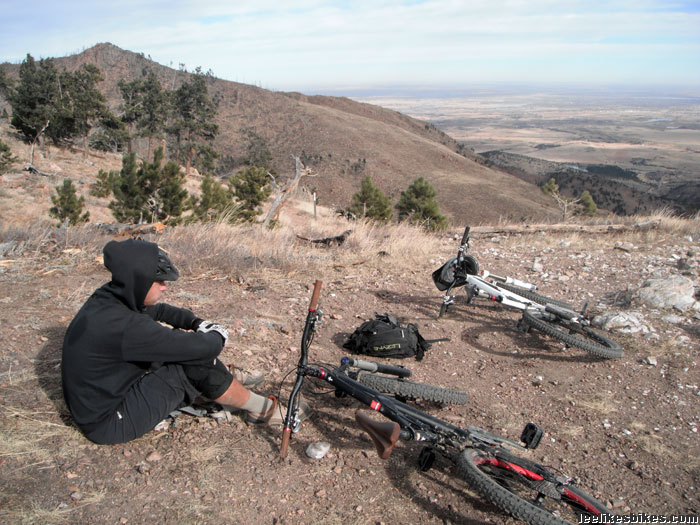 Sweating and freezing: Farid prepares to drop into the unknown.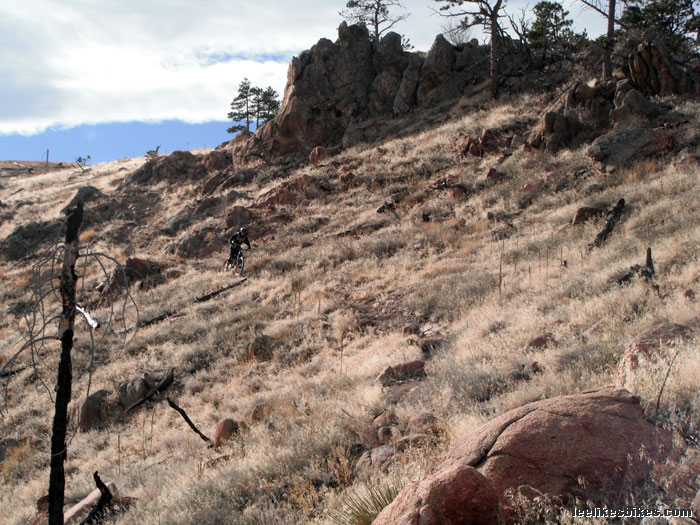 Near the top. It sure looks steeper in person.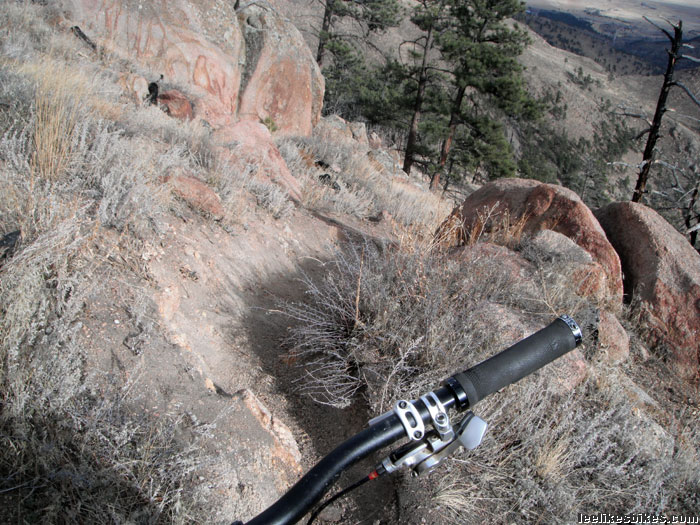 What have we here? Fun, that's what.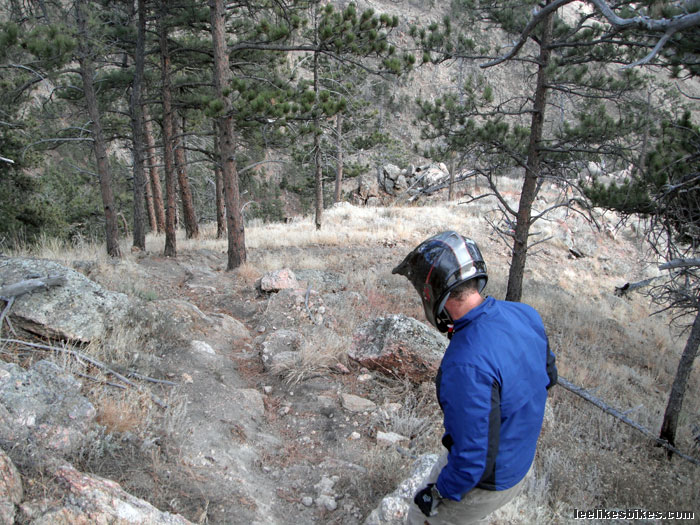 Straight over the rocks: Usually the safest bet.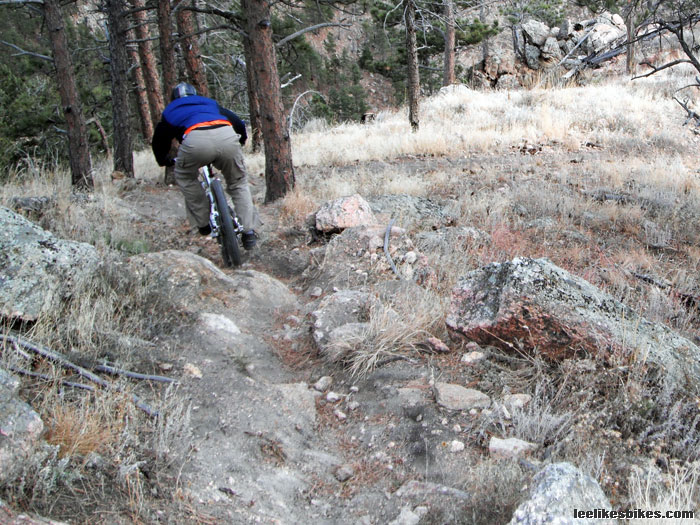 Let it roll: The Enduro's suspension felt good, but it was all about the slack geometry and big brakes.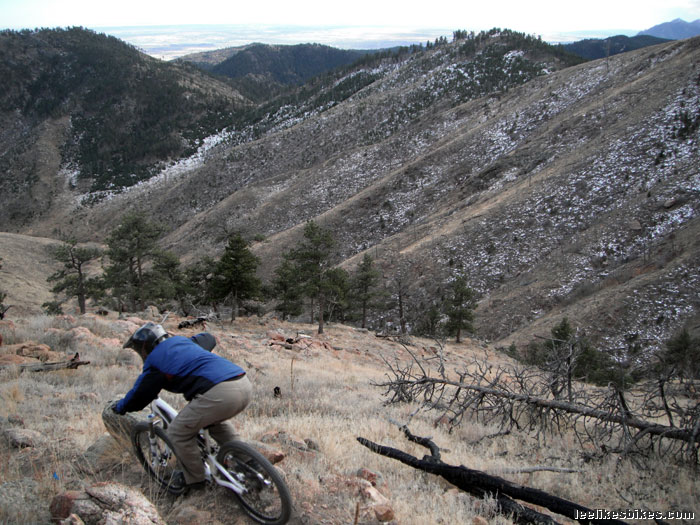 Cold but rad: You kill yourself with the trainer and weights so you can enjoy moments like this.

Yeah! A trials moto left a set of tracks, so it must be rideable.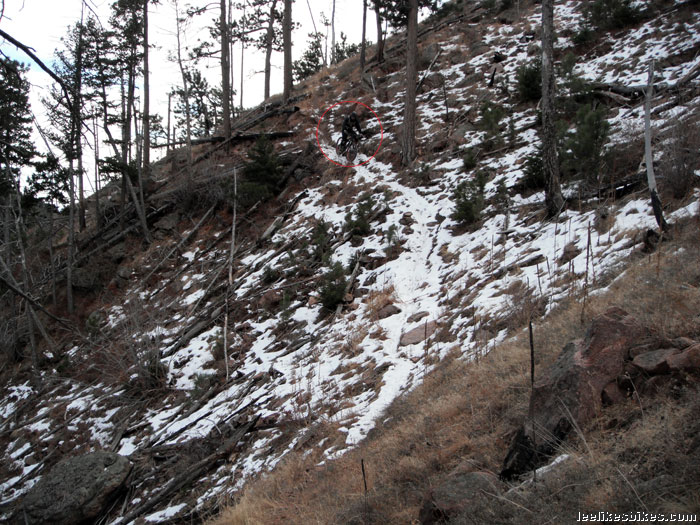 Steep snow: Just follow the moto tracks.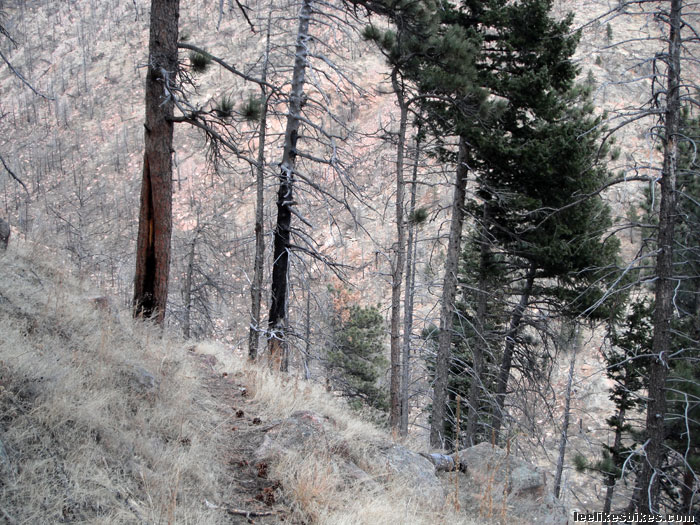 Keep it moving … nothing's on the right …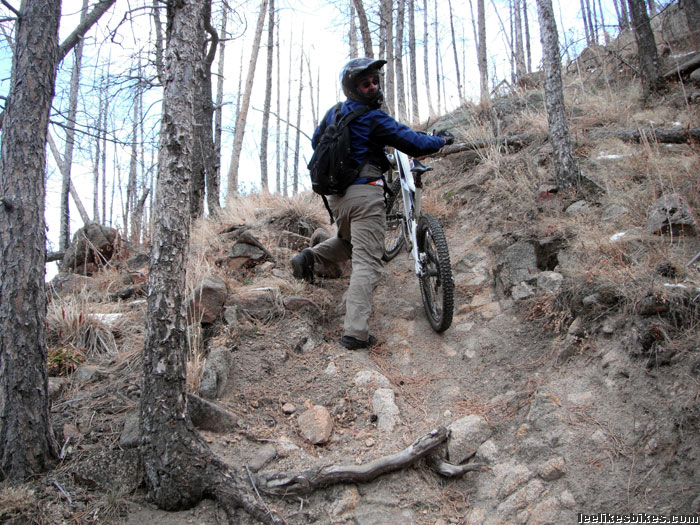 Must do that again.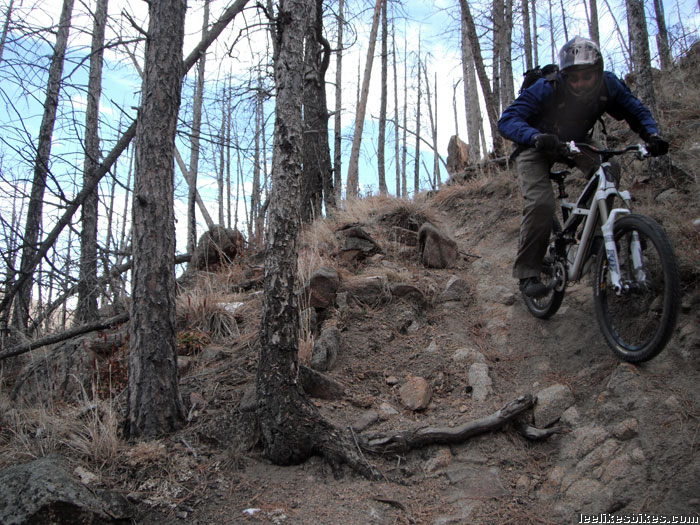 Entering a steep switchback: Low, balanced, lining up wide.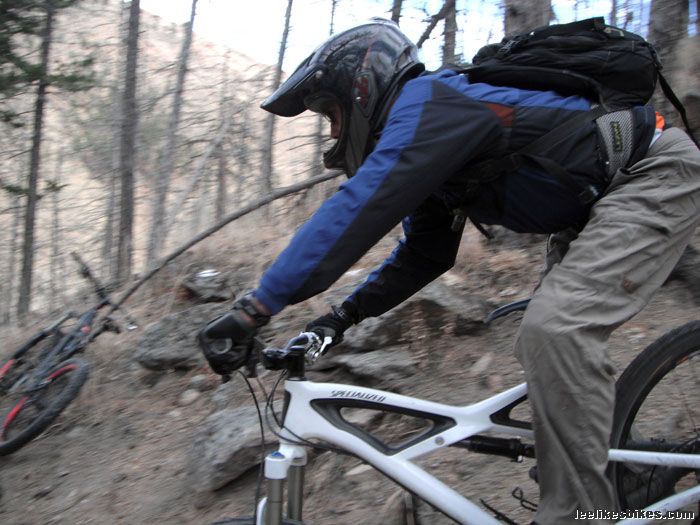 Learn the dynamics. Practice your skills. Dial in your bike. Trust them all.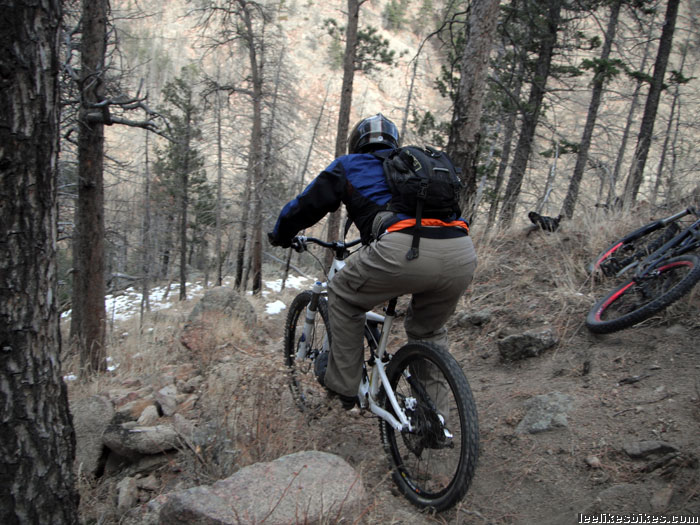 That's not all folks! Stay with it!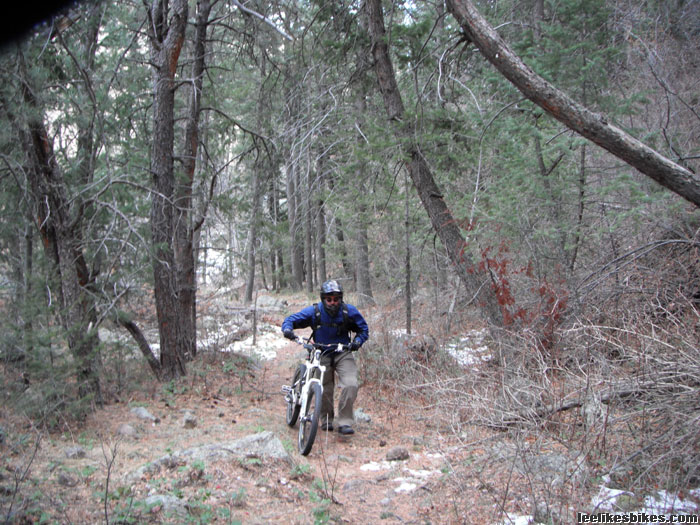 Who knew Left Hand had loam? Starting the hike up North Red.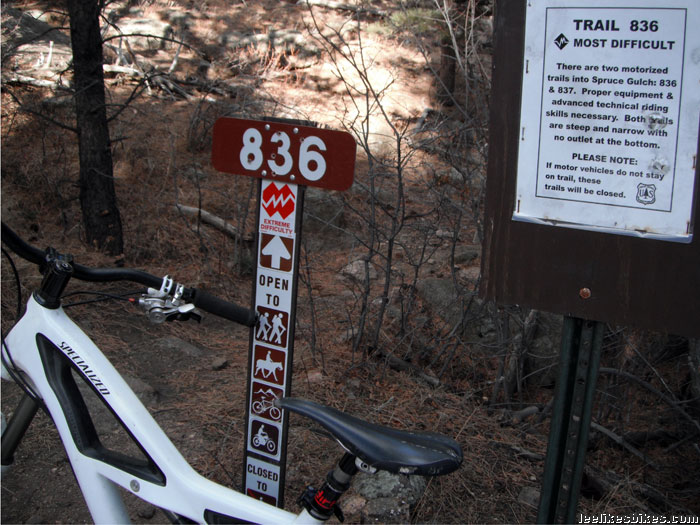 EXTREME DIFFICULTY: Top of North Red.
---
Know more. Have more fun!
Join the leelikesbikes mailing list:
---
https://www.leelikesbikes.com/wp-content/uploads/2018/08/leelikesbikeslogoheader.jpg
0
0
leelikesbikes
https://www.leelikesbikes.com/wp-content/uploads/2018/08/leelikesbikeslogoheader.jpg
leelikesbikes
2010-11-30 21:48:50
2010-11-30 22:36:46
First descent: Red Trail at Left Hand Canyon