What a difference 10 rpm makes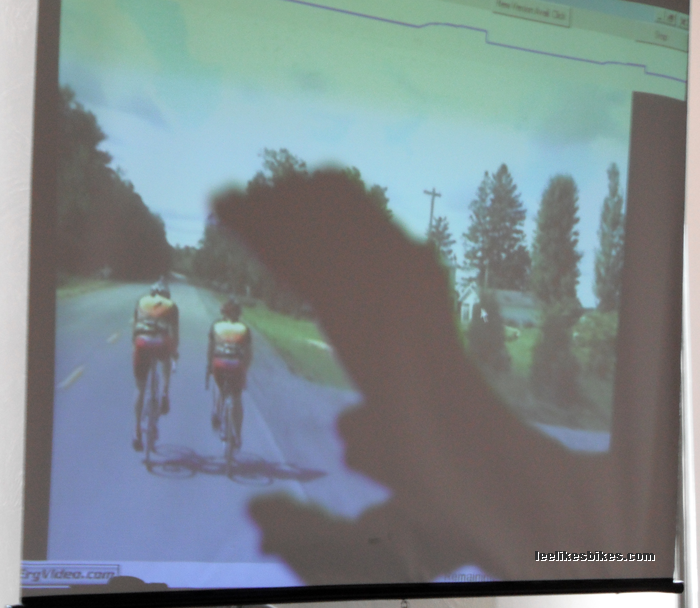 In this week's PowerMax indoor training session at the Boulder Center for Sports Medicine, we did virtual intervals with a Canadian time trail champion, and I felt the easy sweetness of higher rpm.
Virtual roadies
For this session, we followed two elite Canadians on an interval workout. They did four nine-minute intervals at 100 percent of threshold power. After last week's two-minute threshold intervals, I predicted we'd be doing longer intervals soon, but I didn't think it would be this week.
Since we're not fit enough to pin it at 100 percent 4×9 minutes, Coach Lester Pardoe dialed our thresholds down about 10 percent, so we would be doing the intervals at 90 percent.
While the software controlled our workload, we spun behind these on-screen roadies. When they cruised, we cruised. When they pinned it, we pinned it. I could feel every rise and jump; it was pretty cool.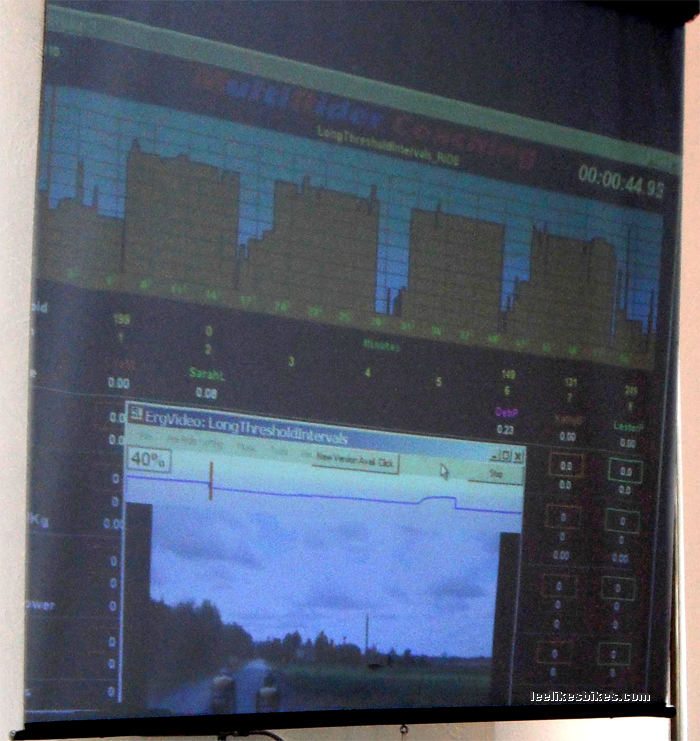 Above: The work profile. Below: Our virtual riding partners. During the workout, the riders' window was maximized.
Matching
During the intervals, Lester told us to ride at our natural cadence for one minute, match the pros' cadence for one minute, repeat.
I was buzzing along at 90 rpm (considered a good all-around cadence) and feeling pretty good about it. When it came time to match the TV riders — whoa — it was harder than I expected.
Spin. Spin faster. Spin faster. By the time I matched their cadence, I was turning 100 rpm. The first match felt strained. The second was easy. By the third I was way over 100 rpm and loving how snappy my legs felt.
Findings
Dude, it was WAY easier to maintain the same power at higher cadence. At 100 rpm vs. 90 rpm, I was breathing a bit harder, but my legs felt way fresher.
During the last interval I actually bumped my threshold power up, up and up above my normal level. I ended the workout spinning 124 rpm at 250 watts — and it felt awesome.
Thanks to Lester and the Center, I'm learning stuff and getting stronger.
Too bad there's no way I can spin that fast up these hills with a single front ring. Maybe the small ring should make a comeback?
As for you
Try climbing a hill at the same speed but in a lower gear and higher rpm. How does it feel?
Braaap!
— Lee
---
Know more. Have more fun!
Join the leelikesbikes mailing list:
---
https://www.leelikesbikes.com/wp-content/uploads/2018/08/leelikesbikeslogoheader.jpg
0
0
leelikesbikes
https://www.leelikesbikes.com/wp-content/uploads/2018/08/leelikesbikeslogoheader.jpg
leelikesbikes
2010-12-10 21:50:02
2010-12-10 22:01:19
What a difference 10 rpm makes