Followup: Specialized Eskar tires
The new Specialized Eskar trail/all-mountain tire has been out for a while, and people are getting some miles on it. More than you wanted to know: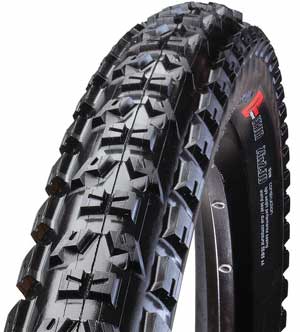 Eskar.
First, a word from Specialized
– The Eskar supersedes the Resolution. Chance Regina, product manager: "We designed the Eskar to match the Enduro bike better than the Reso. The Reso was nice but TOO SLOW and there was a bit of a hole in the transition area."
– The tire was designed by Chris Wyatt, a nice guy and a hell of a rider. Chris worked on the ADvantage when he was with Maxxis, and the tires are visibly similar. Chris: "I took some knowledge from the feedback in the Advantage and applied that to this design. Basically all I was doing was trying to keep as many edges as possible and also create more transition off center with the flap sticking out."
– Regina: "The Eskar rolls within a few percentage points of our fastest XC tires but has the bite closer to a Chunder."
That sounds good to me.
---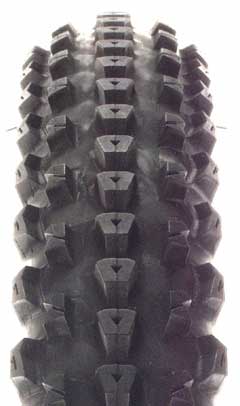 Resolution.
Help: I can't turn my Eskars!
Lee,
Last week I cut the side wall on my Resolution Pro 2.3 rear tire so I replaced them front and rear with Eskar Control 2.3 tires. I run tubeless on Crossmax XL's on my 06 Enduro pro. I have now crashed 2 times in flat corners on our now dry, loose, small rocky trails here in GA. The front tire gives no warning of washing out as it just lets go. This is very different then the Resolution tires I had been running. I am running them at the same pressure 34 front 40 rear. I am a 230lbs rider and if I run lower in the rear I bottom out the tire.
So here is my question is the Eskar really that bad of a cornering tire in the dry, loose stuff versus the resolution or did I forget how to corner? I spent a good amount of money on these tires and am really looking for any tips to get them to corner better as my body can't take another crash at this point and my wife doesn't want to see me drop another $70 on tires.
Thank you, Jeff
— — —
Hey Jeff,
I have a lot of time on both Resolutions and Eskars, in a wide range of conditions. I like both tires. I find that the Eskars roll significantly faster than the Reso's, yet I can push them just as hard in the corners. Maybe harder, because the side knobs seem a hair less flexy.
As for your situation …
– Change of season? Were you riding your Reso's on moister trails? The dryness can be a big factor.
– Compared with the Eskar, the Resolution seems like more of an "edging" tire. The Reso' has taller knobs and an open channel between the center knobs and the transition knobs. If you are leaning the tire just a bit, those knobs will really dig in.
Good all-around tire: Specialized Resolution Pro
Specialized Resolution Pro D2 tubeless tire
– If you turn your bike by turning your bars (and not leaning very much), I can see how the Resos might work better than the Eskars.
– Try leaning your bike farther into the turns. Relax your hands and let the bars turn on their own (that's an intrinsic feature of your bike's geometry). Let all of the Eskar's edges work for you.
Rock,
— Lee
---


ADvantage.
I wore out my Eskars: What next?
Hey Lee,
I have an Enduro SL and my Eskar's have worn out. I love the Eskars, but am looking to try something new. I ride a mixture of cross-country and light downhill and need a tire that is going to perform well on the downhills while not weighing me down on the climbs. Any suggestions?
Thanks! Ian
— — —
Hey Ian,
Since you love your Eskars, I'll assume you enjoy the combo of high volume, fast rolling and good turning.
One obvious choice would be the Eskar's ancestor, the ADvantage.
If you're curious, you can try any of the general-purpose treads: Maxxis High Roller or Minion, Kenda Nevegal, Hutchinson Barracuda, WTB Mutano Raptor, WTB WeirWolf LT (great on hardpack), WTB Prowler XT (I haven't tried this one), etc …
Or: Stick with the same tires, and really learn to ride them. That's what most pros do.
Roll,
— Lee
---
Lee's long-term report
I rode a pair of Eskar Armadillo Elite 2.3s over the fall and winter on my FOX-equipped Enduro SL.
– Why Armadillos? The Armadillo casing protects against punctures and tears. I tend to ruin tires here in rocky Colorado.
– Conditions: Hardpack, sand, snow/slush, loam and rocks. Lots of rocks.
– Impressions: The tires roll fast, grip well and have not flatted. That all makes me happy. More details: Two rides: Specialized Eskar Armadillo Elite 2.3 tires
– Wear: I have torn the heck out of the rear side knobs. I love to lean the bike deeply into the turns and pump with my legs. The bike hooks up like crazy, and it makes an awesome braaap sound, but I'm killing that poor tire. The front tire is wearing pretty normally.
– Next: I'm trying to get another set of Eskars for my Enduro. That tire is, indeed, a great fit for that bike.
Whew! More than you wanted to know …
— Lee
---
https://www.leelikesbikes.com/wp-content/uploads/2018/08/leelikesbikeslogoheader.jpg
0
0
leelikesbikes
https://www.leelikesbikes.com/wp-content/uploads/2018/08/leelikesbikeslogoheader.jpg
leelikesbikes
2008-04-17 10:33:27
2008-04-17 11:38:19
Followup: Specialized Eskar tires