Dropping in: Coping with the coping

Hi Lee,
Thanks for the great site: it's good therapy while waiting for the snow to melt.
In the meantime, I've been riding at the local skatepark and was curious if you had any tips on how to progress towards dropping into a bowl/quarterpipe. I'm in my thirties, and looking down from the coping is super intimidating.
BTW, will your new book on BMX have a section on how to ride pipes and get air?
Thanks!
PS – the two privates classes I did with you were the best thing I ever did for my riding.
jeff


Yikes! Vans skate park in Norcal, 2003.
Jeff!
It's good to hear from you. I enjoyed our sessions last summer (Jeff was visiting Boulder from Seattle).
Dude — You know why they call it a coping? … It's hard to cope with. Ha ha! Yeah, intimidating is the word.
Prerequisite skills:
– Bunny hopping. You can practice this anywhere. You don't need height, but you do need precision, especially with the rear wheel.
– Landing with your front end down. Small, steep dirt jumps are good practice. Remember our attack position drills? Get super low and push the front end into the transition.
– Being able to move your bike in the air to meet a transition. This can be practiced anywhere. Hop from flat ground to any downslope: retaining walls, backs of BMX jumps, landscape slopes, whatever.


Matt V's first try. He didn't pre-hop enough, so his rear tire got bucked and he flew almost to the bottom. But he's low and pushing the front end.
How to do it:
– Start small, with no vertical. The junior quarter pipe is a good place to start.
– Roll toward the edge at a 30-45 degree angle. This lets you catch the tranny rather than drop to flat.
– Spot the edge then scan ahead to where you want to go. DO NOT stare at the coping!
– Hop over the edge. Don't hop high; just make sure the rear tire clears the coping.
– In mid-air, push your front end down to find the tranny. The more aggressively you push your front tire down, the smoother the landing. If you do this well, it's perfectly smooth, with no moment of "landing."
– Balance on your feet and ride it out.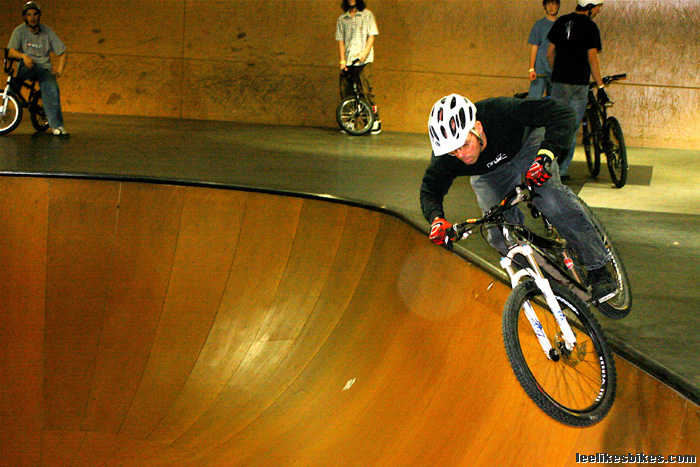 As nervous as I was, this turned out well. Note my entrance angle, my lowness and the clearance of my rear tire. Also note that I'm looking ahead to the next pump. X-Games skate park, Colorado, 2007.
This move is technically easy, but — wow — what a rush!
— Lee
BTW: The BMX book is about racing. It'll have a section on jumping, but nothing about park/pipes.
---
https://www.leelikesbikes.com/wp-content/uploads/2018/08/leelikesbikeslogoheader.jpg
0
0
leelikesbikes
https://www.leelikesbikes.com/wp-content/uploads/2018/08/leelikesbikeslogoheader.jpg
leelikesbikes
2008-04-17 08:03:19
2008-04-16 10:06:21
Dropping in: Coping with the coping