Two rides: Specialized Eskar Armadillo Elite 2.3 tires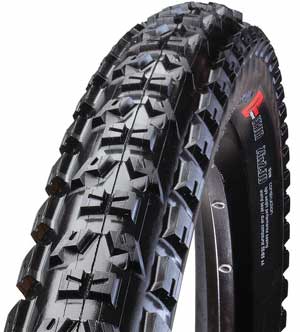 I've been digging Specialized Resolution tires, but as cool as they are, Specialized is superseding them with the new Eskar. I got my mitts on a pair of the new meats, and here's what I think after two XC rides.
The more you click, the more I can post. Lee Likes Groceries dot com!
---
The tire
– The center area has alternating blocks and chevrons. They form a pretty consistent ridge for fast rolling, yet they have lots of edges for other stuff.
– The chevrons form a link between the center and side knobs. This creates a consistent transition from straight to cornering.
– The side knobs are low, well-supported and siped.
– When I leaned into turns, the side knobs and half of the center knobs dug in. That makes two distinct rails of rubbery love. I suspect that a hard pump will squash even more of the center edges onto the ground.
– Rubber compounds: 65a center, 55a sides
– When I wrote the Specialized tire guys to tell them I love the Resolution, but I'm sick of tearing it open on rocks, they said "We have the perfect tire for you." The Eskar Armadillo Elite employs a new casing material that is reportedly 40% more puncture-resistant than the S-Works, with only 17% more weight.
– Eskar Armadillo Elite: 760g. Eskar S-Works: 650g.
– I'm running 35psi front 40psi rear, with tubes. I typically ran my Resolutions tubeless at 30/35.
The ride
Rolling: Compared with the Resolution, the Eskar feels noticeably quicker.
Braking: Very good. The chevrons dig in like crazy.
Propulsion: Ample. Bashing into stationary rocks, there's a lot more deflection and slippage than with, say, a soft DH tire, but that's to be expected.
Cornering: Very good. Today I rode very aggressively on some hardpack singletrack, and the Eskars held their edges impressively, with less wiggle than the Resolutions (actually, I felt no wiggle). After I railed one sandy turn that I usually ruin, I went back to check the tracks. The dual rails were digging in the whole way, and when I loaded the crux of the turn, I squashed the whole tire an inch into the sand. Braaap! Next turn …
Hardpack: Awesome. Relatively low knobs, plenty of support, lots of edges. Like I said, these tires held Gs without wiggle.
Loose: Pretty darn good. The sand/gravel I rode today is tricky with any tire. One thing I noticed: Every time the tires drifted, all I had to do was pump, and they stuck. Yeah, BRAAAAP!
Loam: I rode a prototype Eskar in Santa Cruz, and it was ridiculous on the dark stuff. This is where the Specialized tire guys do most of their riding.
Flat resistance: I've survived two rides without ripping any sidewalls. So far so good …
After a full season on Resolutions, my Enduro SL feels very different with the Eskars. Quicker. A bit more nimble. Maybe less planted. But very braaapable. I'll keep rolling the new tires and tell you how it goes. Winter is coming …
https://www.leelikesbikes.com/wp-content/uploads/2018/08/leelikesbikeslogoheader.jpg
0
0
leelikesbikes
https://www.leelikesbikes.com/wp-content/uploads/2018/08/leelikesbikeslogoheader.jpg
leelikesbikes
2007-08-10 13:57:29
2007-08-10 14:01:12
Two rides: Specialized Eskar Armadillo Elite 2.3 tires