DMC Moto-Trainer lap timer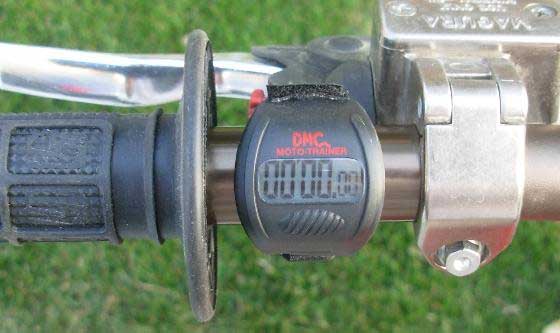 Time is the only true way to measure results, and the latest version of the DMC Moto-Trainer is the best timer out there. Improve your riding. Have more fun. Double-check the dubious timing company!

What it is
The DMC Moto-Trainer is a small timer that mounts next to your grip. This location lets you easily and precisely mark splits with your thumb. Way better (and safer) than a wristwatch or centrally mounted computer.
Price: $49.99 plus $4.99 shipping/handling
What it does
DMC packs a lot of love into a tiny package:
– Puts the start/lap/stop button right under your thumb.
– 100 lap memory
– Fastest, slowest and average lap times (pump tracks will never be the same!)
– Total time
– All functions are easy to use. I learned them in a few minutes.
– Waterproof and durable. 30-day warranty.
– Held by a combo of Velcro and a snap. Very solid, with no tools.
– Easily switches among bikes. All you need is an extra Velcro strip.
Mounting: You need 1 1/4″ of space between your left grip and brake perch. No problem if you run a single ring. On my trail bike with a front shifter, I mount the timer inboard of the brake lever. I lose the precision of the preferred location, but it's still fine for timing long rides.
What to do with it
Use your imagination:
– Try different lines.
– Try different setups.
– Try different riding styles.
– Experiment with intensity levels.
– Keep yourself motivated and have extra fun.
– Double-check funky race timing systems.
– Track your pump-track laps and send them to Mark Weir.
How to get one
You can order your DMC Moto-Trainer right here. I'm stoked to offer this product, and I appreciate your support of this site.
Price: $49.99 plus $4.99 shipping/handling
Click the Buy Now button below for secure Paypal checkout.
https://www.leelikesbikes.com/wp-content/uploads/2018/08/leelikesbikeslogoheader.jpg
0
0
leelikesbikes
https://www.leelikesbikes.com/wp-content/uploads/2018/08/leelikesbikeslogoheader.jpg
leelikesbikes
2007-08-09 15:54:50
2007-08-09 15:56:48
DMC Moto-Trainer lap timer