P2PI week 3 and this stuff works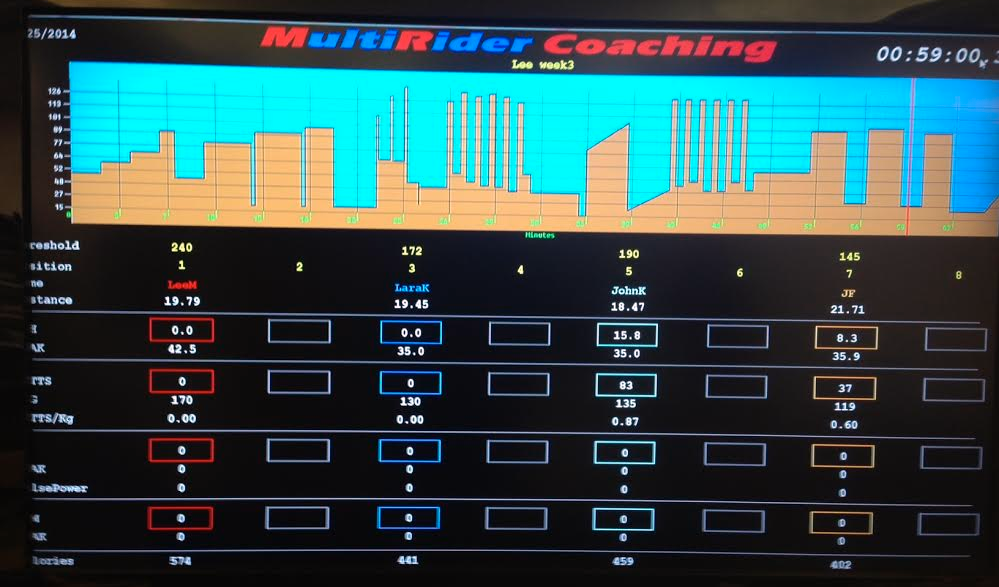 Today we rocked #3 in a series of 7 indoor classes at the Boulder for Sports Medicine.
These classes are based on the Prepare to Pin It training program.
The results are quick and clear.
---
Check out session #1: Preparing to pin it at BCSM
Today's workout
Today we built on the proven P2PI model, which is time at threshold power plus some forays into the red zone. These "red intervals" are brutally hard but incredibly effective.
Here is today's session #3. Anything over 100 is turning red.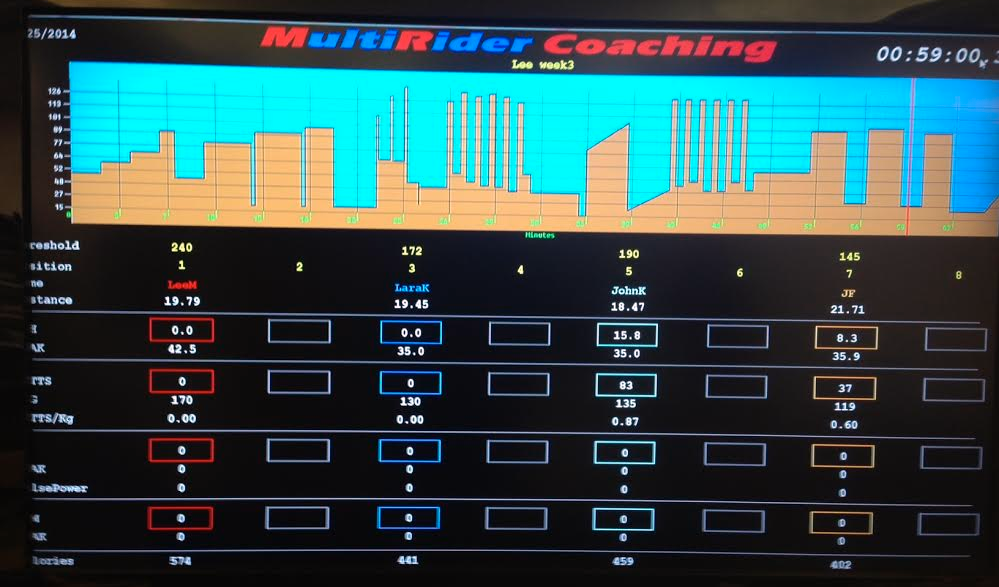 Compare that with session #1: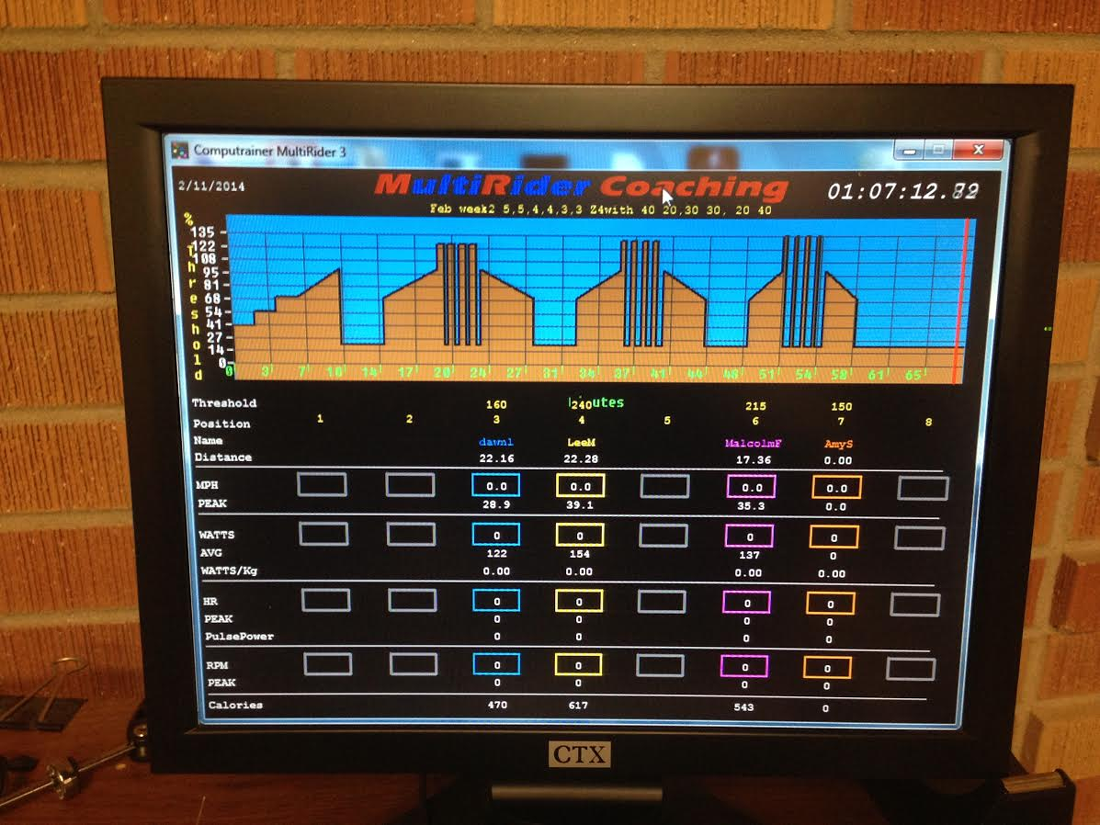 You can see we're building here.
In the first session I really struggled to maintain form and power. In week two I felt better, but it was hard. Today I got through the whole workout with good power and form.
I credit Pump Up the Base (which I did before starting this program), the Lester work, strength work and taking yesterday off.
Sprint bonus!
After the above-pictured fun, Lester switched us to a sprint protocol. The system simulates a long, easy downhill with steep downs and steep ups. When the virtual road turns upward, the tension gets crazy, and it's time to GO!
I won't say I was feeling snappy, but I managed some decent efforts and hit 1,241 watts. This feels cool because:
• The last time Lester and I did a sprint-only session, I topped out at 1,200 watts. Now I can do an hour of hard work then make even more power. Rad.
• This winter I've focused on building my core, and I haven't sprinted at all. So much of sprinting is neurological; I know with a little practice I can make more power.
• Lester said the highest number they've seen in there is 1,400 watts. I like having a goal!
Right now I feel great. My winter training seems to be working well, and I believe this approach can work for many of you. In short:
• Short, focused, generally violent bike workouts. Pump Up the Base. Prepare to Pin It.
• Off-bike strength work. F6. Enduro MTB Training.
• Skills. Skills clinics. Books.
Have fun out there,
Lee
---
The place
Boulder Center for Sports Medicine, Boulder, CO
The BCSM cycling studio has the full on PowerMax setup: ten bikes wired to power meters, with numbers displayed on the big screen. Each rider inputs threshold power in watts, then the system applies pressure to suit. Everyone fights against their own demons, I mean everyone works toward their own goals.
The coach
This adventure in beneficial trauma is brought to you by Coach Lester Pardoe. He's a badass bike fitness trainer and co author of the training book Prepare to Pin It.
Almost five years ago, Lester showed me how bad I'd gotten at sustained power, and he gave me the tools to get better. He also inspired me to embrace pedaling as a skill. Thanks to Lester, I suck way less than before.

Lester — "The Earl of Ignominy" — says "Come on Lee! I'm gonna make you maintain threshold power until you hate bikes!"
---
Know more. Have more fun!
Join the leelikesbikes mailing list:
---
https://www.leelikesbikes.com/wp-content/uploads/2018/08/leelikesbikeslogoheader.jpg
0
0
leelikesbikes
https://www.leelikesbikes.com/wp-content/uploads/2018/08/leelikesbikeslogoheader.jpg
leelikesbikes
2014-02-25 17:58:11
2014-03-08 17:24:35
P2PI week 3 and this stuff works