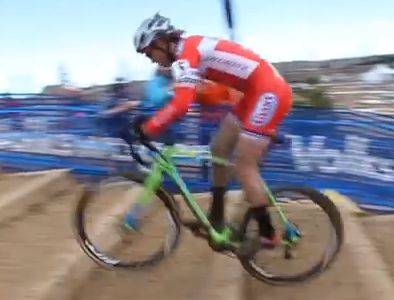 Many of you have seen the videos of Cody Kaiser and Alex Ryan hopping up the Belgian Steps at the Valmont Bike Park national cyclocross championships.
This technique is rad — and useful:
---
First the feats:
How they did it:
• Centered. Heavy feet, light hands. As always.
• Arms are making angles and maintaining balance, but they're pretty relaxed.
• The real power comes from the hips and legs (supported by strong core).
• On the uphill side of each step is a tiny little backside. By pushing into these backsides, the riders generate propulsion and unweight over the stairs. That's a win-win!
• BTW: Cyclocross bikes can be an extremely quick and responsive pump machines. It doesn't take much backside to make them go.
On the trail:
Very few of us race CX at this level — and fewer of us can be this rad under pressure with maxed heart rates.
Try pumping up the rises on your next rolling descent and — with some pedaling — try to pump your way up technical climbs. In my experience coaching elite XC racers, my ability to pump uphill equalizes a 100-watt pedaling deficit.
BRAAAP!
Lee
---
Know more. Have more fun!
Join the leelikesbikes mailing list:
---
https://www.leelikesbikes.com/wp-content/uploads/2018/08/leelikesbikeslogoheader.jpg
0
0
leelikesbikes
https://www.leelikesbikes.com/wp-content/uploads/2018/08/leelikesbikeslogoheader.jpg
leelikesbikes
2014-03-03 13:09:13
2014-03-03 13:09:51
Pump-hopping up stairs