Preparing to Pin It at BCSM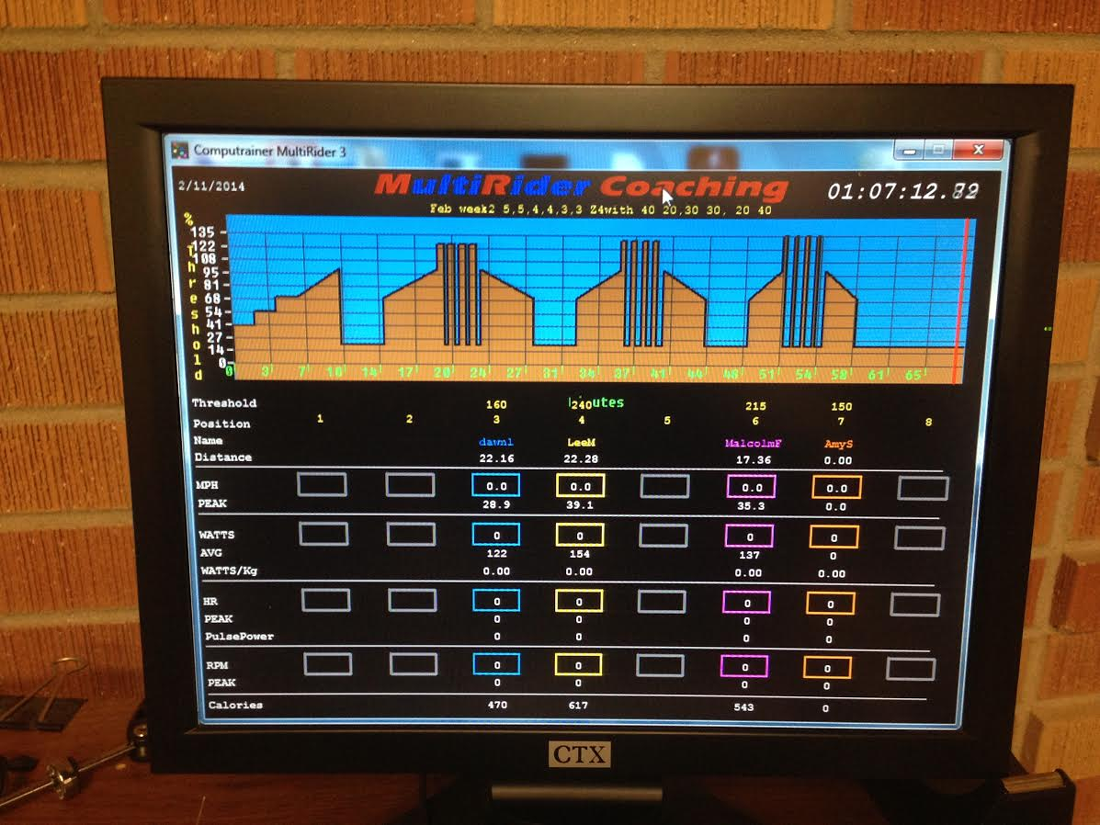 Today was #1 of 7 beat-downs, I mean scientifically designed training opportunities, at the Boulder Center for Sports Medicine.
It was not easy, but it was good.
---
The place
Boulder Center for Sports Medicine, Boulder, CO
The BCSM cycling studio has the full on PowerMax setup: ten bikes wired to power meters, with numbers displayed on the big screen. Each rider inputs threshold power in watts, then the system applies pressure to suit. Everyone fights against their own demons, I mean everyone works toward their own goals.
The coach
This adventure in beneficial trauma is brought to you by Coach Lester Pardoe. He's a badass bike fitness trainer and co author of the training book Prepare to Pin It.
Almost five years ago, Lester showed me how bad I'd gotten at sustained power, and he gave me the tools to get better. He also inspired me to embrace pedaling as a skill. Thanks to Lester, I suck way less than before.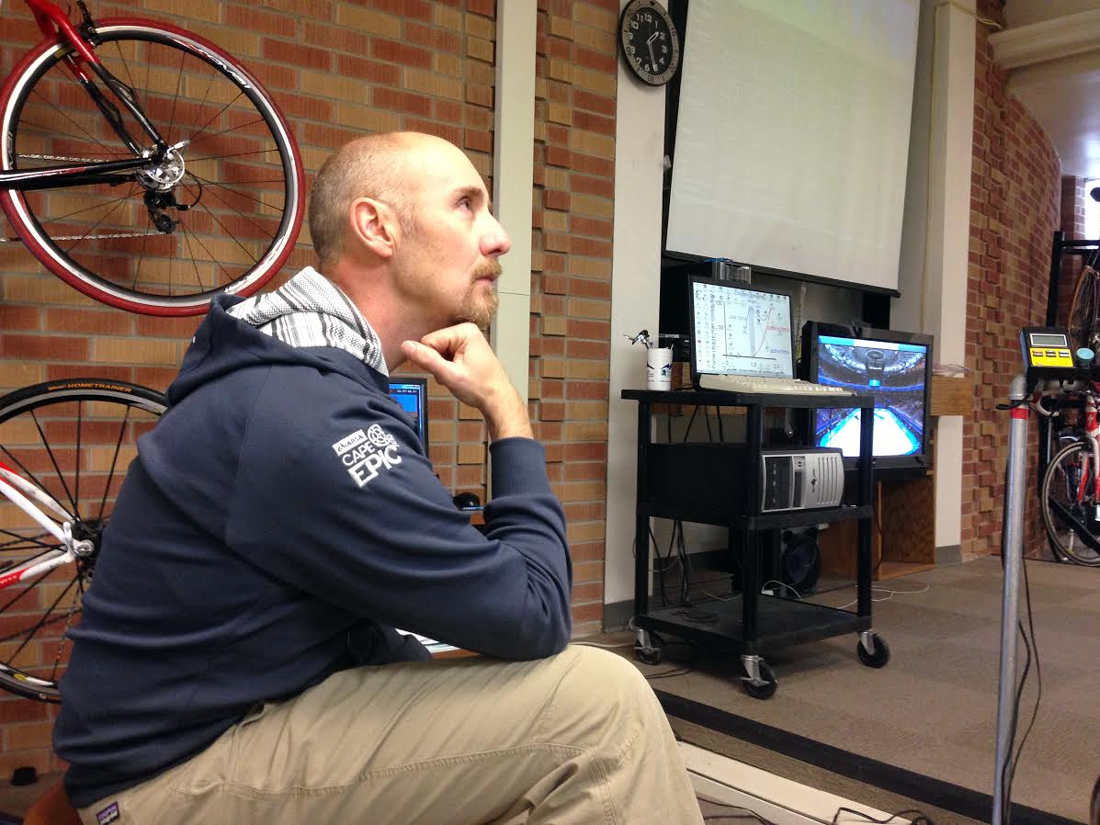 Lester devising something traumatic but beneficial.
Todays workout
Lester has input workouts from Prepare to Pin It into the PowerMax system. Today we did "red" intervals, with a twist:
• Warm up
• Ramp up to threshold power, then bang out four intervals above threshold (in the "red" zone).
• The twist: Instead of collapsing after the fourth sprint, as I do at home, we had to maintain pressure. This was really, really hard.
• Go easy for a few minutes. Do two more sets of red intervals.
• Cool down. Not feel so good.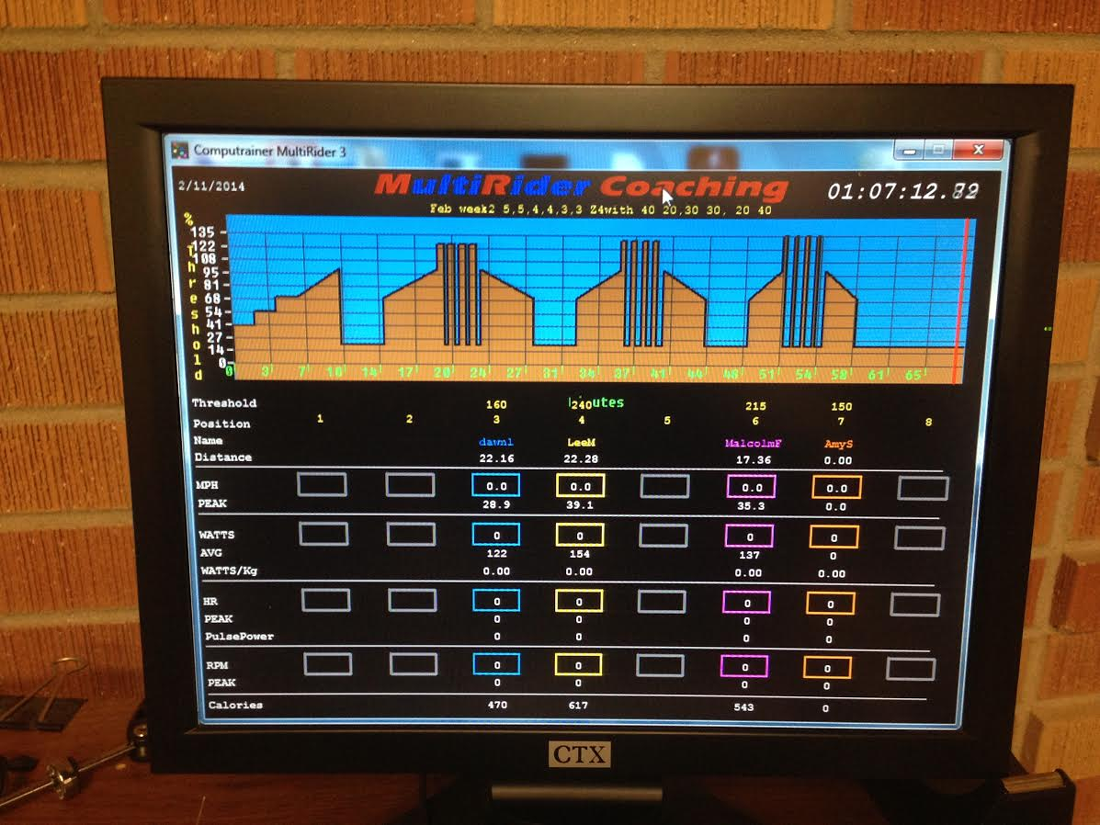 See the downward ramps after the intervals? Those were the hard part.
Foci
Riding indoors is hard, especially under this kind of pressure. Two things that helped me:
• Soft ankles. Rather than get tense and chop up the place, I tried to keep my ankles moving. Drop the heel as you reach the top of the stroke; extend your foot at the end of the stroke. This is the key to smooth, powerful pedaling. See the drills in Pump Up the Base.
• Stable core. Oh man, we all know this one, but when things get hard slouching seems like such a good idea. Slouching makes for weak, inefficient pedaling, and Lester called me on it. On the second post-red ramp-downs, I sat as tall as I could and kept my core engaged. It was still difficult, but at least it wasn't sloppy.

Trying to hold it together. On my left is Dawn Lawrence, a kung fu skills client who's bringing her A game to Sea Otter slalom and downhill.
I've been doing tons of strength work and Pump Up the Base. While my power is down from last summer's peak (it's winter, right?), today's performance made me think I'm on the right track for a strong season.
Next week: More fun intervals and then max sprints!
Learn more and sign up: Pit it with Coach Lester Pardoe
More posts about PowerMax: https://www.leelikesbikes.com/?s=powermax
Doing work now, looking forward to shredding later!
Lee
---
Know more. Have more fun!
Join the leelikesbikes mailing list:
---
https://www.leelikesbikes.com/wp-content/uploads/2018/08/leelikesbikeslogoheader.jpg
0
0
leelikesbikes
https://www.leelikesbikes.com/wp-content/uploads/2018/08/leelikesbikeslogoheader.jpg
leelikesbikes
2014-02-11 18:27:09
2014-03-08 17:19:49
Preparing to Pin It at BCSM