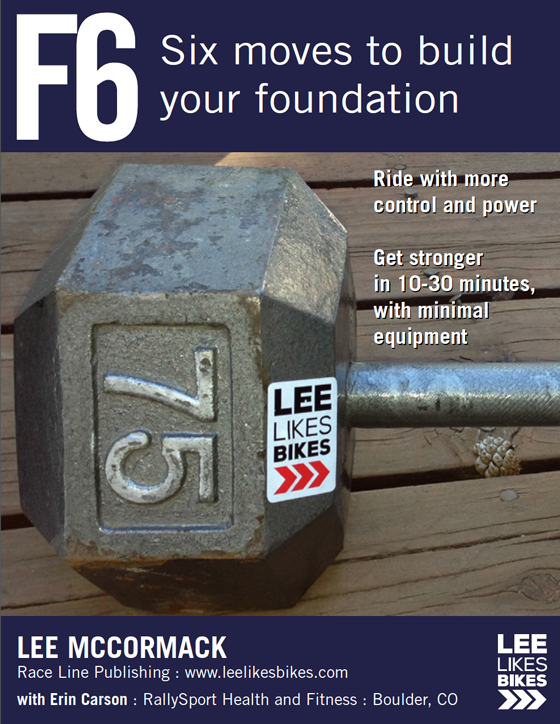 F6: Six moves to build your foundation
An off-bike training program to help you:
• Ride with more control and power
• Get stronger in 10-30 minutes per session, with minimal equipment
By Lee McCormack
With Erin Carson : RallySport Health and Fitness, Boulder, CO
---
Particulars
• Ebook: $15 for password protected PDF
• Print book: $22 plus shipping
• 8.5 x 11 inches
• 29 pages with lots of photos
• Demo videos: Password protected on Vimeo
• Mobile friendly: Quick start guide and demo videos look great on phones
• Links and bookmarks within the PDF make navigation easy.
• F6 works very well with the Pump Up the Base and Prepare to Pin It on-bike training programs.
---
Order the F6 book and ebook here >>>
Samples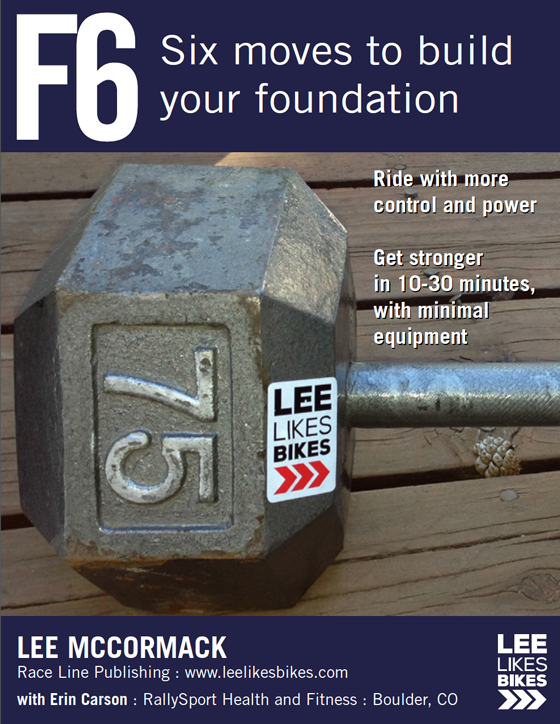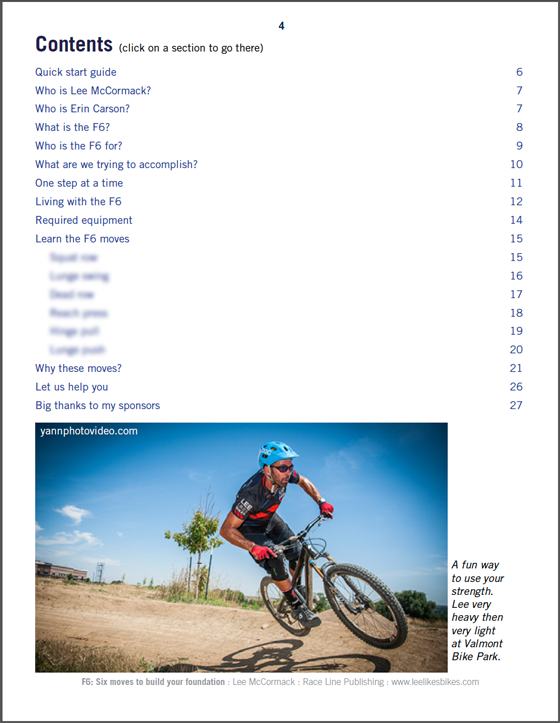 Each exercise gets photo treatment plus video demos.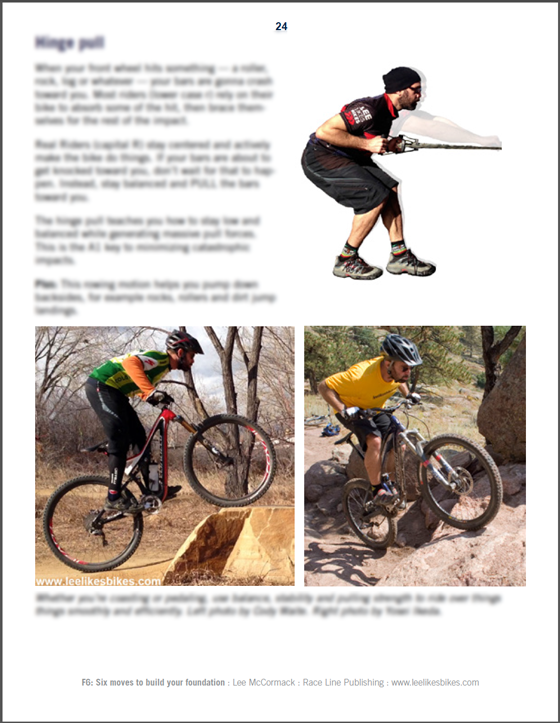 Everything you'll do, you'll do for a reason. The F6 shows you how each move applies to your riding.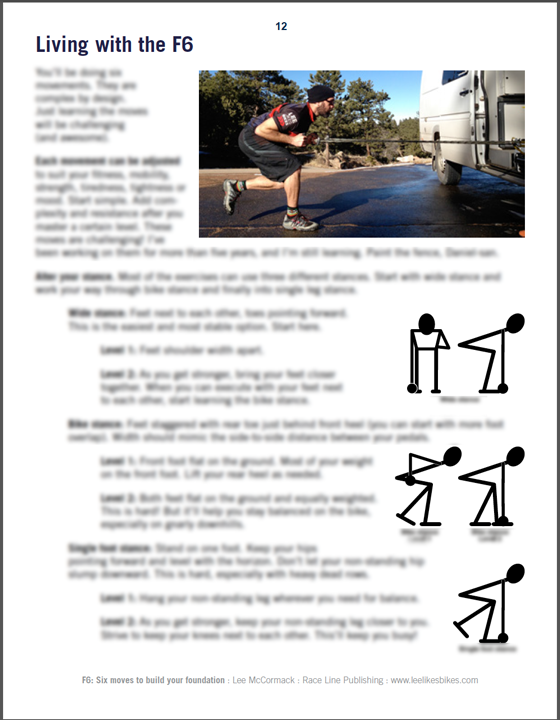 The F6 works for any rider. Various stances let you find your own challenge.
---
What is the F6?
The F6 is a six-move circuit to help you:
• Stay more balanced in gnarly terrain. Both up and down.
• Carve corners tighter and faster.
• Pump, manual and jump better.
• Sprint and climb more powerfully.
• Ride longer and faster on crazier terrain — with less fatigue and injury.
• While you're getting stronger on the bike, you'll also be getting stronger for moving day, the airport
and other real-life adventures.
The F6 is:
• Simple. But not easy.
• Quick. Do it in 10, 20 or 30 minutes.
• Scalable. Anyone can adjust the program to his or her needs.
• Made for real people who love to ride. Spend a little time learning great movement. Spend the rest of your time shredding!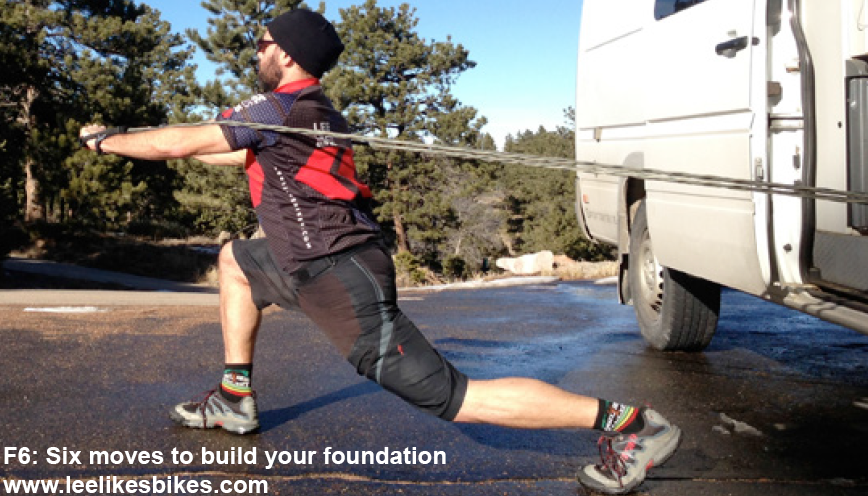 Working the F6 with a band hooked to my Sprinter van. Perfect at the trailhead, in my driveway or on the road.
---
Who is the F6 for?
You love to ride. You are a mountain biker, and you should ride your bike. The F6 fits right
into your current riding or training schedule.
You want to ride better. The better you can move, the better you can ride. Period.
You are busy. The F6 takes as little as 10 minutes, and you can do it pretty much anywhere. A full
workout takes 20-30 minutes.
You are healthy and relatively uninjured. No matter who you are, start easy and work your way up. If you
have any question about your ability to rock F6 safely, see a health care professional or qualified trainer.
You don't want to commit to long-term off-bike training program. Those programs can be very effective, but
they only work if you have the time, disposition and energy to follow them. If/when you decide to start a more comprehensive training program, the F6 will help you be ready.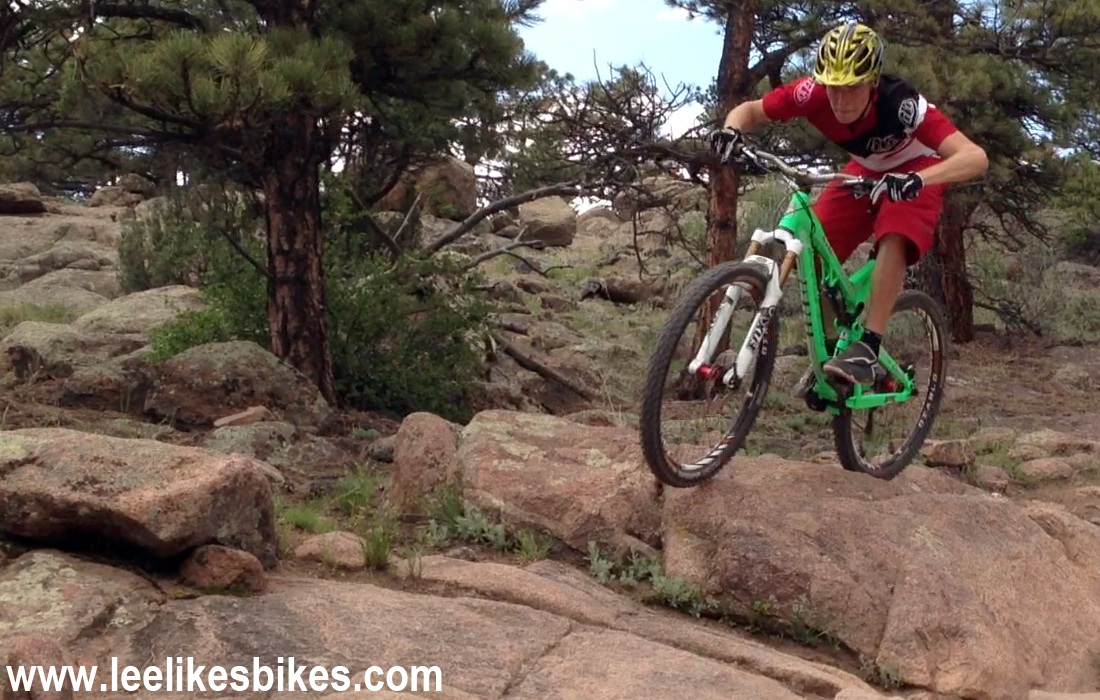 When the trail drops away, you need to get low and actively push your bike down. The F6 gives you the balance, range of motion and strength to shred like Lee Likes Bikes skills client and 2012 national downhill champion Alex Willie.
---
What are we trying to accomplish?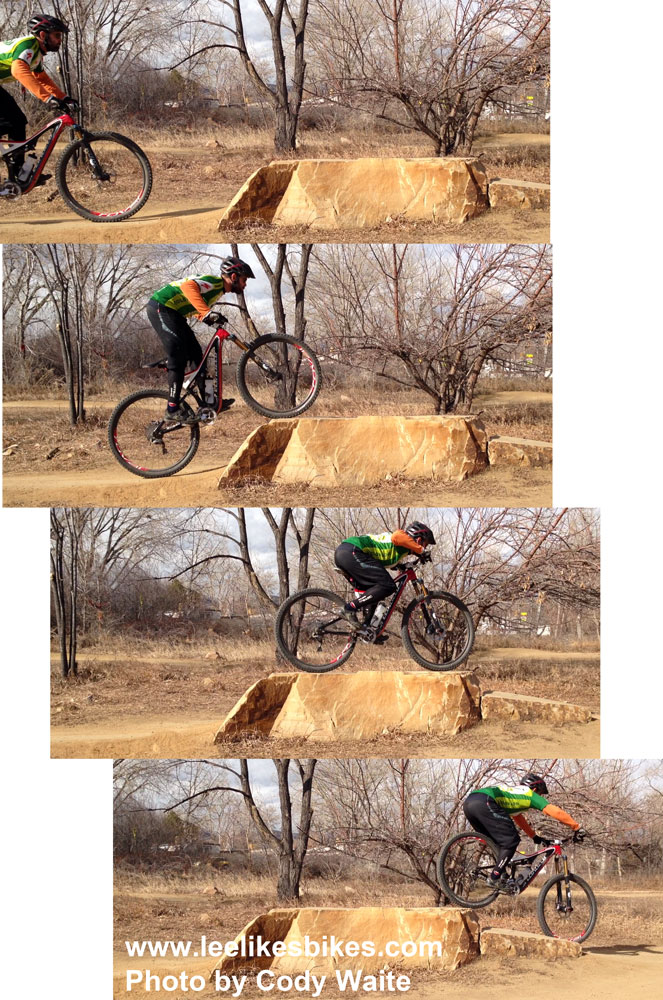 Photo: Learn how to stay balanced, then pull and push over big rocks.
As you learn the six exercises in the F6 training program, you will:
Ride better. As a skills instructor, I've worked with more than 1,000 riders of all levels — from beginners to pros — and most of them have the same instability, tightness and weakness. The F6 will give you a solid foundation for ripping.
Live better. The F6 moves are tailored to the demands of mountain biking, but moving is moving. You'll be stronger and safer everywhere.
Actually be able to do the program. The best fitness program is the one you actually do. Not the one that happens at the gym you never visit, nor the one that's locked in a bunch of confusing PDFs. The F6 is simple, infinitely scalable and can be done almost anywhere in as few as 10 minutes.
Not hurt yourself. The F6 is all about learning to move. As you master these movements you'll gradually add difficulty, range of motion and
resistance. Be patient and careful.
Have plenty of energy for riding. If you were the kind of person who wants to live in the gym, you'd be there already. The F6 will not beat you down. You are a mountain biker: Your hardest workouts should be on the bike.
As you bring the F6 to your bike, you will:
Maintain a lower, more balanced attack position (see the books Mastering Mountain Bike Skills, Pro BMX Skills, and Teaching Mountain Bike Skills). Spend more time closer to that microscopic place of perfect balance. Heavy feet, light hands!
Give beautiful violence to the trail. From your low, balanced position, you can create big angles and pump terrain like crazy.
Handle violence. When violence comes your way (hey, it happens), the F6 will help you stay balanced and keep rocking. Feel less tired and sore after rides. Reduce injuries.
Unlock your potential. Most of you have no idea how strong you actually are. Power is getting lost somewhere — usually between your hips and shoulders. As you master the F6, your brain will sense your greater capability and unleash more power for both pedaling and bike handling. Braaap!
---
Required equipment
This program is designed to work most places with whatever you have available. Do it in the gym, your garage, at your car after a ride (ideal), at a rest stop, in a hotel room or at your office. Be creative.
All you need is:
• Something to pull and push. Exercise band or surgical tubing.
• Something to lift.
In the gym
• Pull and push: Cable machine
• Lift: Dumbbells, kettlebells, Sandbells or whatever they have
Out of the gym
• Pull and push: Exercise bands or surgical tubing. Tubing works fine, but it snaps catastrophically. I know this!
• Lift: Dumbbells (adjustable ones are ideal), rocks, bricks, sandbags, milk jugs filled with water, etc. Kids get heavier every day, and they love to be lifted.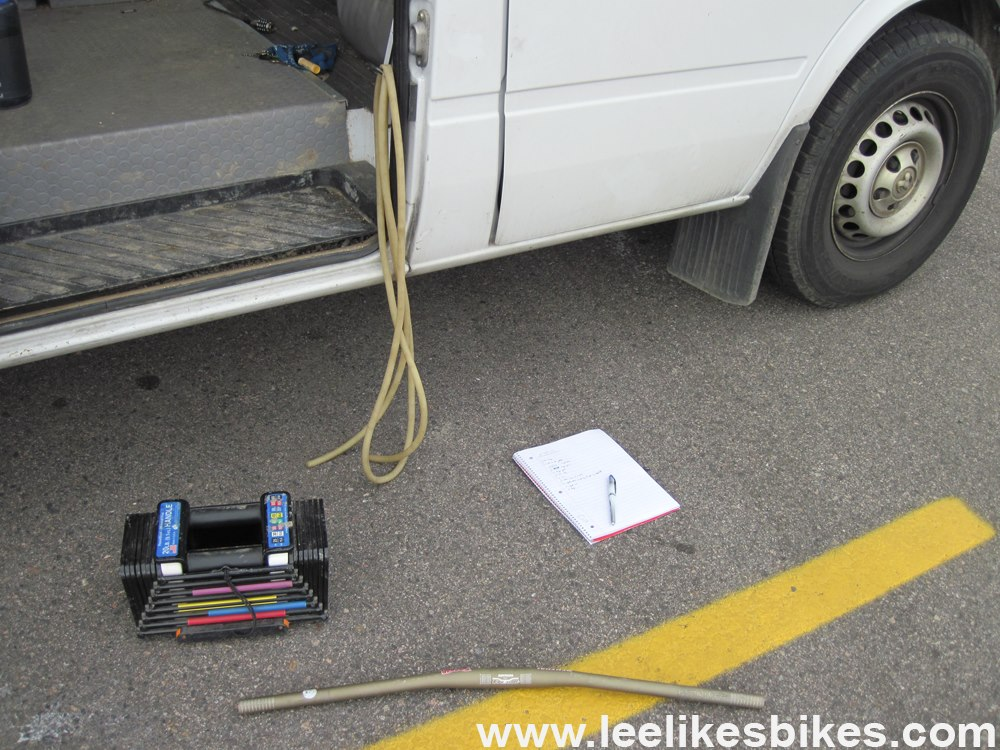 Rock the F6 anywhere with surgical tubing, adjustable dumbbell and a handlebar (optional, to make the moves more bike specific).
---
Who is Lee McCormack?
Hi, I'm Lee McCormack and I like bikes. Some things I do in the bike world:
• Run the site www.leelikesbikes.com
• Teach riding skills to riders of all types and levels, from beginners to pros. Check out skills clinics with Lee.
• Wrote the books Mastering Mountain Bike Skills, Pro BMX Skills, Teaching Mountain Bike Skills, Pump Up the Base, Prepare to Pin It, Welcome to Pump Track Nation and now F6. Check out books by Lee.
• As skills development director for the National Interscholastic Cycling Association, I create and teach the curricula used to train high school coaches and athletes throughout the United States.
• Design and build pump tracks and bike parks. Check out LLB design/build services.
• Decent all-around rider. Have I mentioned that I like bikes?
Last spring, after working with me for three years, master trainer Erin Carson gave me six exercises to keep me durable during my busy coaching/riding season. These movements have evolved to help my skills clients move and ride better. And here they are: The F6.
---
Who is Erin Carson?
Erin is the real deal as both an athlete and trainer.
She was an Olympic basketball player, and she is currently a top age-group long-distance triathlete. As the General Manager and Fitness Director for RallySport Health and Fitness in Boulder,
CO, Erin works with all types of athletes, from housewives and weekend warriors to top pros. Last off season she trained me with national downhill champion Alex Willie.
Learn more about Erin on the RallySport website.
---
Order the F6 book and ebook here >>>
---