Critique: Riding over a rock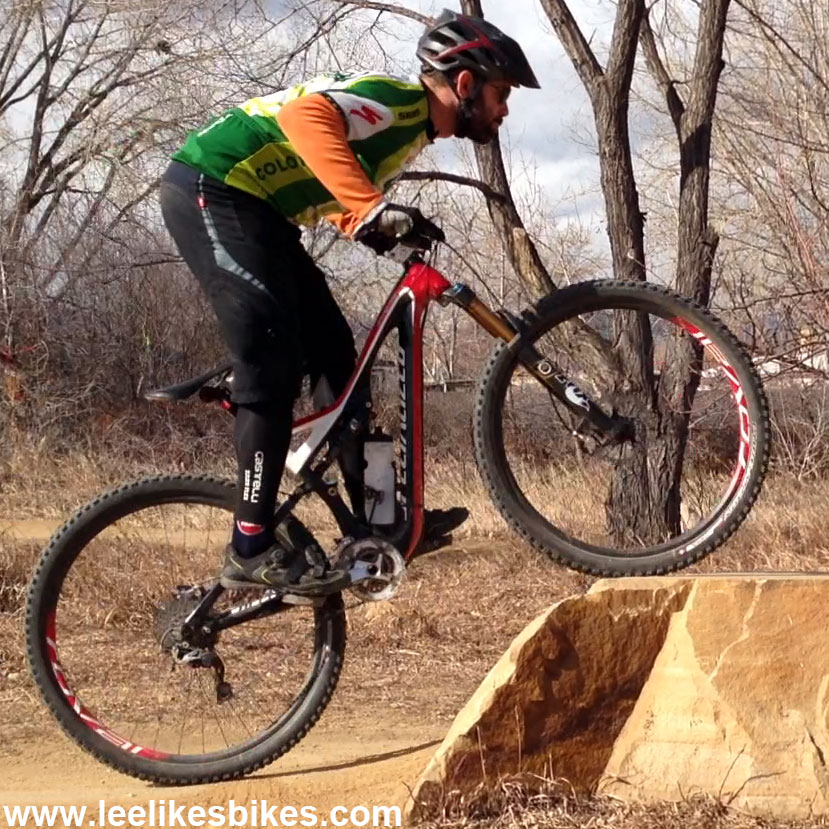 I spend a lot of time analyzing other riders: helping them master the core skills, helping them get ever more dialed.
It's my turn:
---
Photos by Cody Waite
Pro Xterra triathlete and honcho at epcmultisport.com. He videoed me to compare with his own form during one of our skills sessions. Cody and I are working together all preseason.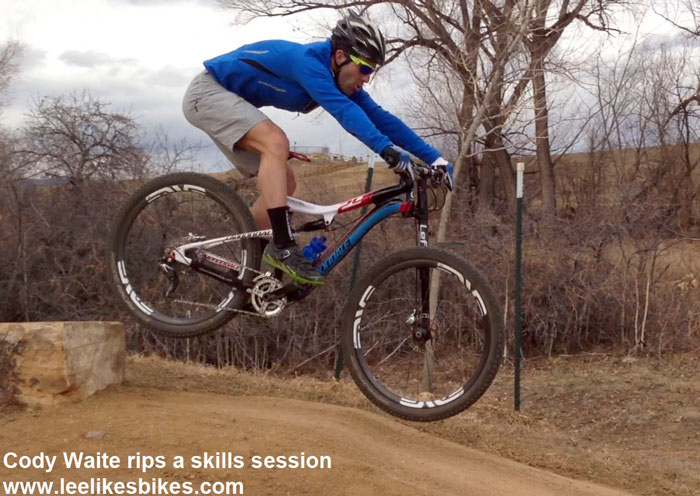 Cody applies rock skill, which he learned on the pump track, to a drop. Braaap!
Situation
Terrain: Skills rock at Valmont Bike Park.
Bike: Mighty Specialized Stumpjumper 29 Carbon S-EVO with FOX 34 fork and full Shimano XTR love. The suspension is balanced. The shifting and brakes inspire full confidence.
First the video
Watch the head. If your head doesn't feel the rock, the rock does not feel sketchy.
Then the sequence
Head stays level. It felt smooth. Pretty good.
Preload
There is no good without evil, no light without heavy.
Body is centered, but front end is heavily loaded — thanks to a powerful push from a stable core. FOX 34 fork is compressed 120 of 140 mm. Hmm, it doesn't feel that violent.
Pull!
Weight driving into the pedals. Arms rowing back HARD. Front wheel doesn't touch the front of the rock.
The width of the Shimano PRO Atherton bar lets me pull my elbows back with my massive lats, rather than my puny biceps. Bike setup is crucial to executing this move powerfully and smoothly. More on that in an upcoming book.
Low
As low and centered as possible.
I'm a bit too far forward. See the cranks rolled forward and the butt on the seat?
I think that's from pulling the bars toward me, and possibly from the rear wheel clipping the front of the rock. I'd rather be perfectly centered. Gotta work on that.
Push!
Drive the front wheel down the backside. Head and torso don't move. Get some pump. Braaap!
I will work on staying more balanced across the top. What else can I improve?
Lee
---
Know more. Have more fun!
Join the leelikesbikes mailing list:
---
https://www.leelikesbikes.com/wp-content/uploads/2018/08/leelikesbikeslogoheader.jpg
0
0
leelikesbikes
https://www.leelikesbikes.com/wp-content/uploads/2018/08/leelikesbikeslogoheader.jpg
leelikesbikes
2013-01-30 11:54:00
2013-01-30 12:58:07
Critique: Riding over a rock