Getting my wife from zero to shred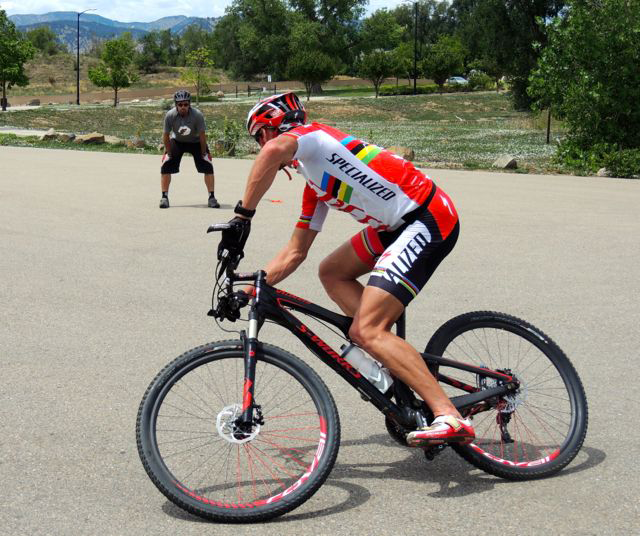 Lee,
First off, I love your stuff and am really enjoying what your books and Pump Up the Base have done to my riding. Now to the question, my wife is a light roadie/triathlete who is willing to step up her game and ride in the woods. I bought her a Specialized Rumor for Christmas, sweet rig, and am pumped to get her in the woods. She has ample fitness, but minimal handling skills. Since her biggest fear is falling and getting hurt, I figured some drills would help give her the much needed confidence to feel more comfortable in the woods. If you only get to pick three drills for a newbie to the woods what would they be? Given you wrote the book, it's on my bookshelf with your autograph in it, I knew you would be able to hit this one out of the park so my wife can add "single track slayer" and "Riding" with a capital "R" to her list without undue injury.
Cheers,
Gary
(p.s. my favorites are your figure eight drills and slow tight turns that work on track stands)
---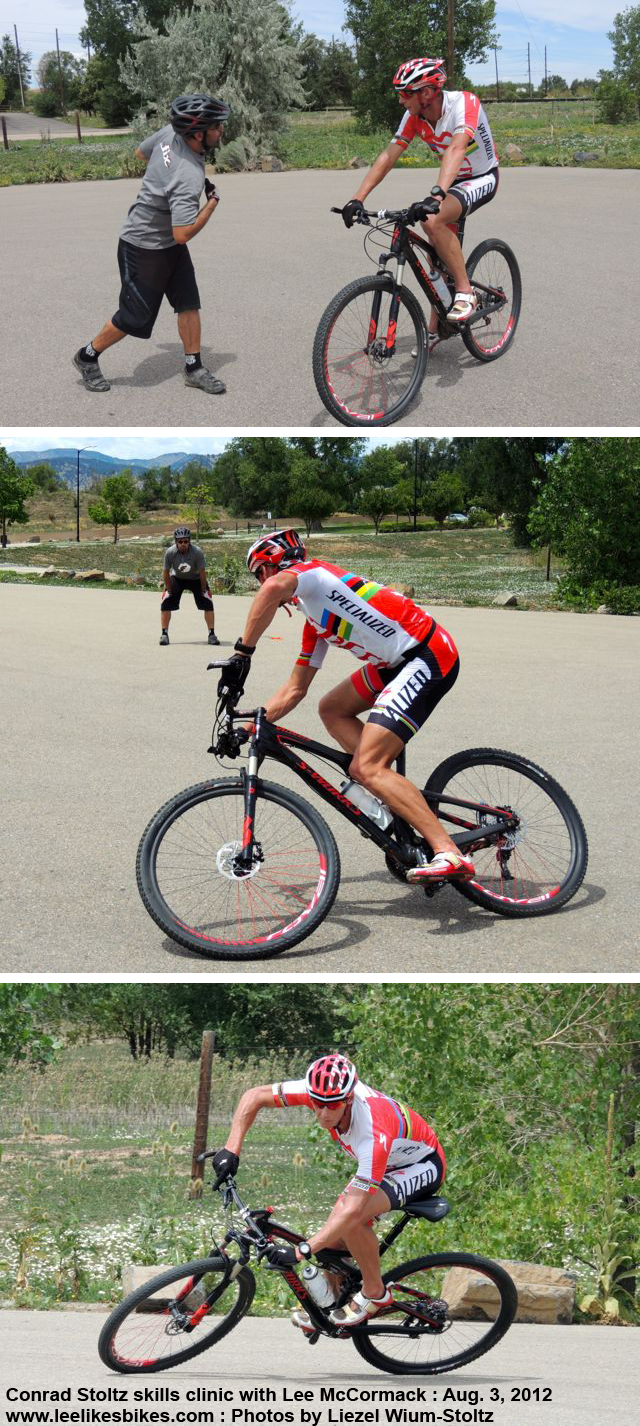 Gary!
Thanks for the great question.
Woods riding generally contains:
• Turns. Many of which are tight.
• Bumps. Depending on your locale, we're talking rocks and/or roots. These bumps happen on both uphills and downhills. Some are small. Some are big.
• Ups and downs. They might be little, but it's important that your wife carry appropriate speed into the turns and bumps.
Job 1 is Don't Get Hurt!
Right now we'll focus on the core safety skills:
• Figure eights. You know this one.
• Riding up and down curbs. Once curbs are totally dialed, look for bigger ledges. Work up gradually.
• Braking. Make proper braking technique absolutely automatic. Yep, 10,000 reps to go!
Next:
• Master pump in its various forms. When your wife can pump bumps and turns in a never-ending sine wave of love, she's officially shredding.
Learn more:
The book Mastering Mountain Bike Skills has a good overview of skill.
The book Teaching Mountain Bike Skills dives very deeply into the core skills, and it includes tons of drills. Get your wife TMBS for your anniversary.
Focus on skill. The rest will happen.
Braaap!
Lee
Photo: Yes, world champions do drills. Working the cornering fu with 4X world XTERRA champ Conrad Stoltz. Super nice guy, by the way.
---
Know more. Have more fun!
Join the leelikesbikes mailing list:
---
https://www.leelikesbikes.com/wp-content/uploads/2018/08/leelikesbikeslogoheader.jpg
0
0
leelikesbikes
https://www.leelikesbikes.com/wp-content/uploads/2018/08/leelikesbikeslogoheader.jpg
leelikesbikes
2014-02-17 17:24:03
2014-02-17 17:25:54
Getting my wife from zero to shred