Hey Lee,
I have been building a pump track today from your Welcome to Pump Track Nation instructions and it is going great except for this one corner. It is a 180 turn and I enter the turn at about 10 to 15 mph but I exit the turn going 1 mph and I can almost not make it up the roller. The turn is about 6 feet from the enter to exit, it isn't very tall and when I am in the turn my bars are close to the ground. Can I gain more speed out of the turn if I build it taller. I have little trouble making the turn but it slows me down and all the other berms I gain speed and they are taller. Or would I just have to change the berm?
Joe
---
Hey Joe,
I'm stoked you're building a track, and that you reached out.
Some thoughts:
• It takes skill to gain speed in a 180. On most racks, I place 180s after fast straights. On beginner tracks I often skip the 180s in favor of 90s.
• It sounds like your turn is too tight. You can't go wrong with the suggested radii in Welcome to Pump Track Nation.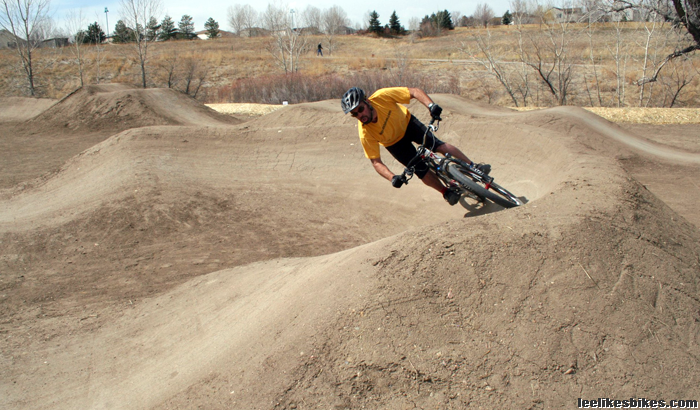 The expert pump track at Superior Bike Park in Superior, CO uses proven spacing and shapes. I had a lot of fun riding this one in!
• The steeper your berm, the better. And the taller it is, the easier it is to make steep. So: The taller the better. For grown-up tracks, I like 180s to be at least hip high. At Sea Otter our 180s were head high.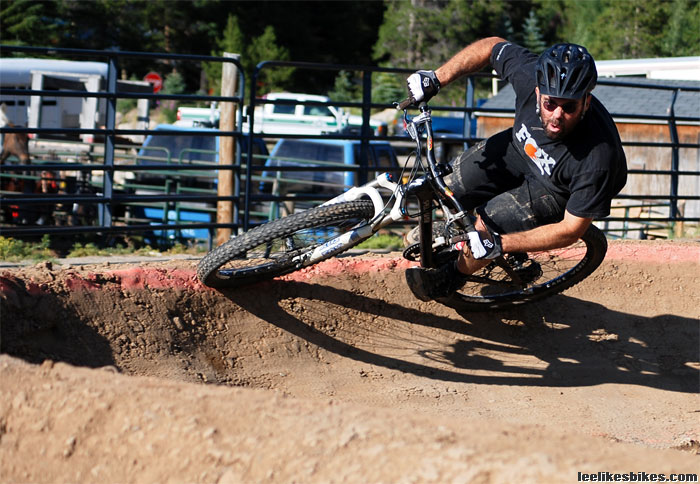 I know this bank is 70 degrees (I measured), so I can rail it with full confidence. The Giant Pump Track at Keystone, CO.
Measure twice. Dig once!. Have fun!
Lee

Going deep in Fort Collins, CO circa 2005. These days I can pull the same Gs with less anger.
---
Know more. Have more fun!
Join the leelikesbikes mailing list:
---
https://www.leelikesbikes.com/wp-content/uploads/2018/08/leelikesbikeslogoheader.jpg
0
0
leelikesbikes
https://www.leelikesbikes.com/wp-content/uploads/2018/08/leelikesbikeslogoheader.jpg
leelikesbikes
2014-02-17 16:56:54
2014-02-17 16:56:54
Trouble with a 180 berm