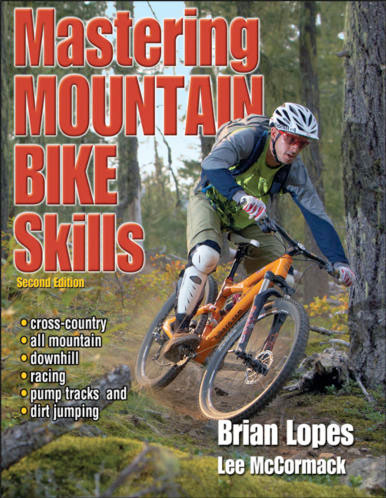 UPDATE
UPDATE: The 3rd edition of Mastering Mountain Bike Skills is even better. Check it out here.
The all-time best selling MTB how-to book is back, bigger and better!
Mastering Mountain Bike Skills is your guide for riding better, faster and more confidently on all terrain. World champion racer Brian Lopes and renowned coach Lee McCormack provide you with all of the key techniques and skills you'll need to take your ride to the next level.
This new and improved edition of Mastering Mountain Bike Skills provides detailed, technical instruction for every mountain biking discipline:
• Cross country
• All mountain
• Downhill
• Racing
• Pump tracks
• Dirt jumping
• and more
The first edition has sold almost 60,000 copies in seven languages worldwide. The second edition is updated to reflect evolution in mountain bike equipment and riding styles, as well as Brian and Lee's increased experience.
About the book
Published by: Human Kinetics
ISBN-13: 9780736083713
Size: 8.5 x 11 inches
Pages: More than 250. 60 more than the first edition
Photos/illustrations: hundreds
Available: Now! The book came out in May 2010, and it's already helping people rip worldwide.
Customize: During checkout tell me whom to sign the book to.
Price: $24 + shipping
Order your signed print copy:
In the Paypal notes area, tell us whom to sign the book to.

Get the ebook version for $23.95


Save money. Get instant delivery. Start ripping today!
Contents
Chapter 1: Choose Your Weapon
Chapter 2: Become One With Your Bike
Chapter 3: Make Great Power
Chapter 4: Brake Better to Go Faster
Chapter 5: Carve Any Corner
Chapter 6: Wheelie and Hop Over Anything
Chapter 7: Pump Terrain for Free Speed Completely new!
Chapter 8: Drop Like a Feather
Chapter 9: Jump With the Greatest of Ease
Chapter 10: Flow on Any Trail
Chapter 11: Handle Crazy Conditions
Chapter 12: Avoid Injuries Completely new!
Chapter 13: Race Like a Champ
Glossary Completely new!
What's new in this edition?
Great question. Lots of stuff:
Brian has a new emphasis in his riding. Less gated racing, more trail and endurance. That shows up.
Since the first edition came out, Lee has created a sequential teaching curriculum, and he's been refining it for more than five years teaching riders of all styles and levels. That teaching mindset now informs the whole book. This edition does a much better job of teaching you how to ride better.
The whole book has been updated. Here is some of the new content:
• Suspension choice and setup
• 29ers
• Women specific bikes
• Customizing your bike for your riding style
• Saddle choice and fit
• Gearing options
• Body position – this informs the whole book
• Pedaling form and fitness
• Braking technique
• Keys to good cornering
• Hopping onto a ledge
• Pumping bumps and turns – new chapter
• Applying pump on real terrain – this also informs the whole book
• How far can you drop?
• How to case a jump safely
• Avoid injuries – new chapter with common mistakes and their fixes
• Top 5 MTB training exercises
• Dual slalom
• Super D
• 24-hour races
• Glossary – yeah, braaap is in there
Sample layouts
About the authors
With over 17 years as a professional mountain biker, the name Brian Lopes is synonymous with American Mountain Bike racing. Since his professional debut back in 1993, Brian has been a constant presence on race podiums worldwide. With over 25 World Cup wins, four World Championship titles, and nine National Champion titles in both DH and Dual Slalom, Brian holds the most World Cup "wins" out of any male racer to date, and is recognized as the winningest American pro mountain biker.
In 2008 his winning-ways were recognized, as Brian was inducted into both the Mountain Bike and BMX Hall of Fame.
Having raced BMX for most of his childhood, Brian learned how to ride a bike at the tender age of 4, turning Pro at the age of 17 and competing in the BMX circuit for 7 years before channeling all his efforts to mountain biking. He has appeared on EuroSport, Universal Sports, CBS Sports, Outdoor Life Network and has graced the covers of every major national and international mountain biking magazine, including Mountain Bike Action, MBUK, Dirt, Bicycling, VeloNews, and Mountain Biking, and has received coverage in such mainstream media as Men's Health, Rolling Stone, and USA Today.
Brian currently has various signature mountain bike products: TLD knee guards, Bell helmet, Kenda tires, WTB bike seat and a signature Sportsmobile design. Other career highlights include being nominated as ESPYs Extreme Athlete of the Year and starring as himself in Playstation's video game Downhill Domination.
Lopes resides in Laguna Beach, California, with his wife, Paula.
Lee McCormack is the world's leading technique expert and uses his own sequential teaching curriculum to coach riders of all types and levels—from homemakers to pro downhillers—to ride better, safer, and faster. He is a journalist who has written for Bike, Mountain Bike Action, Twentysix, Flow, and Mountain Biking. He publishes www.leelikesbikes.com, a mountain biking Web site visited by thousands of readers worldwide. Lee also wrote the book Pro BMX Skills with top BMX racers and coaches.
McCormack has won numerous writing and informational graphics awards at the state and regional levels and was part of the team that won the 1998 Pulitzer Prize for public service. Lee has been a bike nut for over 20 years and enjoys all riding disciplines from single-track to road to dirt jumps and pump tracks. McCormack lives in Boulder, Colorado, with his wife, Arlette, and four children: Kate, Ian, and twins Finley and Fiona.
In other languages
Mastering Mountain Bike Skills 2nd Edition has been translated into German, Polish, Russian, Spanish and Traditional Chinese.
German
Riva Verlag
www.rivaverlag.de
Contact: Christian Jund
mailto:cjund@rivaverlag.de
Polish
Wydawnictwo Buk Rower
www.bukrower.pl
Contact: Grazyna Kozlowska
redakcja@bukrower.nazwa.pl
Russian
Mann, Ivanov and Ferber
www.mann-ivanov-ferber.ru
Contact: Anastasia Gameza
gameza@mann-ivanov-ferber.ru
Spanish
Ediciones Tutor
www.edicionestutor.com
Contact: David Domingo
daviddomingo@edicionestutor.com
Traditional Chinese
He-Hong Cultural Information Ltd.
www.hehong.com.tw
Contact: Hong-I Liu
daniel@hehong.com.tw
Order your signed print copy:
In the Paypal notes area, tell us whom to sign the book to.

Get the ebook version for $23.95


Save money. Get instant delivery. Start ripping today!
Or: Sign up for email updates. I'll let know you when the books are ready to ship.
---