S-Works Stumpjumper hardtail with FOX Terralogic fork
Meet my new friend. We've only hung out a few times, but we're starting to get along pretty well.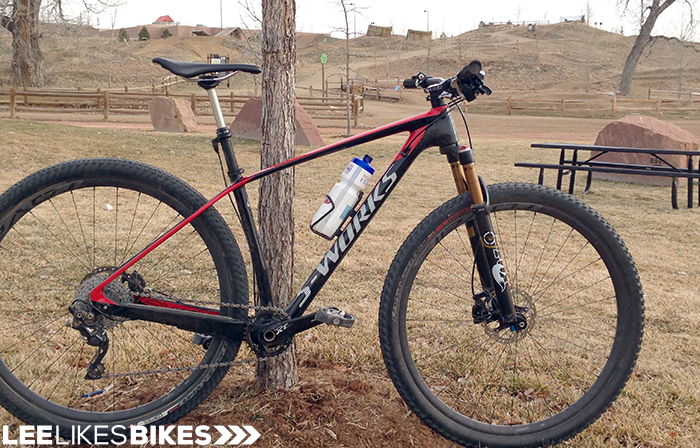 ---
My previous friend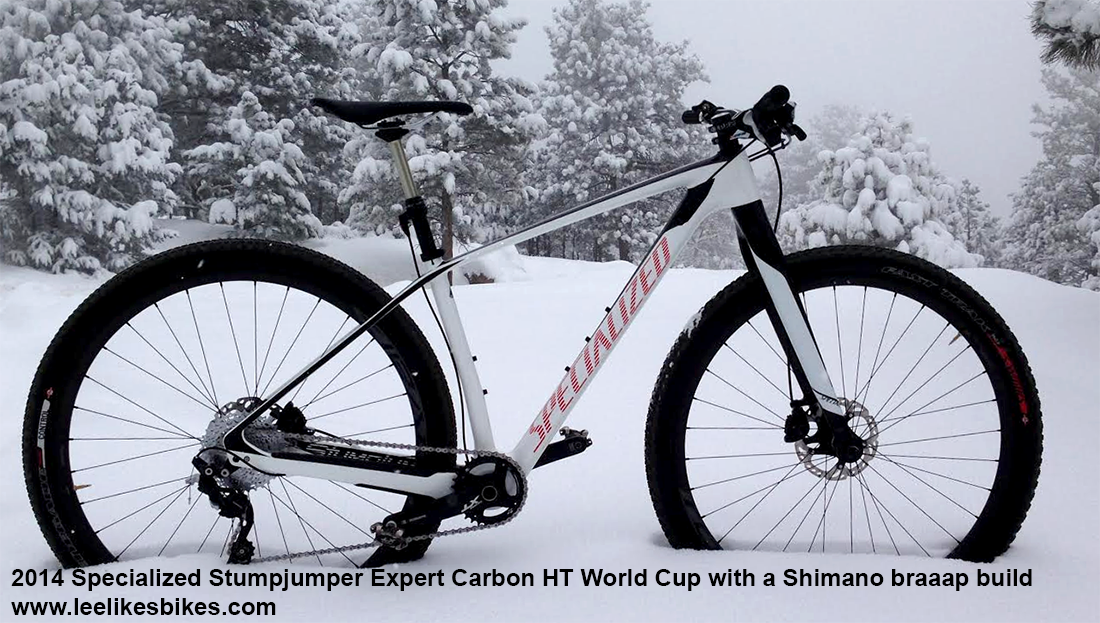 I enjoyed a fun year on a 2014 Specialized Stumpjumper Expert World Cup. This sharp knife was built with Shimano XT brakes/drivetrain, PRO Atherton DH stem/bar, a dropper post and the stock Roval carbon wheels. It was incredibly light (~20 pounds as shown), and it was profoundly fast on the pump track, slalom, dirt jumps and smooth trails.
First rides: 2014 Specialized Stumpjumper Expert World Cup
Dialing in the 2014 Specialized Stumpjumper Expert World Cup
In the right conditions, the Chisel carbon rigid fork rides very smoothly. But it's time to face facts: My shoulders can't handle harsh impacts. So …
FOX 32 FLOAT 29 FIT Terralogic fork
I loved the efficient, connected feel of the Chisel rigid fork, but I need a filter against random violence.
The FOX 32 FLOAT 29 FIT Terralogic fork has an inertia valve like the Specialized Epics (FOX originally codeveloped the Brain with Specialized). This is generally considered a pedaling platform, but I think of it as a pumping platform.
Basically, when you pump terrain smoothly, a valve stays closed and the fork moves very little (you can adjust how much). When the front wheel hits a bump, the valve opens, and the fork uses travel freely. This lets you dial in a very firm, BMXish ride while accessing 100mm of travel when you need it.
Unlike the old inertia valves, which closed and opened in an abrupt and surprising way, this new Terralogic fork switches modes pretty seamlessly. On the Valmont Bike Park pump tracks, slalom, slopestyle and dirt jumps, the fork feels firm … yet smooth. I'm using 90mm of travel, but I can't tell you when.
Lots more to learn about this fork, but so far so rad.
Also see: Brains for braaap
S-Works Stumpjumper hardtail frame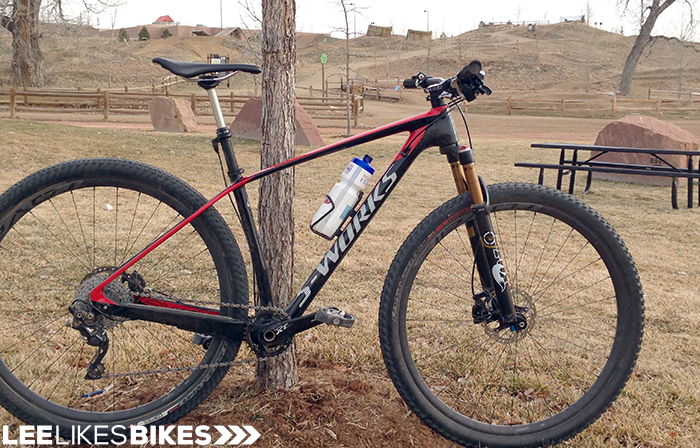 Given the price of this carbon beauty, it better ride well!
Impressions:
Whoa. Light. This bike, as built, is about 23 pounds. That might be the heaviest S-Works hardtail ever, but it's a whole lot lighter than my other bikes. I've been doing hill repeats in my neighborhood, and this thing climbs like the champ it is.
Not slow. 10 laps on Valmont's lower pump track, on the pump-specific Specialized P3, with real aggression, takes me about 2 minutes. I was cruising easy laps on this bike in 2:15. That's despite the big wheels, which supposedly don't pump or turn, and a way-higher-than-normal seat. If a bike pumps 90% as well as a dirt jumper, and you can ride it all over tarnation, that's pretty sweet.
What … is … going … on? This bike has a very special, unique ride. Every part is the same as the previous bike, so the only difference is the frame and fork. The FOX 32 FIT Terralogic fork certainly absorbs bumps as designed, but the bike is … so … freaking … smooth. Tire pressure and spoke tension are the same as always. Is the more expensive S-Works carbon that much better?
Crazy. And fun.
I expect this bike to serve me well for teaching at Valmont and shredding local trails.
Stay tuned!
Lee
---
Know more. Have more fun!
Join the leelikesbikes mailing list:
---
https://www.leelikesbikes.com/wp-content/uploads/2018/08/leelikesbikeslogoheader.jpg
0
0
leelikesbikes
https://www.leelikesbikes.com/wp-content/uploads/2018/08/leelikesbikeslogoheader.jpg
leelikesbikes
2015-02-02 18:24:10
2015-02-02 18:24:20
S-Works Stumpjumper hardtail with FOX Terralogic fork