Dialing in the 2014 Specialized Stumpjumper Expert Carbon HT World Cup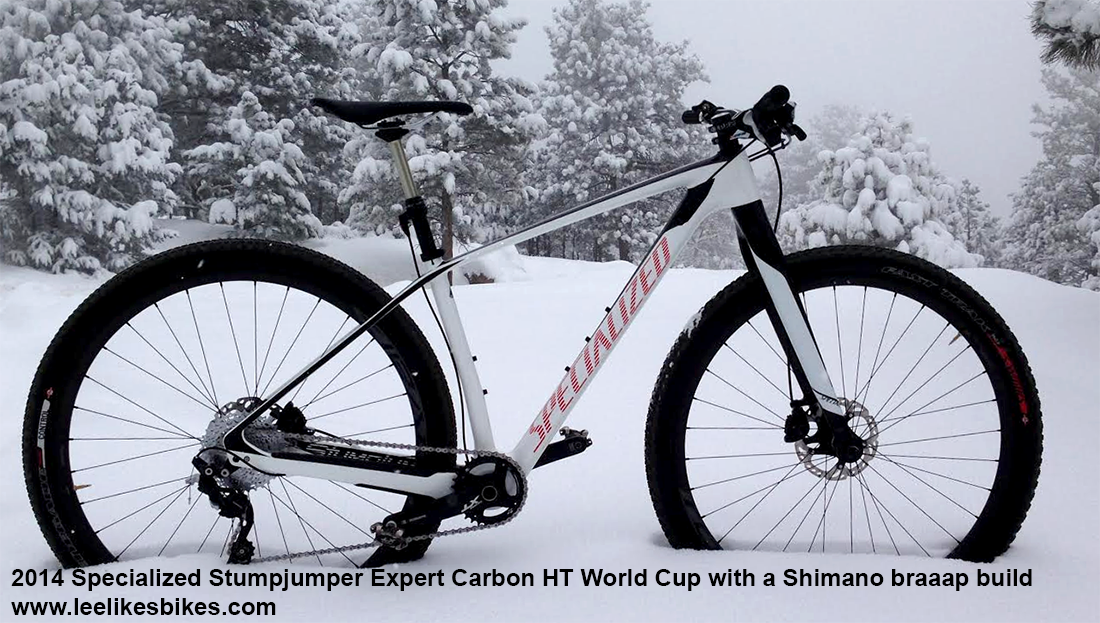 Specialized aims its 2014 Specialized Stumpjumper Expert Carbon HT World Cup straight at hardcore XC racing on smoother tracks.
I have other ideas for mine.
---
Check out the 2014 Specialized Stumpjumper Expert Carbon HT World Cup at specialized.com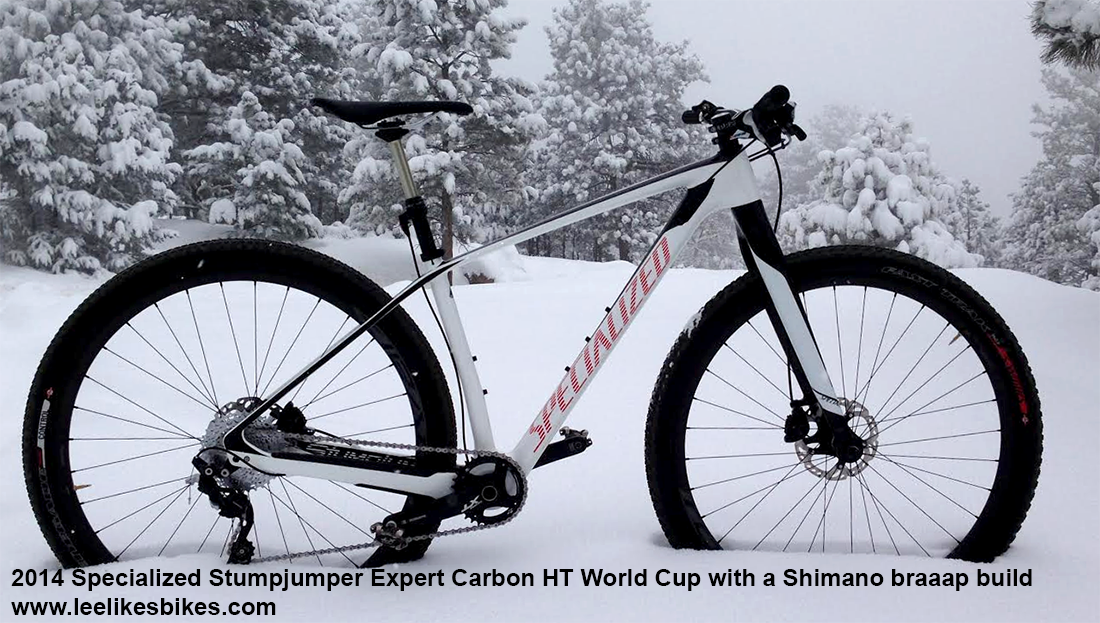 My goals for this bike
All-around utility, teaching and shred rocket. During summer, most of my riding is at Valmont Bike Park. This bike will be fun on terrain I've ridden 1,000 times, help me refine my kung fu and be perfect for teaching.
Also, while I'm plowing the 2014 S-Works Enduro 29 through all manner of gnar, this bike will keep me sharp and connected to Mother Earth.
Hmm, I guess this is the 29er evolution of Captain America.
Changes from stock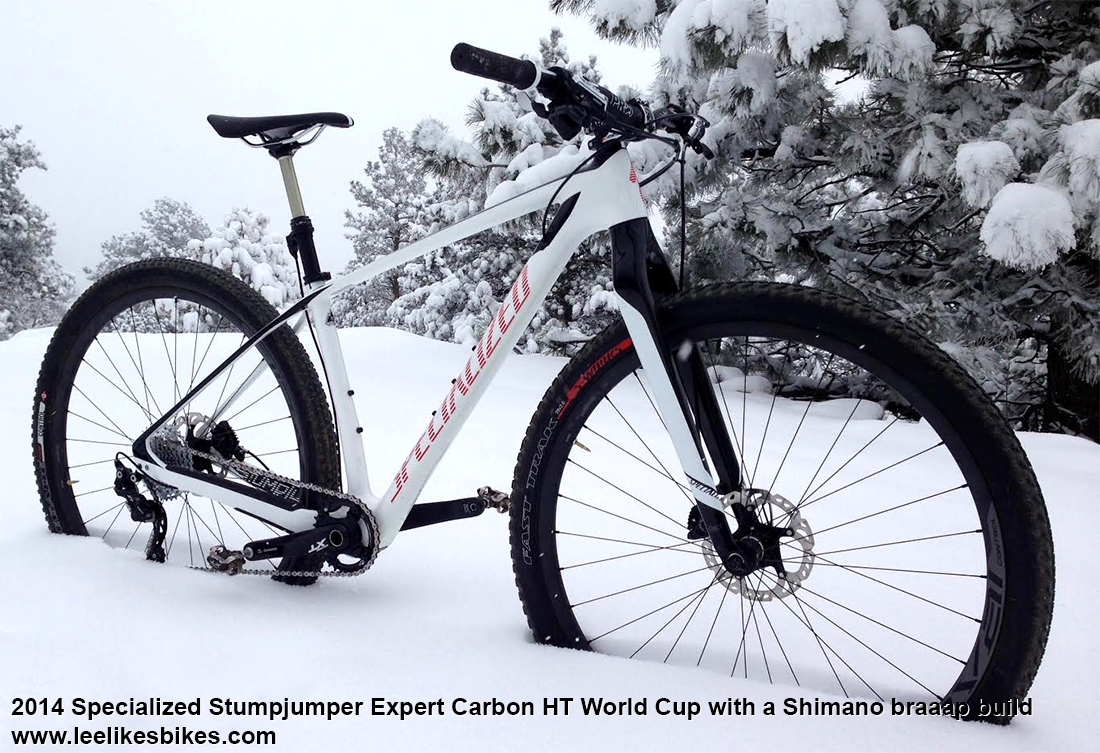 The stock SRAM/Magura build is super solid and, at 19.8 pounds with pedals, very light.
However, I like my cockpits a certain way, and I am Shimano all the way. Hence:
• Shimano PRO Atherton DH stem and bars. The same as my other bikes for consistent feel and, in my opinion, optimal hands-to-feet relationship for shredding.
• Shimano XT drivetrain with Shadow Plus rear derailleur. With a thick/thin chainring, the chain should stay put. The shift lever lets you upshift more than one gear at a time by pulling or pushing. This is a small feature, but once you get used to it, you won't want to do without.
• Shimano XT Ice Tech brakes! If you haven't ridden current Shimano brakes, don't do it unless you're ready to switch. The feel, power and reliability are spot on. The stock Maguras feel very smooth, with nice modulation and decent power, and very few XC racers would ask for more. However, I am used to aggressive riding with powerful brakes (I can't out-climb many XC racers, but I can out-brake and out-corner most of them). You gotta leverage your strengths.
• Shimano XT clip-in pedals. I don't even know how long I've had this pair. Some of my Shimano pedals are more than 10 years old and going strong. Heck, my first Shimano spinning reel is 34 years old and still rocking.
• KS Lev dropper post. This was my only choice for a 27.2mm x 100mm dropper. So far so good but I'm used to 125mm drop. I'm hoping the lack of suspension will let me do the same ripping with less room.
Let's not forget the stock Specialized carbon frame and fork, plus the Roval carbon wheels.
New bike weight is 20.75 pounds. Not bad, eh?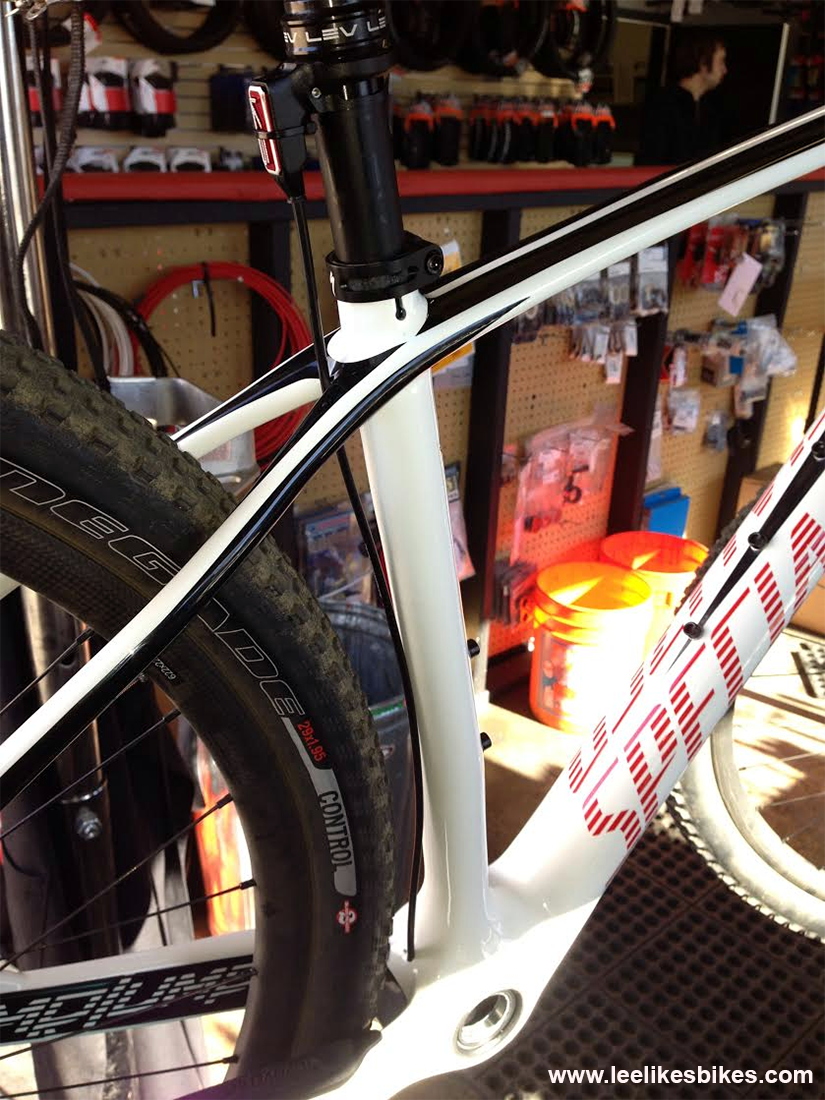 I love getting a pro build at The Fix Bike Shop in Boulder. These guys know what they're doing, and Jason, a former Trek team wrench, dials in the details. Check out this dropper post cable routing!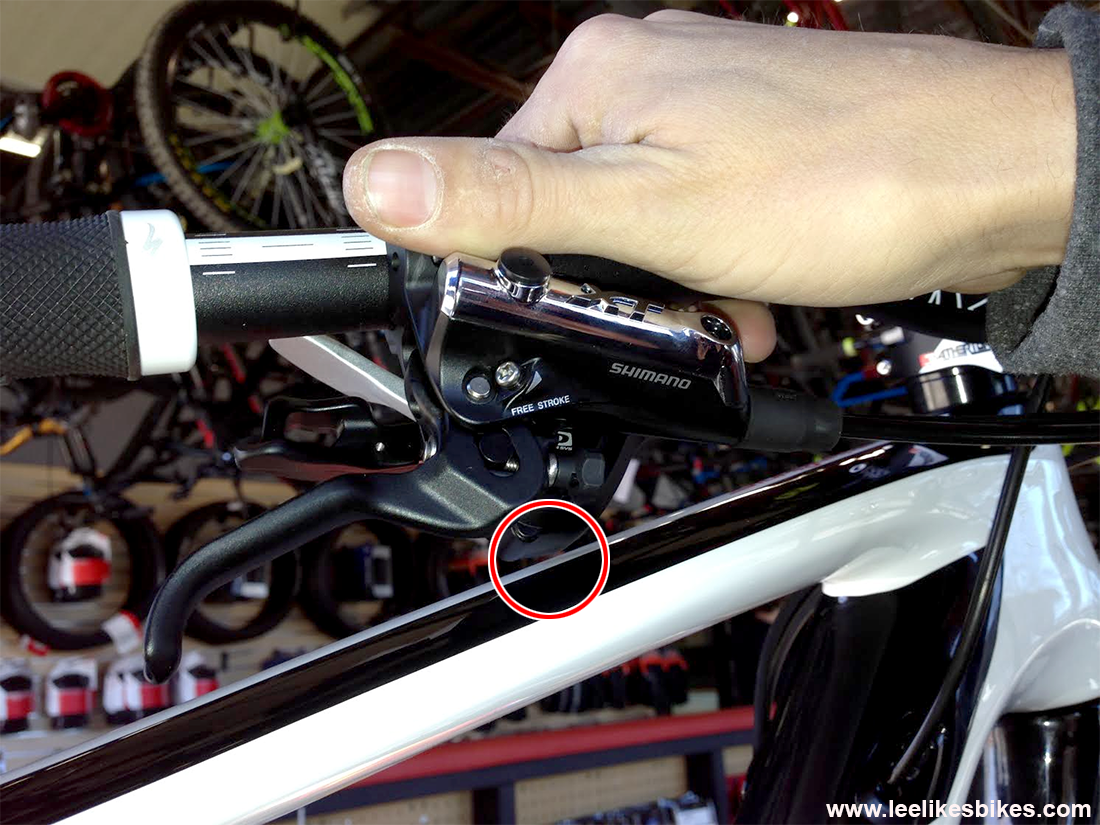 More pro details from Jason. Make sure the controls clear the top tube. He says a lot of carbon hardtails get ruined by too-low bars smashing top tubes.
The ride so far
Arrggg this snowy weather. So far I've ridden the Stumpy HT WC Ninja on the road, dirt road, pump tracks and slalom.
This bike has a magically planted and responsive ride. On the upper Valmont pump track, I could barely respond fast enough to keep up with the bike. So fast!
This snow is a bit much. I can't wait to learn this bike at Valmont, then get after our local trails.
Braaap!
Lee
---
Know more. Have more fun!
Join the leelikesbikes mailing list:
---
https://www.leelikesbikes.com/wp-content/uploads/2018/08/leelikesbikeslogoheader.jpg
0
0
leelikesbikes
https://www.leelikesbikes.com/wp-content/uploads/2018/08/leelikesbikeslogoheader.jpg
leelikesbikes
2014-02-01 12:11:49
2014-02-01 12:23:29
Dialing in the 2014 Specialized Stumpjumper Expert Carbon HT World Cup