First ride: 2014 Specialized S-Works Enduro 29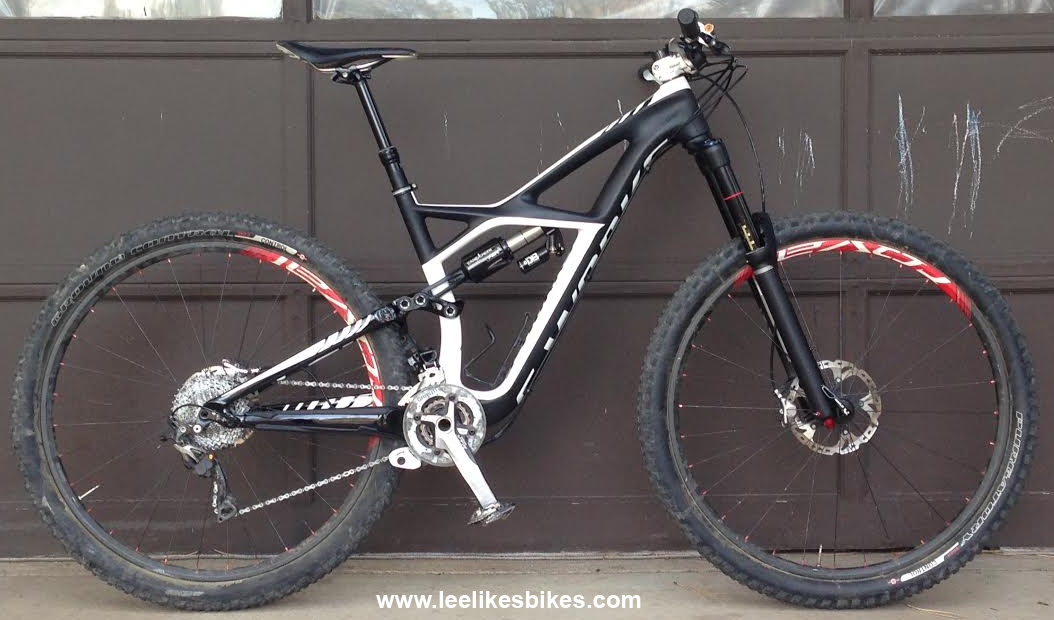 We know this bike is made for serious DH shredding, but Ride #1 was all about climbing.
Not bad, not bad …
---
The bike
For the sake of comparison, the Enduro 29 took the parts from my Stumpy 29 (the raddest bike ever!).
The only differences are the frame, Command Post IR (internal cable routing) and fork. I'm bummed Fox doesn't make a 160mm 29er fork (yet), so I'm trying the Pike.
Frame: 2014 Specialized Enduro 29. 155 mm rear travel.
Components: Shimano XT, XTR and PRO. Gamut chain guide. Stages power meter (on an XTR crank).
Wheels: Roval all-mountain carbon (the older ones with the hook-bead rims and lots of hard miles)
Tires: Specialized Purgatory 2.3 Control front, Ground Control 2.3 rear.
Saddle: Henge Expert. This is my go-to saddle. Light enough, comfortable enough and easy to move around.
Weight: My Stumpy 29 weighed 28 pounds. This Enduro 29 weighs 29.25 pounds. So, the slacker, burlier bike delivers another inch of suspension — and presumably even more braaap — for the price of 1.25 pounds.
The stock S-Works Enduro 29 only weighs 27.3 pounds! That's with the SWAT top cap chain tool and bottle cage with EMT mini tool, plus the wider Traverse SL carbon all-mountain wheels. Crazy.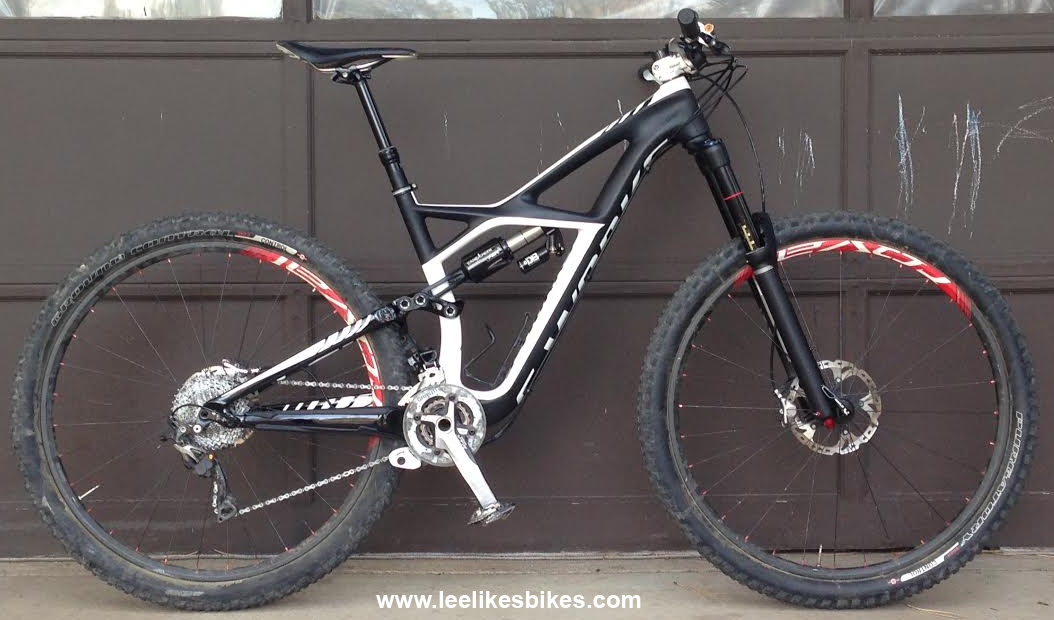 The route
Climb from home to the top of Sunshine Canyon near Boulder, CO. Pavement and dirt. Mostly gradual with some steep pitches. 2,400 feet gain with a peak near 8,200 feet.
Riding buddy: Nick Stevens, retired World Cup XC racer on his hardtail. If I can climb with Nick, that's a great day at the office.
The ride
I can't wait to ride this bike on the terrain for which it's designed, but today's adventure gave me some clear impressions:
• Whoa, the e29 feels stiff and solid. You can feel it out of the saddle and in the corners. The connection between feet and ground is a bit more … connected than the s29.
• The front end likes to flop on steeper uphills. That makes sense given the slack geo and big fork. You might consider a fork with adjustable travel. I'm gonna learn how to ride this one.
• I have climbed this hill plenty of times on bikes including an S-Works Tricross, Stumpy hardtail, Stumpy 29 and Enduro 26. The Enduro 29 does not feel slow. Does it feel big? Yes. Does it feel solid? Yes. Does it feel heavy? Yes, compared with my 20-pound Stumpy hardtail. Does it feel slow? No. It goes up just fine. I did not climb slower today because I was on a heavier bike.
• The bars are higher. Duh: The fork is taller! If you're coming from a stock Stumpy 29 with a 130mm Fox 32 fork, the e29 bars will be more than an inch higher. My Stumpy 29 has a tall 140mm Fox 34 fork, which puts the e29 bars about a centimeter higher. This is not a deal breaker, but it will affect my technical climbing. Gonna see if I can make that difference with the new Shimano PRO DH stem, which seems to have a lower profile.
• I've ridden most of the dropper posts on the market, and I've owned each generation of the Specialized Command Post. This new IR model is the smoothest yet, especially at the lever.
• The Cane Creek shock's climbing switch works as designed. It's nice and firm without getting harsh in the chatter. I really like how the bike pumps in this setting.
So far so rad. When the snow melts it's time to ride trail!
Lee
---
Know more. Have more fun!
Join the leelikesbikes mailing list:
---
https://www.leelikesbikes.com/wp-content/uploads/2018/08/leelikesbikeslogoheader.jpg
0
0
leelikesbikes
https://www.leelikesbikes.com/wp-content/uploads/2018/08/leelikesbikeslogoheader.jpg
leelikesbikes
2014-01-17 14:50:26
2014-01-17 21:02:12
First ride: 2014 Specialized S-Works Enduro 29