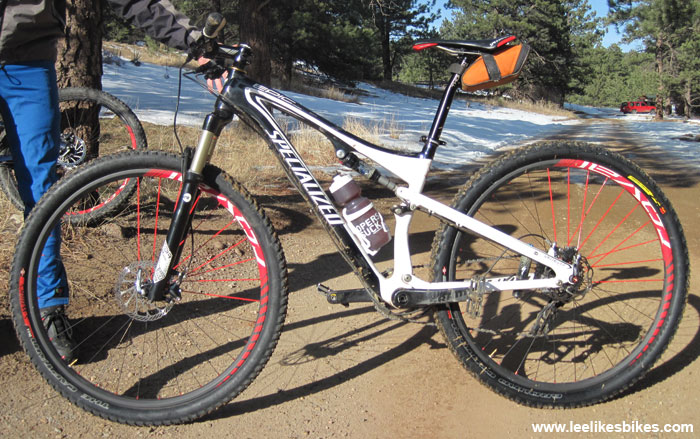 Also a one-ride review of the 2011 Specialized Epic EVO 29
By now everyone knows Specialized Epics are badass XC race machines. Regarding the S-Works Epic 29, Mountain Bike Action said, "This is the best mountain bike we have ever ridden." Epics are used by skinny nerds the world over to win races and wax their buddies. But I'm here to tell you the Brain is not just about pedaling. It's about braaap.
---
About the Brain


FIRM WHEN YOU WANT IT: Brain-equipped 2008 Stumpy Pro Carbon on the pump track in Lyons, CO.
The heart of the Epic is the Brain shock. You've all heard of the Specialized Brain technology. Basically, it knows the difference between rider forces and bump forces, and it lets you tune your bike so its stiff when you're pedaling on smooth ground but plush when you're plowing through bumps.
Brain technology was introduced with the first Epic about 10 years ago. That bike was full stiff or full open. It didn't sag, or it sagged — and you couldn't predict when it would switch. The Brain was clearly a great idea, but it needed some refinement.
The current Epics and other Brain-equipped bikes are much more subtle. You can dial in a bit of bleed so the bike sags like normal, and the transition from closed to open is hard to detect. I like to run my Brains with just enough platform to pump against.
To me, the real promise of the Brain isn't just pedaling efficiency: It's pump. For a rider who knows how to work terrain, a Brain-equipped bike provides the firmness of a hardtail or short-travel DS bike, but with the instantly accessible plushness of a full-on trail bike.
For two years I rode a 2008 Stumpjumper Pro Carbon with Brains front and rear. That bike was truly extraordinary. It pumped like a very stiff slalom bike, yet it used its full 120 mm in the bumps. I'm telling you, that bike was incredible. Pump track, dirt jump, mellow XC, downhill: awesome. When I got my current 2010 Stumpy, I adapted to the ultra plushness — and now I sure love that bike — but I did miss the Brains.
Brain shocks are available on high end Epics and Stumpjumpers. Some of these bikes also have Brain-equipped forks.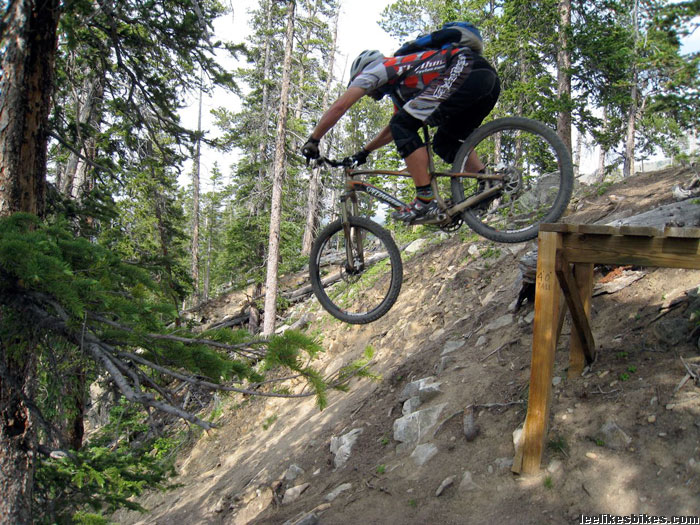 PLUSH WHEN YOU WANT IT: Brain-equipped 2008 Stumpy Pro Carbon on a DH trail at Keystone, CO.
Big wheels
If you follow this site, you know I've been testing 29ers. When I was in Texas training high school coaches, I rode a Camber 29, and it opened my eyes to the power of big wheels. I recently rode a Stumpjumper Comp 29 on my normal rides, and every test showed that bike is easier and faster in most trail situations (and it did not suck at the pump track, dirt jumps and DS course).
I've pretty much decided I want to ride a 29er trail bike next year. The question has been, do I go for a Stumpy 29 or the slacker, longer-travel Stumpy EVO 29?
Friday Specialized sales rep Jason Emmanuel loaned me his personal 2011 Epic EVO 29. He warned me that this bike is "sick," "ridiculous," "crazy-fast," etc. I was like, yeah, I'm sure this proven XC race bike works great for sit-and-spin nerds, but I doubt it will braaap the way I want. But it's worth a try.
Bike setup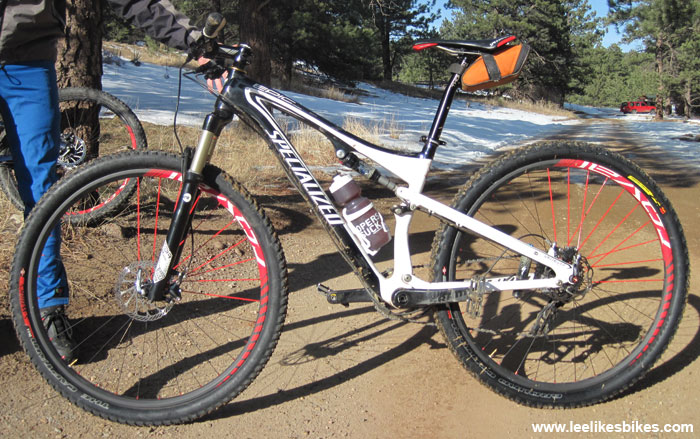 2011 Specialized Epic EVO 29 with upgraded Roval Control SL 29 carbon wheels
2011 Specialized Epic EVO 29. No-BS, no-compromise XC race machine. 100mm Brains front and rear. Parts are stock except for Roval Control SL 29 carbon wheels. These come on the S-Works Epic, and they represent a close to $2K upgrade. Retail on this bike would be about $6,500. Crazy.
Fork and shock pressures per Specialized setup guide: Rider weight 175 lbs. Shock pressure 185 lbs. Positive fork pressure 115 psi. Negative fork pressure 125 psi.
Captain front tire tubeless with 28 psi, Ground Control rear tire tubeless with 30 psi.
Stock XC nerd cockpit with short flat bars and 90mm negative rise stem.
Answer Rove FR flat pedals. A great value for about $70.
Riding the 2011 Specialized Epic EVO 29
OMG. Wow. That was insane. OK Jason, you were right.
I've ridden the Boulder side of Heil Ranch like 100 times. The trail has a mellow grade, lots of turns, some bigger embedded rocks and lots of little chattery rocks; it's your basic XC trail. I've ridden this trail on all kinds of bikes, from my Intense 20″ BMX to my Mighty Carbon Enduro. I can't imagine any bike being more perfectly suited to that ride than the Epic.
Up
Insanely fast. Light, stiff, responsive, firm when you want firm, plush when you want plush, blah blah blah. The Epic's climbing performance has been well documented by the bike-nerd press.
When climbing the rocks, I felt the fork's platform give me a bit of pump on the backsides. I'll take uphill speed wherever I can get it.
As I whisked up the hill, a thought struck me: If I want to do longer rides and/or hang with riders who are stronger than me (a common situation as I coach more elite XC racers), this bike will make me the best climber I can be. Now if I can also rip the downhills …
Down
Dude. Wow.
Short bars, low stem, steeper-than-I'm-used-to head angle be damned, that bike rips. Thoughts:
• OK, the bike is really light. Like 10 pounds less than my Enduro. I'm not a weight weenie, but that's a big difference.
• The bike is laterally and torsionally stiff. I'm sure things were flexing, but they were flexing in a coherent manner. On my 2008 Stumpy Pro Carbon I could feel the fork bending and twisting; on this bike everything feels like it works together. I said the same thing about the Stumpy Comp 29.
• Pumping is easy and powerful. When you want to load the bike, you don't have to push through a ton of suspension to find the ground. You push into the platform. This takes way less energy, and it gives you a stronger connection. It's like riding a pump track on a hardtail or very stiff DS bike rather than a plush trail bike. Way more speed for way less work.
• Hopping is easy. Again, you're not pushing through a bunch of suspension to find the ground. You're pushing into the pedal platform. This gives your hops an easy, quick, snappy feel more analogous to hopping a hardtail than a trail bike.
• Cornering is rad. In a smooth corner, you press into the platform and through a bit of the bleed. The bike isn't stiff, but it's firm. You can really feel the ground, and you can load and unload with great precision. If you hit a rock, the suspension opens up, then the bike tracks like a suspended bike should.
• The bumps are smooth. The 29-inch wheels do a lot of the work. The suspension takes care of the rest. On this ride, I used about 95% of the Epic's travel. In the chattery rocks, this bike with 100mm felt about as plush as my Stumpy 26 with 140mm.
• People who say 29ers don't handle quickly are some combination of 1) ignorant and 2) unable to control their bikes. I'm telling you this bike (and the Camber and the Stumpy) whip around just fine.
• That descent was SO RAD. Never have I ridden that trail so fast and smooth with such little effort. I credit the Epic, the 29-inch wheels and the Brains.
My only complaint
The only situation when I noticed I was riding a Brain (in a bad way) is when I hit an isolated square bump in an otherwise smooth section. If I was climbing, the seat hit my butt. If I was pinning it downhill, the rear wheel bounced upward. On Friday's ride this happenened a few times on the climb and only once on the descent (on the DH I pulled a Ricky Carmichael and used the heavy front end to initiate a violent turn: braaap!). It's not a deal breaker, but I did notice.
Jason says the 2012 models cure this issue. The transition from closed to open is completely seamless — and the single-hit performance is way better. Well then, nothing left to complain about.
Parting thoughts
• The 2011 Specialized Epic EVO 29 (with the carbon wheel upgrade) is a sick, sick bike. It will make any rider feel heroic. It better for $6,500.
• Most of the nerds riding these bikes have no freaking idea what they (the bikes or the riders) are capable of. Most Epic riders are sitting down and pedaling like stiff hamsters. If you have an Epic, I implore you to learn how to Ride it with a capital R. (I can help: book, clinic)
• A trail bike with a Brain shock/fork opens up powerful possibilities for riders who know how to work terrain. The Epic and the Brain-equiped Stumpjumper (and their women-specific counterparts) are marketed for pedaling, but I'm telling you that's only part of the awesomeness. Imagine a bike that pumps like a hardtail or short-travel DS bike, yet swallows bumps like a 5-to-6-inch trail bike.
• If you can afford an Epic or Stumpjumper with a Brain or two, I encourage you to arrange a test. Set up the suspension per Specialized's recommendations and dial in just enough platform to give you something to pump against. Go out and Ride with a capital R. Pump, hop, jump. Seriously, just freaking pin it and see how you like the bike.
• I've been dreaming about a Stumpy 29 or Stumpy EVO 29, but this Epic has me thinking: 1) A Brain bike would be really fun and efficient, and 2) with 29-inch wheels I don't need more than 100mm of travel for trail riding. Wow. Things are changing.
I hope to ride this Epic on gnarlier terrain. Stay tuned.
---
Know more. Have more fun!
Join the leelikesbikes mailing list:
---
https://www.leelikesbikes.com/wp-content/uploads/2018/08/leelikesbikeslogoheader.jpg
0
0
leelikesbikes
https://www.leelikesbikes.com/wp-content/uploads/2018/08/leelikesbikeslogoheader.jpg
leelikesbikes
2011-12-18 23:03:03
2011-12-28 20:03:09
Brains for Braaap