Pinning the DH with Alex Willie

Last weekend Young Skywalker won the national downhill championships — YES! NATIONAL CHAMPION! — and next month he's heading to Worlds. Yesterday we hit Keystone for a good, old fashioned DH tuneup.
---
Conditions
Perfect. A bit moist in the morning. Fast and plenty grippy in the afternoon. Zero dust, which provided great views of a young pinner on the rise.

Alex carves the new Paid In Full. This trail has some great flow.
So fast
When Alex and I started working together a couple years ago, he'd ride his DH bike and I'd ride my Enduro, and I could keep up just fine (while telling him what to do). Uh, not any more. This dude is fast. At Nationals he would have placed 13th in Pro Men.
Alex is officially much faster than I am — and that was the goal!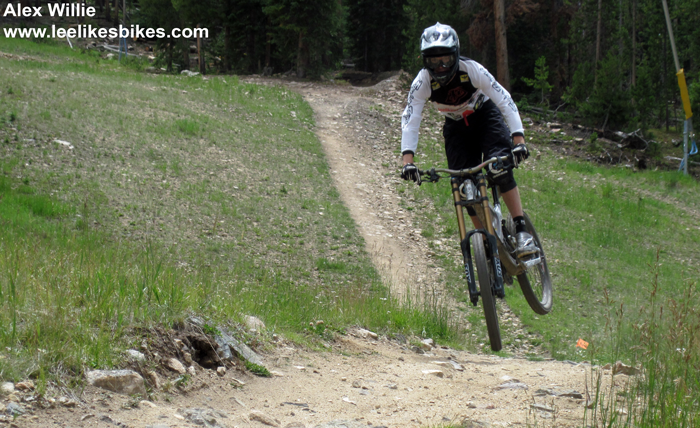 Setting down from a 30-foot low-angle boost.
As a full time coach who rides the same terrain all the time, typically at client speed and seldom in full DH mode, I am not used to riding DH terrain this fast. I must say it feels pretty great. There's something so liberating about riding faster than you can think — but feeling your body do everything right. Just match the Young Jedi's speed and let it all come together. So rad. Thanks for that Alex.
Yesterday's ride reminded me of a mission with Curtis Keene and Jim Norman: It doesn't matter, and it's OK, and it feels great.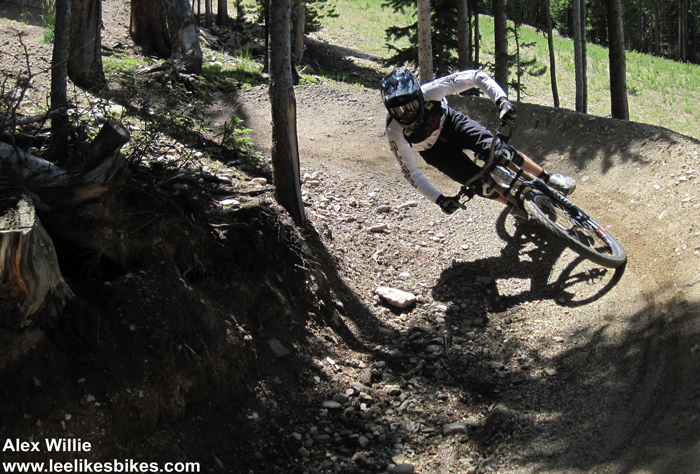 This S on Money is … uh … money.
Riding style
Alex is dialing in the playful engagement of a Curtis Keene with the tight precision of a Brian Lopes. In my mind, that's the perfect racer's riding style.
At this point, Alex has excellent fitness, a strong mind and a solid skills foundation. We will continue to dial in the subtleties, add new tricks and increase his overall strength, power and confidence. Chasing him will make me faster too!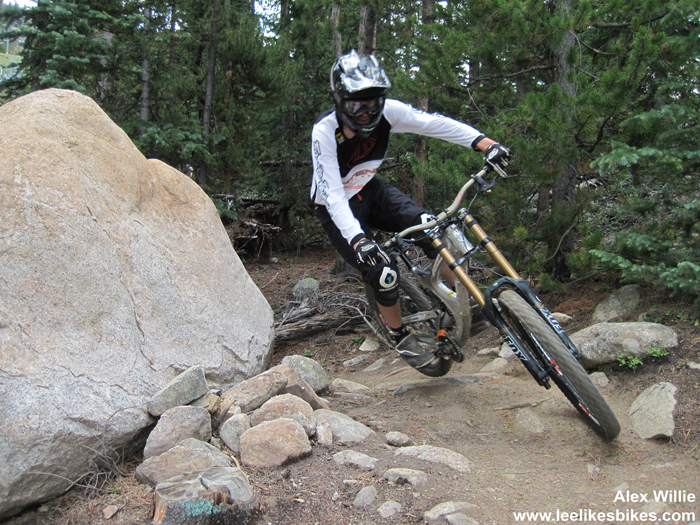 Awkward but fun turn around a big rock. Note the rear end is still weightless, and Alex is about to engage the front wheel.
Worlds are a month away. Until then, Alex and I will ride as much as we can.
Fun with Alex:
The 2011 season starts now
7:1 and stoked
Paul Bunyan riding
Dialing it down to 8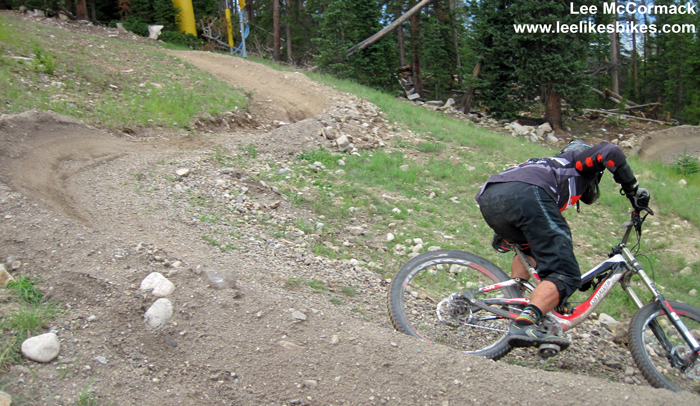 Alex is fast on the bike but slow on the shutter. Still a sweet moment on a fun trail. My new Demo 8 II is working great overall, but I'm struggling with the Boxxer fork.
---
Know more. Have more fun!
Join the leelikesbikes mailing list:
---
https://www.leelikesbikes.com/wp-content/uploads/2018/08/leelikesbikeslogoheader.jpg
0
0
leelikesbikes
https://www.leelikesbikes.com/wp-content/uploads/2018/08/leelikesbikeslogoheader.jpg
leelikesbikes
2012-07-29 09:00:16
2012-07-29 21:20:34
Pinning the DH with Alex Willie