It doesn't matter, and it's OK, and it feels great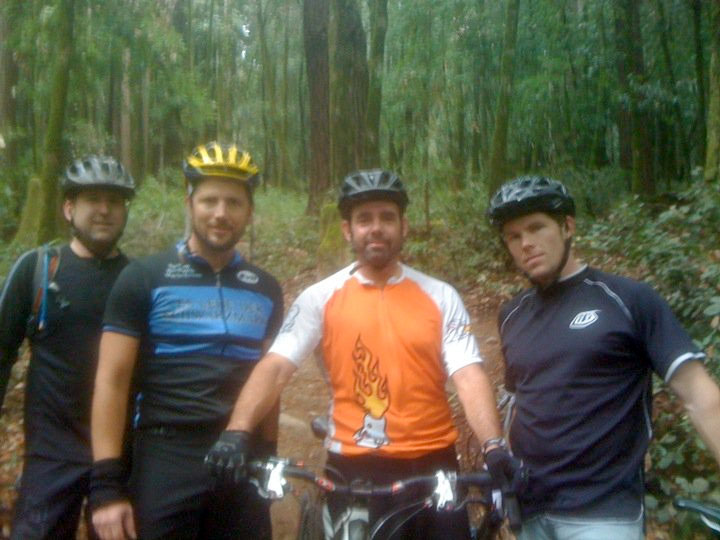 After last weekend's coaching sessions, I really needed a good ride. The kind of ride where you go so fast you can't think of anything. The kind of ride where training and skills and preparation and technique all dissolve into a cloud of braaap!
Actually, I've been needing that ride for a long time.
Monday morning.
Curtis Keene (pro downhill racer), Jim Norman (Fox Racing Shox OEM wizard), Matt Fritzinger (NICA director) and I meet at a Santa Cruz parking lot. Sunday's rain turned the summer dust into tacky love. The trees dripped. The air laid heavy, full of oxygen, full of promise. The pixies played their flutes.
Behind this moment are thousands of hours of working, teaching, creating technique books, shooting photos, practicing skills, training on the bike, training off the bike, training, training, always training. Not for racing any more. Party for coaching. Mostly for moments like this.
Keene and Norman are rolling 160mm all mountain bikes. Lately I've been riding the 140mm Stumpjumper, but when in Rome … with the fast guys … you roll the bigger, slacker machine. I put pedals on my Enduro, checked the air pressures then climbed aboard.
We climbed fast. It felt great.
We traversed quickly. It felt easy.
We lowered seats, cleaned glasses and let fly. Oh man.
It went Curtis, me, Jim. Turn, jump, turn, drop, turn. Rocks and roots slipped. Dirt gripped. Berms: optional but fun.
We went fast. So fast I forgot about leaning and loading and unloading, but I did all of those things. So fast I just followed the blur of Curtis.
Boost off a log, turning through the air, landing on a backside into the next turn. Braaap! Curtis cuts through the moist layer and dust explodes. We're arcing, sprinting, bouncing, flying through the woods. Eyes tearing, world blurring, bikes and bodies doing what they do when the mind can't keep up.
The trail tightens. The foliage closes. The speed drops. Curtis disappears around a turn. Jim clatters behind. Bounce off a berm, transitioning in the light moment and — WHOA — a big, wet, crooked log. The mind pauses. We don't have this at home. The secretary goes into the file cabinet. Let's see … ah, yes: A big bunny hop. And it's back on with Curtis in front and Jim behind and turns and jumps and turns and drops and turns and turns and turns. Fly off a log and … wait for it … clank! Using full travel, riding the bike the way Saint Brandon intended.
Climb fast. It feels great.
Everyone ready? We have time for one more.
This one is straighter. Bumpier. Jumpier. Droppier. New to me.
Curtis says trust me, just follow my line.
And I do.
Crank crank crank and the world falls away. Carving, floating, pedaling, jumping, landing, dropping, falling …
We're going so fast I have no idea what's happening. I just know it feels great: a blur of brown and green and right and left and light and heavy and release and joy.
And Jim says:
"Boring."
Ha! Ha ha! Ha ha ha! And I start laughing, and the bike is working underfoot, and I am ripping, and I let it all go, and I'm laughing and laughing and almost crying, and I can't see fast enough to know what's coming, but it doesn't matter, and it's all OK, and it feels great. This moment, it feels great.
Moments like this. That's what I train for.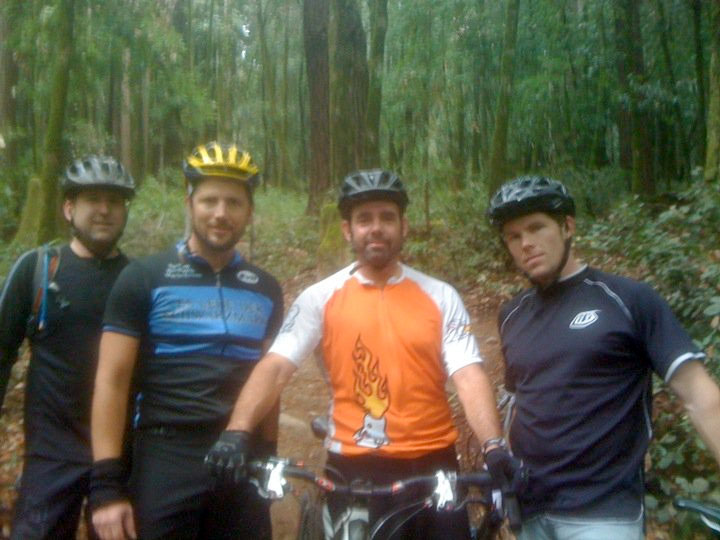 Jim Norman, Matt Fritzinger, me, Curtis Keene. Yeah, my bunny breathes fire.
---
Know more. Have more fun!
Join the leelikesbikes mailing list:
---
https://www.leelikesbikes.com/wp-content/uploads/2018/08/leelikesbikeslogoheader.jpg
0
0
leelikesbikes
https://www.leelikesbikes.com/wp-content/uploads/2018/08/leelikesbikeslogoheader.jpg
leelikesbikes
2010-10-20 22:03:20
2010-10-20 22:07:02
It doesn't matter, and it's OK, and it feels great