NorCal high school coach training 2010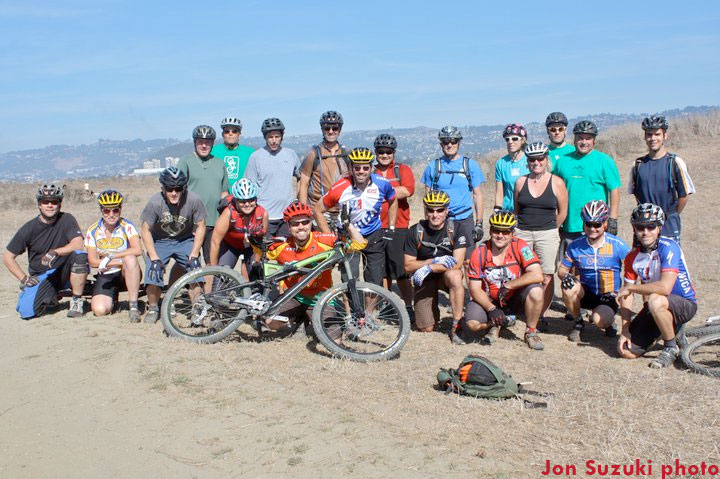 The science and art* of mountain bike skills training got its pro card last week in NorCal. I went out there to teach high school mountain bike coaches how to teach mountain bike skills.
*Science first
Photos will be added when they arrive.
The mission
As the skills development director for the National Interscholastic Cycling Association, it's my job to:
1) Create the curriculum that will be used by NICA-certified coaches to teach high school mountain bike riders throughout the country. This is an outgrowth of the curriculum I've been developing for my own coaching, with a few tweaks for kids.
2) Document the curriculum. I hammered for the past couple weeks to put together "Teaching Mountain Bike Skills: The Skills Training Manual for NICA Coaches." The working draft is 100 pages long (so far) and covers the base of my skills tree. The chapters are:
– Be a great coach
– Fit bikes to riders
– Dial in their position
– Pedal efficiently
– Control speed
– Corner confidently
– Handle any terrain
– Ride with vision
This book shows the concepts, tells how to teach them and includes the drills I use in my clinics (as well as common mistakes and their fixes). Much of this content has never been published. This is the nitty gritty: the keys to the kingdom.
3) Present the curriculum. Three hours of presentation, then three hours of on-bike drills. That's why I drove to NorCal last week.
The audience
Last weekend was the NorCal League's leadership summit. My clinics were attended by NorCal head coaches, assistant coaches, ride leaders and adult volunteers. Riders ranged from experienced racers who want to create champions to first-time moms who want to spend time with their teens.
Luckily, the curriculum is designed to work for riders of all types and levels.
Mega props for the co-coaches
I cannot over-express my gratitude to Lars Thomsen and Curtis Keene. These two guys dropped everything for this mission. The three of us make a great team.
Lars Thomsen owns Trail Head Cyclery in San Jose, CA. He's a solid dude, a smart bike guy, a hell of a rider and a good teacher. He has a great way of reaching people in ways I don't — and taking over when my brain shuts off.
Curtis Keene races professional downhill for Specialized, SRAM, Gamut, Troy Lee Designs, Smith Optics, Five.Ten, Trail Head Cyclery and others. He is a solid dude, a gifted athlete (one of the top riders in the U.S.) and a good teacher. While some pros are too "pro" to mix with the masses, Curtis has always supported kids, parents, regular people. Curtis is quiet, but when he says something it's spot on.
If you're a Bay Area bike shop customer looking for a shop that Gets It, go see Lars at Trail Head. If you're a sponsor looking for a pro rider who Gets It, get in touch with Curtis.
We taught three sessions over the weekend, each with its own venue, characters and vibe: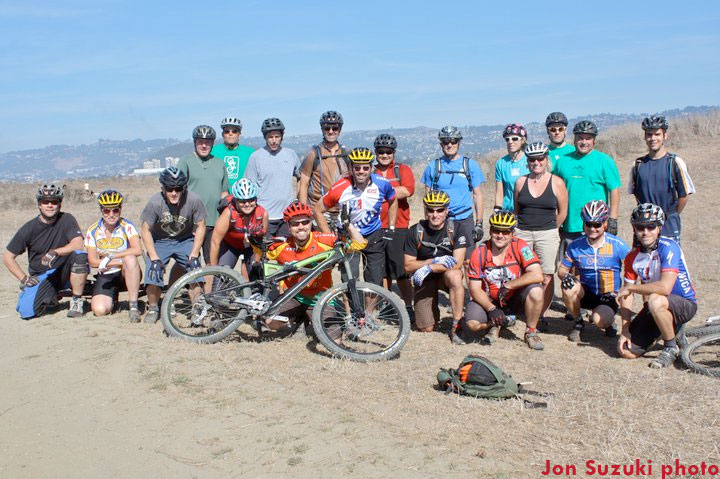 The crew at Cesar Chavez park. That's Lars with the Mighty Enduro Teaching Weapon. I'm behind him in the NICA jersey and yellow helmet.
Friday
The first go was right at NICA headquarters in Berkeley. Twenty bikes, chairs and students crammed into a small, ever-hotter space for my three-hour presentation. I talked through the key chapters and answered questions. With the NICA board director and other key folks in the house, this was my biggest performance yet. I jumped up and down, got it the attack position and gave it my all man, gave it my all.
The only trace of conflict came when I suggested that all people learn to ride flat pedals, and that anyone who can't ride flats can't truly ride. Other than that, it was all smiles.
After I talked myself clean out of ideas, we rolled to Cesar Chavez State Park in the Berkeley Marina. On the way over, our group splintered, and most of us were balled up and/or lost. OK coaches, NOT the way to lead a group!
Once we got together, we ran through position, braking and cornering in record time. I think the lecture really helps people understand how the skills — and body parts — fit together. Once you fill the minds, the bodies catch on quickly.
The best part was the Cesar Chavez Memorial, which also makes a fantastic pump track. With utmost respect for Chavez' work, we ran through my pump drills and had everyone rocking some serious pump. A few rock piles, up and down, and we rolled back to HQ.
Everyone was stoked. I was beat.
Saturday
Lars, Curtis and I went up to Folsom to support the growing Sierra region. We did the presentation at The Hub Express bike shop with six coaches. We quickly got through the talking, then got on the rocking.
On my way into NorCal, I met met The Hub's owner Heath Sherratt for a tour of the facilities. Heath and I raced DH back in the day, and he is still quite fast. I told him which specific terrain features I need, and he found them — bam, bam, bam — on the Folsom Lake trails right by his shop. Super sweet.
So OK: We had six riders and three coaches, which is basically private instruction with a world-renowned skills coach, a world-class bike shop owner and a World Cup racer. We ripped through the parking lot drills (Ha: Ripped! Literally.) and hit trail.
I stood in one S section with some of the students while Lars and Curtis railed through. I explained what the pros were likely to do and why, then they did it, then the students and I talked about it, then the students went up and rode the section. And they killed it. KILLED it. We rocked some mega pump — on 29er hardtails at full seat height — and everyone's MTB minds were sufficiently blown.
I have never seen a group of mixed-level riders absorb so much information and rip so freaking hard in one day. Whatever we're doing, it seems to be working.
Burritos. Coffee. Cookies. Drive back to Berkeley. Big slice of pumpkin pie.
Sunday
The finale went down in the Albany High School auditorium. Attendance was supposed to be capped at 20 students, but 26 were signed up. I arrived early on the dreary morning, and I was feeling tired. Man, when I teach, I spend it all. So I shambled in, nursing a coffee, and peeked into the space: cavernous room, lots of seats, a big stage and a huge screen. Big time. It's on.
As the seats filled I nervously did a broad jump maybe 36 inches onto the stage. People wanted to know what that was about, and I told them 1) I was fidgety and 2) that's a great skill for riders to practice. If you can't jump onto a three-foot object on foot, you can't do it on a bike.
Once we got going, everything fell into place. I went crazy on the stage. Lars ran the computer and jumped in occasionally. Curtis sat quietly in the last row. The NorCal Dream Team, in full effect.
Meanwhile, the dreary day became rainy. By the time we finished lunch, outside was very wet and quite cold. Nobody cared. Let's gear up and hit it!
I'd done some skills-area recon in the morning, but, once the riders were assembled, Lars took over.
"Lee, do you need a big paved area for some drills?"
Yeah, there's one over here, but …
"Don't worry man. Just follow me."
So 30 of us followed Lars' rasta Trail Head colors through the rainy streets and found a middle school with a huge paved play area that had surprisingly great traction.
We splashed through the position, braking and cornering drills. We had everyone RIPPING the slalom. I mean just killing it. So rad. We finished with some up-and-down-big-curb action, some max-torque pedaling technique and some Q&A.
To recap: 30 people standing in the rain, doing silly bike tricks and loving it.
In conclusion
The weekend kicked ass in multiple ways:
– Everyone had fun and learned a lot.
– The NICA brass is stoked, which means I get to do more of this.
– After teaching from the draft of "Teaching Mountain Bike Skills," I'm ready to finalize it. It will be available to NICA coaches, and I will offer it on my site.
– I started coaching with the goal of creating a standardized curriculum that can be used to teach all riders to ride better/safer. It's happening!
– Lars and Curtis came through big time. Heroes both.
– Over the weekend we touched 52 coaches, each influencing an average of 20 riders. We planted the seeds for 1,000 future rippers. I feel good about that.
High school braaap!!!
— Lee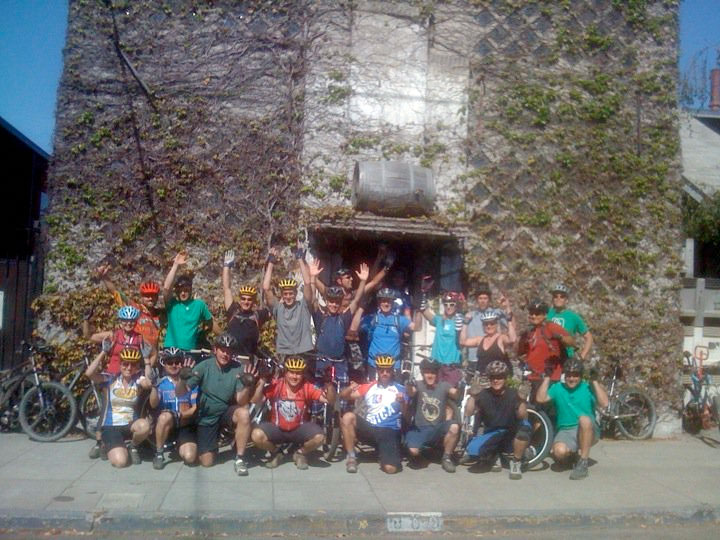 In front of NICA/NorCal headquarters. Downstairs is a winery.
---
Know more. Have more fun!
Join the leelikesbikes mailing list:
---
https://www.leelikesbikes.com/wp-content/uploads/2018/08/leelikesbikeslogoheader.jpg
0
0
leelikesbikes
https://www.leelikesbikes.com/wp-content/uploads/2018/08/leelikesbikeslogoheader.jpg
leelikesbikes
2010-10-20 21:19:01
2010-10-20 21:19:01
NorCal high school coach training 2010