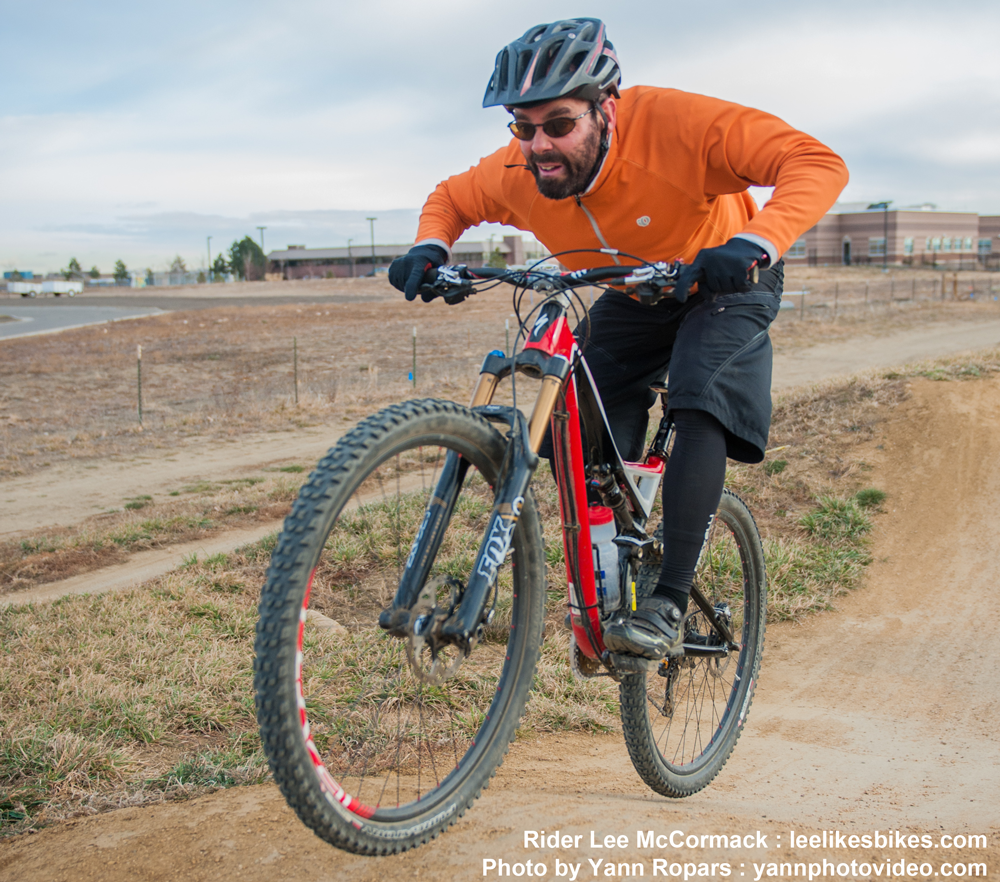 Hey Lee — just read the post Are you pumping too hard?. Great post. It brought up a question for me too.
I just got BMX Skills and read the pump chapter and it got me thinking about trying to hop frontsides altogether since I hadn't really thought about doing that before. Instead I've been trying to absorb them in most/all situations and stay in as much control as possible, which is tough at high speeds.
So I've given it a little practice on a couple different pump tracks and haven't been very successful. On both of these tracks the rollers are fairly close together and it feels like there's not enough space/time to hop the frontside and like my fork is already compressing into the next roller when I'm trying to hop. Am I just not going fast enough? Is it something where pulling the bike towards me on frontsides will eventually turn into hopping them naturally? Or is this technique better suited for tracks that are a little more wideopen or on the trail when there's space to set up? Or do I just need to practice more, haha.
One last question: is it always faster to hop the frontside if you can (excluding the suspension issue)?
Sorry for all the questions. Any more detail on this technique in general would be awesome!!
Ps. Got the MTB book for my cousin for Xmas. He has recently got into riding and I know this will get him Riding and hooked…now i'll have a partner in crime on holidays 🙂
Allen
---
Hey Allen,
Thanks for writing, and for buying the book Pro BMX Skills. That book has the most detailed explanation of pump ever seen. You should see the top BMXers hop frontsides!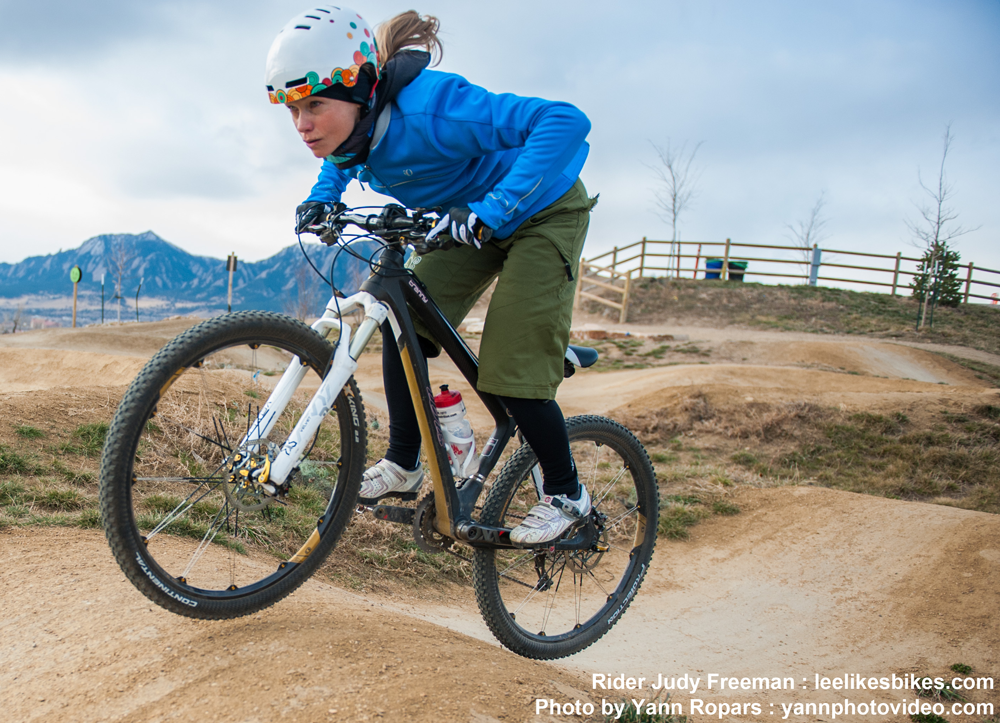 BOOM! Judy Freeman, a longtime skills pupil, hops the front of a big Valmont Bike Park roller. Judy is a pro cross country racer, and this is her 2012 race bike. I'm excited to work with Judy and her team in 2013.
You're right: At a certain speed it's no longer adequate to absorb the front of a bump. The impact force is too high. As you go faster, and as the bumps get more abrupt, you have to get lighter and lighter. At some point you'll be hopping right over the front of the bump.
In general, the lighter you are on frontsides, the better. Try not to bash your bike into anything. (The main exception is jumping, where you intentionally load the front of a bump.)
Some thoughts:
• It's easiest to hop the frontsides of widely spaced rollers. Ideally, both wheels are on the backside at the same time.
• The faster you're going, the more energy you can generate and the farther you fly when you get light.
• Hopping does not come from pulling up the front side. It comes from pushing down the previous backside, which is fueled by pulling up the previous frontside, which is fed by pushing down the previous backside … It's a cycle. A wave.
• A turn is just like a trough, only it's sideways. Learn to pump corners and you'll ride a bigger wave everywhere.
• The more suspension you have, the harder this is.
• What we're talking about requires huge range of motion and a ton of power. For most of us, this takes practice.
Get some!
Lee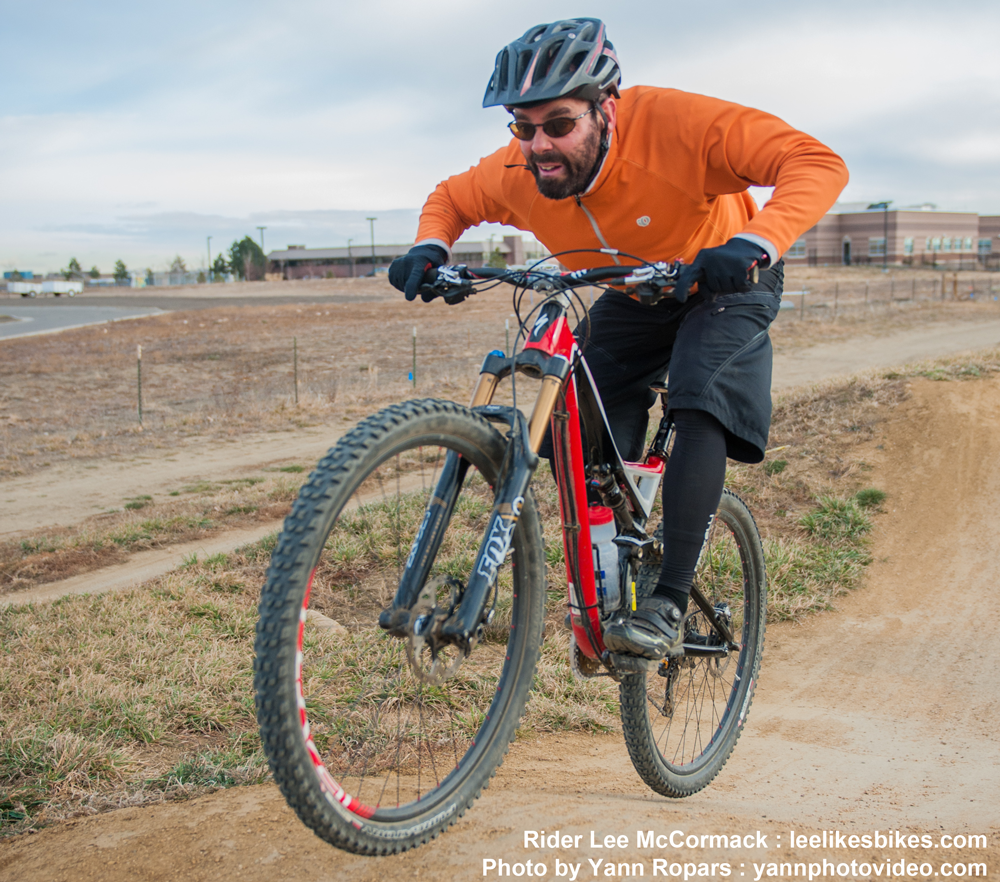 Stumpy 29 weightless at Valmont Bike Park. Check out the above sequence.
---
Know more. Have more fun!
Join the leelikesbikes mailing list:
---
https://www.leelikesbikes.com/wp-content/uploads/2018/08/leelikesbikeslogoheader.jpg
0
0
leelikesbikes
https://www.leelikesbikes.com/wp-content/uploads/2018/08/leelikesbikeslogoheader.jpg
leelikesbikes
2012-12-24 15:49:32
2012-12-26 11:05:03
Hopping frontsides