Pump Up the Base for a BMXer?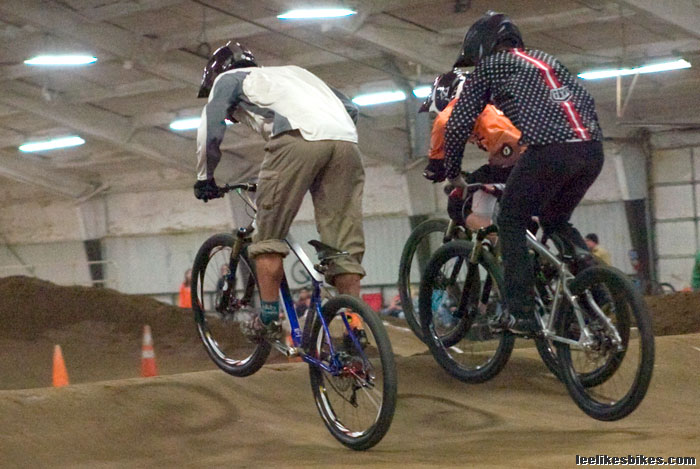 Lee,
I was browsing your site and saw the book and training program Pump Up the Base. It looks like it is predominantly geared towards MTB but I was wondering if it might be something that I could use for my winter BMX training? From the outline that I've read and some of the example pages and the comments it may be useful for some basic skills work on just about any type of riding. I do not ride MTB and I'm a novice in BMX so I also wanted to make sure that it would be something that I could apply to my sport as well.
Thank you,
John V
---
Hey John,
Thanks for the great question. I'm a BMXer some of the time, and the Pump Up the Base approach works well for me.
From a purely BMX hardcore standpoint:
• BMX is a sprint sport. Big-time aerobic endurance does not make you faster on the BMX track.
• Any energy you put into longer intervals is energy you can't put into more classically BMX-specific training like sprints, weights, plyometrics and track time.
From a practical standpoint:
• Fitter is better. While each moto is not an endurance event, a full day at the track does require endurance. Also, the fitter you are, the faster you recover and the more sprinting/lifting/racing you can do.
• You and I are about the same age. Basic aerobic fitness is a good thing. It helps manage stress. It helps you withstand more work. It helps me control my weight.
• In addition to endurance work, PUTB includes pedaling skills and lots of sprinting. This practice applies directly to BMX.
• The pedaling techniques in PUTB will make you better on any bike, anywhere. As a matter of fact, focusing on these skills has helped me find more and more top speed and power, even though I'm getting older and riding less. Just today I hit a personal record of 225 rpm. That's part muscle power, part electrical system and part skill.
Check this out:
Here's an idea: Start Pump Up the Base in January. When it's time to focus on BMX sprint and track work in spring, you'll have a really strong foundation.
If you want to tweak PUTB for BMX:
• Go a bit easier during the sweet spot intervals.
• Focus on quality sprints.
• Do your sprints from a dead stop.
• If you have the fitness — and can maintain great sprinting form/power — you can add additional sprints within your sweet spot intervals.
I am super pinned with several jobs, several kids and several bike goals. Depending on the day, I might be working with a BMX racer, a gravity racer, a cross country rider or the Xterra world champion. Plus I love all kinds of riding. I need a decent command of the full power spectrum, from 7-hour clinics to 3-hour slugfests to 3-minute runs to 30-second sprints to 3-second bursts.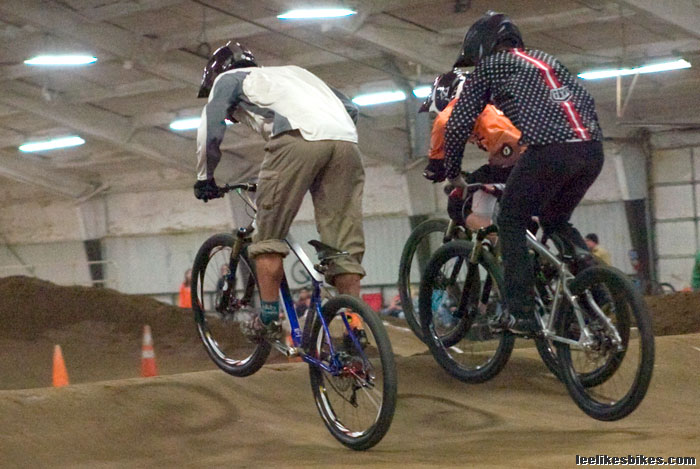 Colorado Indoor BMX: In the mix on a cross country bike against some 4X pinner kids.
All of my training mixes aerobic, sprint and skills work (as does Pump Up the Base). While I could theoretically sprint more powerfully if I focused exclusively on sprinting, this approach is super time effective, and it lets me hang OK on a long ride, a short ride and in the gate.
Right now I can generate about 1,500 watts in a sprint. Elite BMX coach Greg Romero says that's plenty to be in the mix. Especially in the old guy cruiser class.
Go for it!
Lee
---
Know more. Have more fun!
Join the leelikesbikes mailing list:
---
https://www.leelikesbikes.com/wp-content/uploads/2018/08/leelikesbikeslogoheader.jpg
0
0
leelikesbikes
https://www.leelikesbikes.com/wp-content/uploads/2018/08/leelikesbikeslogoheader.jpg
leelikesbikes
2012-12-24 12:22:59
2014-01-20 11:14:00
Pump Up the Base for a BMXer?