Are you pumping too hard?
Yeah har har.
Most riders are way too passive on their bikes. For most of you I say attack all backsides. Crush them!
If you're already an aggressive pumper, especially on a suspended bike, consider this:
---
This week has been a pain sandwich. The bread is two Pump Up the Base trainer sessions. The meat is a heavy squat/deadlift session with Erin Carson at RallySport in Boulder. Holy cow, I am sore.
But all is good because this morning I had time to ride Valmont Bike Park.
Left Hand Canyon aggro XC setup with extra tire pressure: Stumpy 29 Carbon with Fox 34, Roval carbon wheels and full XTR. Standard fork and shock pressure. Middle ProPedal setting. 2.4 Purgatory front and 2.2 Purgatory rear at 38 and 40 psi.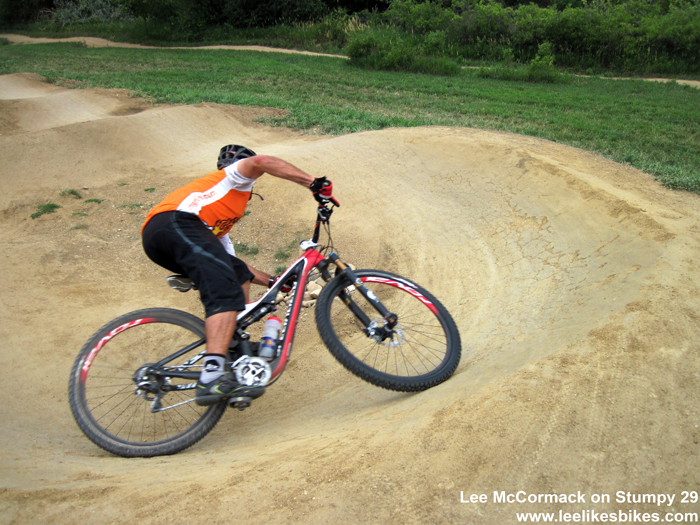 A great tool for many jobs.
Standard 10-lap slalom climb/descend warmup. Slower than normal but a pleasant 20something minutes.
Roll laps on the upper pump track. I did not need a workout, so no 10-lap interval madness. I just wanted to be smooth and feel free.
I settled into one clockwise lap on the minute. You swimmers know what I'm talking about: Start the lap at :00, ride the lap, rest for however long, start again at the next :00.
My laps times were right around 30 seconds, which gave me time to rest, but not enough time to fully recover. I wound up in the high end of my aerobic zone, which is a great use of time. Sweet spot training!
At first I gave the bike a lot of power: snapping into turns, whipping out of turns, hopping over frontsides, that sort of thing. The laps felt quick, but I could feel myself blow through the ProPedal. There's this nice firmness, then — whoosh — I dove into the suspension travel.
As my heart rate climbed from lap to lap, I wondered …
… what if I give it less power? Slow my movements, find a flow and push into — but not through — the ProPedal?
That felt really nice. Smooth. Clean. Easy.
And the lap times were … unchanged.
Ah hah! On this bike, on this sinuous track, does slamming through the ProPedal and crushing the travel deliver more pump, or does it just waste energy?
I think it does both.
Riding a 5-inch 29er on a technical pump track will never be super efficient, but working more gently with the suspension seems to make it more efficient.
And it makes me think:
• If you're cruising down a trail with the goal of utmost speed, efficiency and endurance (as in, say, enduro racing), maybe you don't need to be crushing the backsides. Work them for sure, but don't crush them any harder than you have to. If you're blowing through travel, where is your energy going?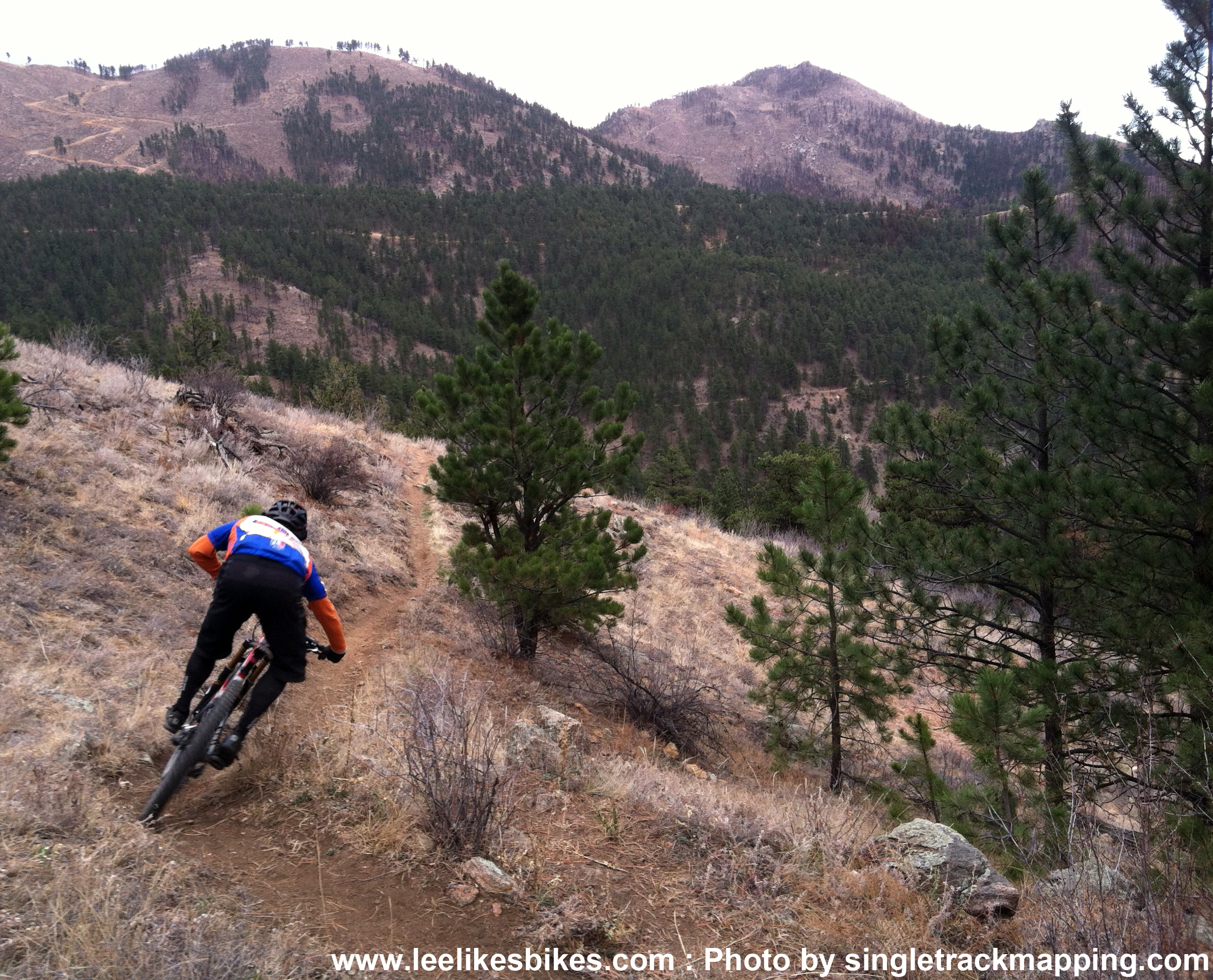 This is a great time to connect with a pocket, but how hard is too hard? Left Hand Canyon XC last weekend.
• If you are good at absorbing frontsides, and you want to get max pump out of the backsides, stiffen your suspension. Every smart DHer already knows this.
• This reminds me of descending on my old Stumpy Pro Carbon or an Epic. These bikes have Brain shocks that offer very stiff, intelligent platforms. You can put a lot of power into these bikes! See Brains for braaap. I still think an Epic with an all-mountain build would be incredible.
• I'll bet there's a tighter correlation between power and speed on a stiffer bike and especially a hardtail. Time for some P3 laps on the minute.
Whatever you're doing right now, give it!
Lee
---
Know more. Have more fun!
Join the leelikesbikes mailing list:
---
https://www.leelikesbikes.com/wp-content/uploads/2018/08/leelikesbikeslogoheader.jpg
0
0
leelikesbikes
https://www.leelikesbikes.com/wp-content/uploads/2018/08/leelikesbikeslogoheader.jpg
leelikesbikes
2012-12-12 15:14:00
2012-12-12 15:14:00
Are you pumping too hard?