Follow up questions: One month post op: Back on the trail
Hey Lee, Great to hear you are out riding again!
Your post sparked a few questions about your bike set up and training.
I'm using Kenda 2.1 DTC Nevegals.
I'm looking for some new tires that will work tubeless with Mavic rims. Your Eskars are one of the tires I've turned up that look interesting and light. I've heard/read that the sidewalls are a bit weak in "rocky" terrain. Just wondering what your experience has been and do you run them tubeless?
The other thing I noticed was the Speed Ball. Is this one with the remote?
Additionally, I'm thinking of adding the Ultimate Workout from James to the DB Combo. Besides being much more intense, when do you personally use one over the other?
Are you doing the workout as part of your recovery?
Cheers Greg
---
Hey Greg,
Thanks for writing.
Tires
I've been rocking Eskar Armadillo Elite 2.3s for over a year (first on my Enduro SL and now on my Stumpy), and I really like them. They are pretty fast and pretty grippy — a good all-around trail tire.
They are also durable. The Armadillo Elite casing is reportedly 40% more puncture-resistant than the S-Works casing. All of our trails are rocky, and I have not torn a single sidewall. A a matter of fact, I rode my first set on my Enduro SL until the side knobs were gone.
The Eskars are quick and light like XC tires, but they're durable like DH tires. How cool is that?
BTW: I'm running tubes. My Sun Charger wheels (which rule) would require a tubeless conversion, and — to be pragmatic — I've had zero troubles with these tires and tubes. Jinx! 🙂
Also read:
Followup: Specialized Eskar tires
Two rides: Specialized Armadillo Elite 2.3 tires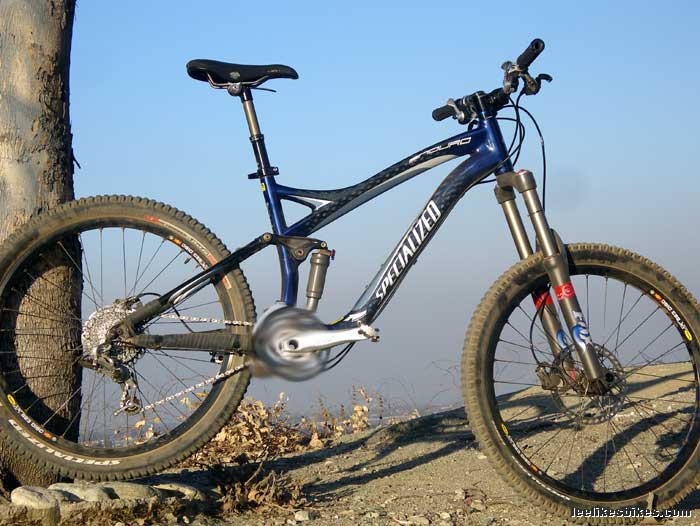 This Speedball now lives on my 2008 Stumpjumper Pro Carbon. You might change bikes, but you keep your Speedball!
Seatpost
The Speedball on my Stumpy does not have the remote. This is silly because I have a remote version on the Enduro SL.
When I built the Stumpy I wanted to keep it clean and relatively cable free. Also, I wasn't sure how much I'd ride it (I've been an Enduro Bro' since 2002).
It turns out the Stumpy is so capable, it's all I ride on trail. On a typical trail ride, I could use the Speedball dozens of times. Having to reach down for the lever is sketchy, and it detracts from the Speedball's value.
I should really put the remote Speedball on the Stumpy. If you're thinking about a Speedball, go remote. You'll be amazed at how often you use it.


This is more humiliating than impressive, but I suppose any workout program that lets you rock without a clavicle must be accomplishing something. Look at that right shoulder!
Workout
I've done both of James Wilson's workouts: the Ultimate MTB Workout and the DB Combo Workout.
The DB Combo is a simple all-around workout. The Ultimate is more complex, but it should give you greater results. Say the DB Combo will bring you to 80% of your potential. The Ultimate might bring you closer to 90%. To reach 100% you need a custom program.
These days I do an adaptation of the DB Combo program. It's all I can handle — and 80% is fine.
If you feel like you've reached a plateau with the DB Combo, step up to the Ultimate. I think you should stick with one or the other — James carefully designed the exercise progressions.
I suppose, if you're doing the Ultimate but are short on time, you could do a quickie dumbbell workout. James' dumbbell combo drills are a quick, effective way to kick your own butt.
I hope this helps.
Braaap!
— Lee
---
https://www.leelikesbikes.com/wp-content/uploads/2018/08/leelikesbikeslogoheader.jpg
0
0
leelikesbikes
https://www.leelikesbikes.com/wp-content/uploads/2018/08/leelikesbikeslogoheader.jpg
leelikesbikes
2009-01-14 11:14:44
2009-01-14 11:19:11
Follow up questions: One month post op: Back on the trail