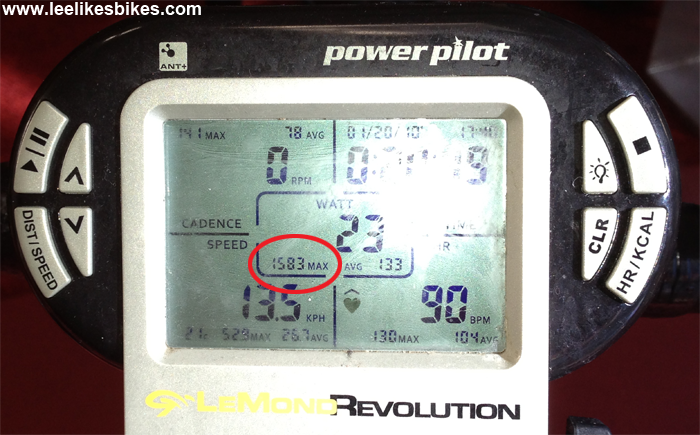 Yesterday I hit a personal record for sprint power — stoked! — but the extreme level of stoke got me thinking:
Why are numbers so appealing?
---
First the stoke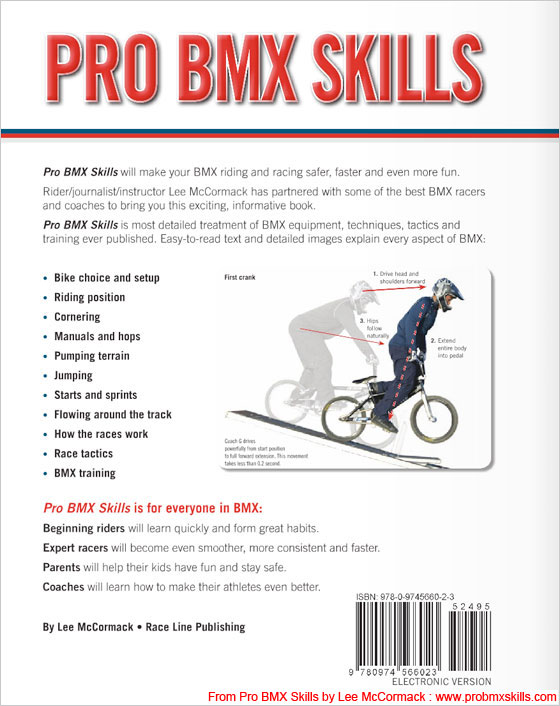 The back cover of Pro BMX Skills. Coach G revolutionized the way I sprint and climb.
As most of you know, I've been training like a fool:
• Honing the sprinting skills in the book Pro BMX Skills. I learned from the best — Coach Greg Romero — and it's made a huge difference for me.
• Strength training with master trainer Erin Carson at RallySport Boulder.
• 12 weeks of the Pump Up the Base base-training program.
• So far six weeks of the Prepare to Pin It in-season training program, thanks to Coach Lester Pardoe.
Yesterday morning I only had 30 minutes before an appointment, so I spun easy then banged out 10 short, violent sprints focusing on:
• Firm yet supple upper-body engagement. This is tricky. Firm yet supple.
• Powerful hip drive. BOOM!
• Pulling and pushing (yep, I clipped in).
• Staying smooth — the trainer wanted to jump all over the place!
My old best sprint was 1,445 watts. See Sprinting with clips.
Today's sprints were all in the 1,300-1,400 watt range — then I lined everything up and hit 1,583 watts!
Stoked on that. Very stoked. Too stoked?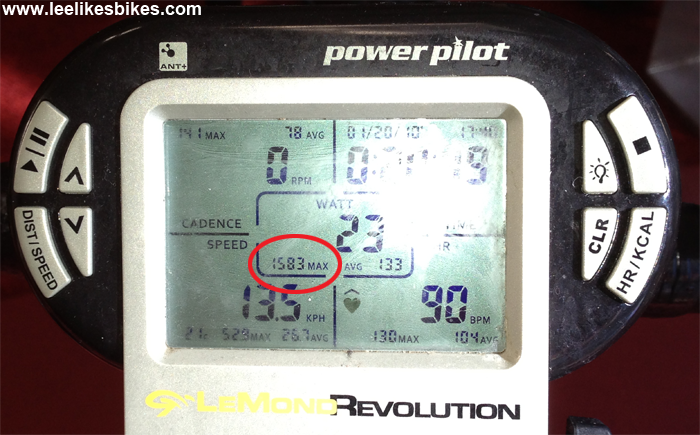 Ultegra SL Specialized S-Works Tricross on a LeMond Revolution trainer. Shimano XT pedals and Specialized Rime shoes.
Why are numbers so appealing?
While the most uplifting benefits of riding are intangible — Flow with a capital F! — numbers are clear and powerful. No wonder Strava is so popular. Why do we cyclists love our numbers?
Progress. You've been working technique, increasing your strength and developing your various energy systems. Higher wattage is a clear sign you're doing something right. (If you're selling a training program, even better that it works!)
Confidence. When you know you can bang out X,XXX watts, recover quickly then do it again, you can attack that steep climb with impunity. The same confidence applies to racing. When I line up for Sea Otter slalom, I know I can turn, pump and pedal with the best of the vets. That helps quiet the worries.
Progression. Fun happens at the intersection of challenge and skill. Progression is the heart of stoke. With more refined technique I think I can hit 1,600 watts — and I will have fun getting there (and hopefully beyond).
Comparison. One famous racer you've heard of — one who has won multiple championships in a sprint-intensive MTB event — told me he tested in the high 1600s. To be in his neighborhood feels pretty great.
Validation. If your old peak was 1,445 watts, and your new peak is 1,583 watts, are you now a 9 percent better person? Part of me, way down deep — the 11-year-old who got sent to Catholic military school, the little boy who needs to prove himself every day — believes that. Not so cool. Not so healthy. But true. In a day of turmoil, a strong result is tangible evidence that you're OK.
I think most of these motivations are reasonable and valuable. The last one can be dangerous. It forces you into unsafe behavior ("Strava!"), overtraining, compromising the rest of your life and beating yourself up physically and mentally. Not to mention the fact you can't exceed yourself indefinitely. No wonder so many top athletes and celebrities kill themselves soon after they've peaked. What do you do after the Super Bowl or the Grammy?
If you're lucky, you become a mountain biker.
Hone your skills, train smart and HAVE FUN!
Lee
---
Know more. Have more fun!
Join the leelikesbikes mailing list:
---
https://www.leelikesbikes.com/wp-content/uploads/2018/08/leelikesbikeslogoheader.jpg
0
0
leelikesbikes
https://www.leelikesbikes.com/wp-content/uploads/2018/08/leelikesbikeslogoheader.jpg
leelikesbikes
2013-03-14 09:49:11
2014-01-20 11:10:25
Chasing numbers