Your results may vary: P2PI week 5 power testing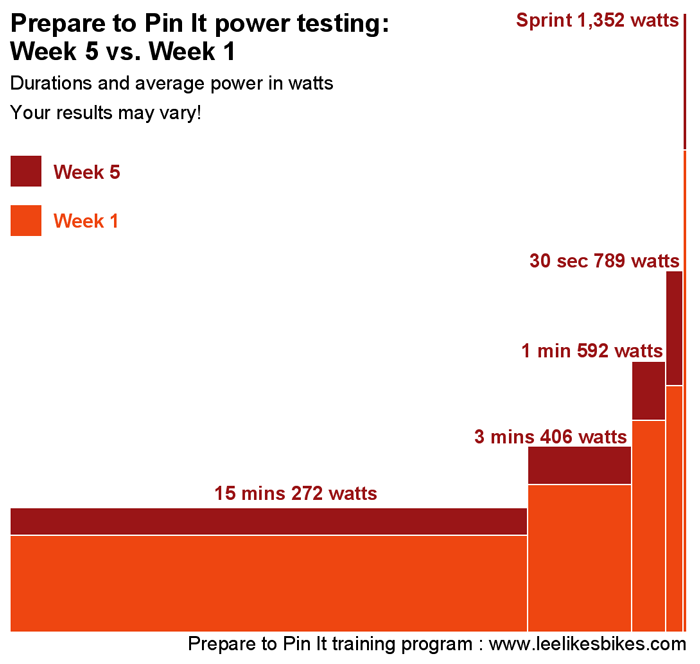 I just finished week 5 of the Prepare to Pin It training program, and my power improvements are shocking.
If you're into numbers, you have to see this.
---
Background
• When it comes to aerobic capacity, I am a genetic 5 out of 10. That was a test I wish I never got.
• 20+ years of riding, with a decade focused on gravity racing. Better sprinter than climber, you know.
• Several years focused on pedaling technique and building aerobic ability.
• 12 weeks of Pump Up the Base and dedicated strength work.
• So far five weeks of Prepare to Pin It. Weeks 1 and 5 have power tests, which are shown here.
• I came into Prepare to Pin It in really good shape for me, which makes these improvements so impressive. I suppose Pump Up the Base prepared my body for this work.
Setup
• Ultegra SL S-Works Tricross on a LeMond Revolution trainer.
• In my office above Boulder, elevation 6,700 feet.
• Watching "Where the Trail Ends" on a 30-inch Apple monitor. The big/crazy stuff is impressive, but there's a ton of subtle mastery in this video. These guys are amazing.
Results
First the raw numbers.
I was already in great shape by my standards, but I saw a 25 percent increase in all my power, from a 20-minute slog to a peak sprint. 25 percent gain in five weeks seems like a big deal. It'll be interesting to see what happens in the next phase.
30-second power is up almost 50 percent, which I think is part technique, part genetics and part anger. The band Minor Threat will help you dig deep.
BTW: I've been been training off the bike with master trainer Erin Carson at RallySport Health and Fitness here in Boulder. Body weight is up 3-5 pounds since I started lifting in fall, but the overall strength and pedaling improvements more than make up for it. As Erin says, when you get stronger your brain senses the greater stability and lets you pin it harder.
And now a sweet chart.
I love charts. What I like about this chart is my basic power curve is the same — way better sprinter than climber — but everything is up. This well-rounded training approach is letting me improve my weaknesses while building on my strengths. How rad is that?
If you've worked with me, you know I'm an average schmuck who pays attention and works hard. If I can improve like this, so you can you.
Learn more about the Pump Up the Base and Prepare to Pin It training programs.
Next weekend I'm coaching and riding in Utah. Excited to try this fitness on trail!
Have fun out there,
Lee
---
Know more. Have more fun!
Join the leelikesbikes mailing list:
---
https://www.leelikesbikes.com/wp-content/uploads/2018/08/leelikesbikeslogoheader.jpg
0
0
leelikesbikes
https://www.leelikesbikes.com/wp-content/uploads/2018/08/leelikesbikeslogoheader.jpg
leelikesbikes
2013-03-10 08:20:59
2014-03-08 17:22:30
Your results may vary: P2PI week 5 power testing