Build your base for a sweet 2014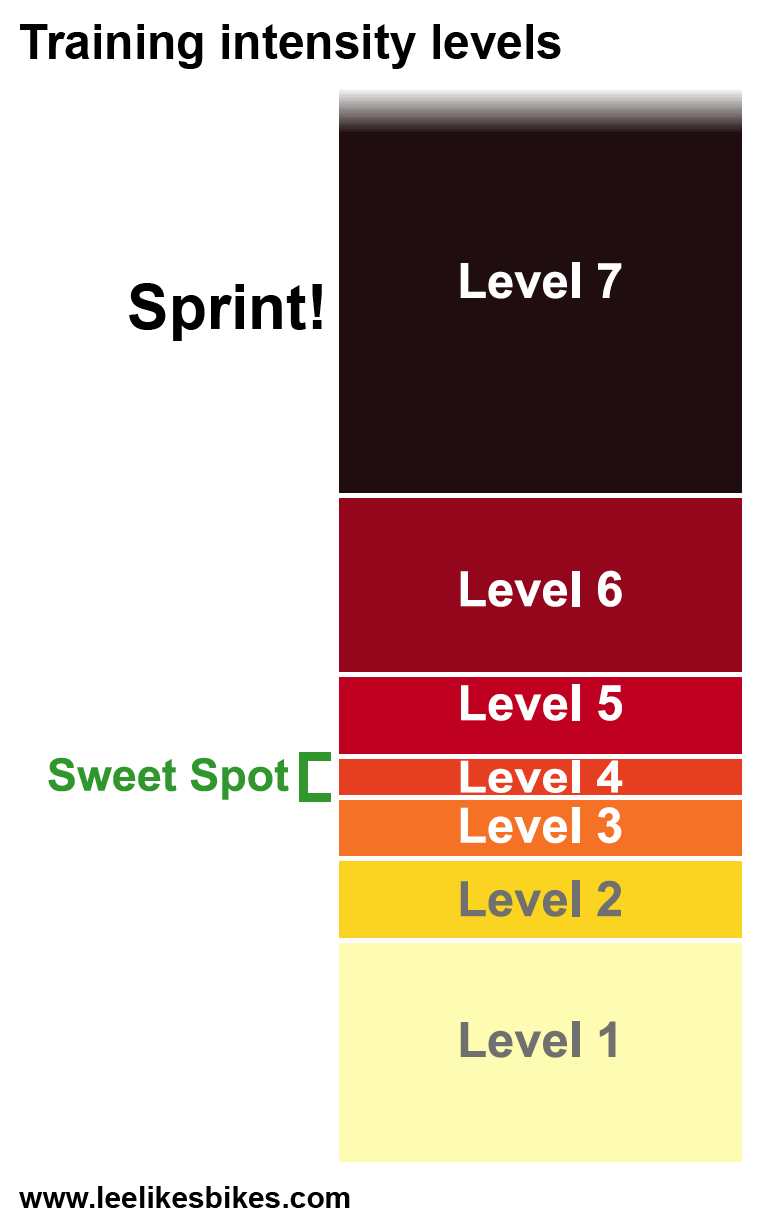 Winter is settling in all over the northern hemisphere, and passionate mountain bikers are dreaming of great races and rides next year. If you want to shred with utmost radness next season, I suggest you start building a smart base now.
---
This approach comes from Coach Lester Pardoe and the staff at the Boulder Center for Sports Medicine in Boulder, CO. These guys train the elite of the elite (and Lester has helped me a ton).
An annual cycle
If you ride the same way all year, you're going to have fun (which is cool!), but you'll never access your full potential as a rider or racer. You will get tired, spend too much time at a medium pace and get stuck at a medium speed.
To have your best season next year, try this cycle:
Winter: Build your base. Develop endurance and sprint power. Get stronger in general. Improve your skills. That's the focus of this article (and the goal of the Pump Up the Base training program).
Spring: Ramp up. Increase intensity. Rip real terrain. Build up to race fitness.
Summer: Shred! Race. Ride. Recover. Maintain fitness.
Fall: Rest. Win Worlds, then take it easy for a while. Start building stability and mobility. Do something fun.
(Repeat.)
After riding and racing for more than 20 years at a "medium" level, I've finally begun training in this manner, and it's been awesome. I'm riding faster, longer and more easily than ever — with less personal riding time than ever — and I'll turn 45 next year.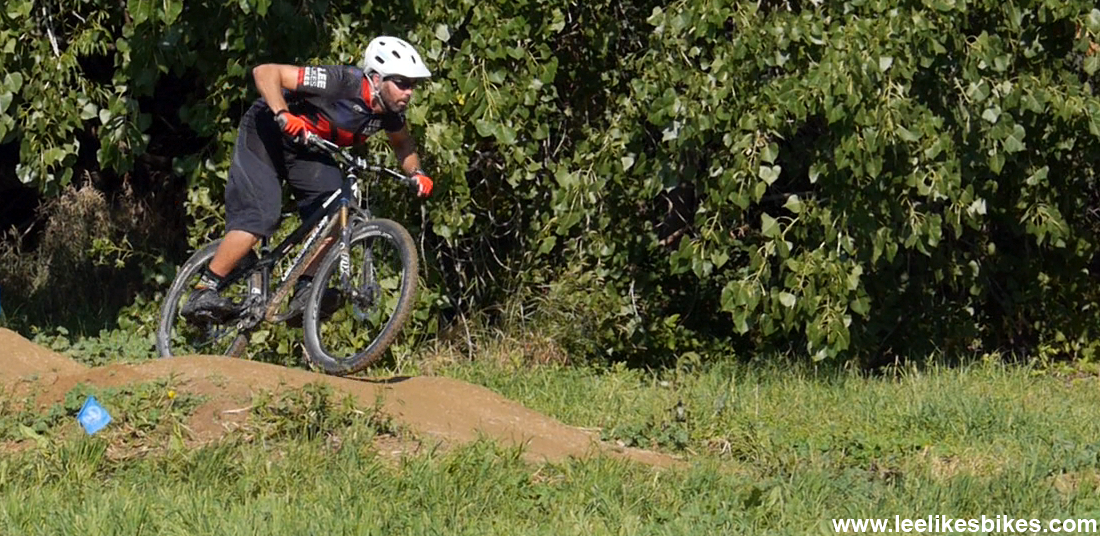 Working the pump at Valmont Bike Park. This summer I taught almost every day, some days for up to nine hours, and my new training approach helped me get the job done.
Goals for the base period
Traditional cycling "base" training consists of long, easy rides — generally on the road. This type of training works for sure, but it takes a lot of time that you might not have. Here are some winter goals that take less time and create better shredders:
Sustained power. How much power can you maintain for a long time? That's the bread and butter of any cyclist. It determines how fast you can climb, how easily you can ride transfer stages and how much effort you can maintain over a long descent or enduro stage.
All-out sprint power. How fast and hard can you pedal? No apologies, no excuses. Full, violent power for a few seconds. BAM! If you're not a BMX, slalom or 4X racer, you probably don't practice this.
Pedaling technique. No matter how fit you are, you can always learn to pedal more efficiently. Remember, pedaling is a skill just like cornering and pumping.
Riding technique. What do you suck at the most? Flat turns? Jumps? Loose rocks? Focus on that. For a long time, I really sucked at jumps, then it was pedaling, now my weakest point is reading terrain at speed.
Fun. Well, that should always be a goal. Do you want to ride dirt jumps? Moto? Snow? Go for it. Just make sure you're getting your quality training – and recovering enough to do it again next week.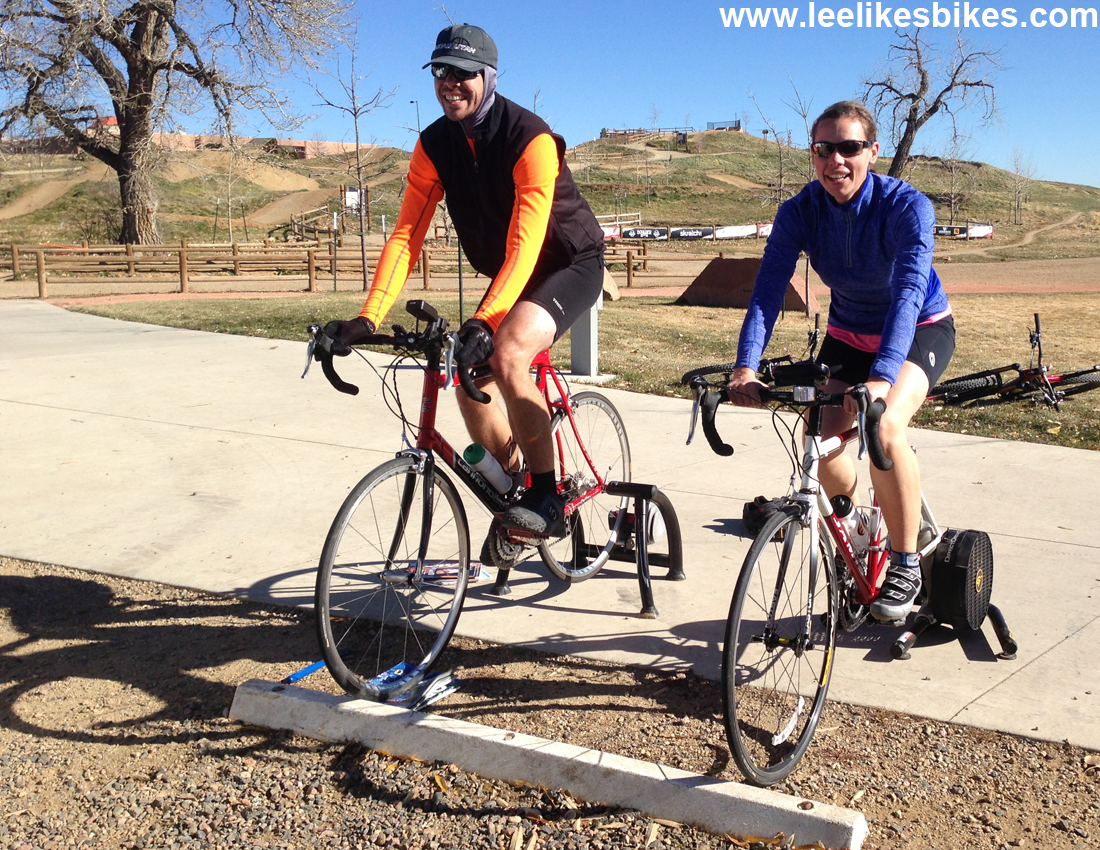 That which can be measured can be improved: Longtime skills clients Richard and Dawn Lawrence lay down early-winter power numbers for 20 minutes, three minutes, 30 seconds and sprint. I brought trainers to Valmont Bike Park. After power testing, we shredded the dirt jumps.
Building sustained power
Many of us think we need to train really hard all the time. Not only is that so painful that most riders give up, it causes major fatigue and doesn't target the energy system we need to build sustained riding power. This winter, try focusing on "sweet spot" intervals.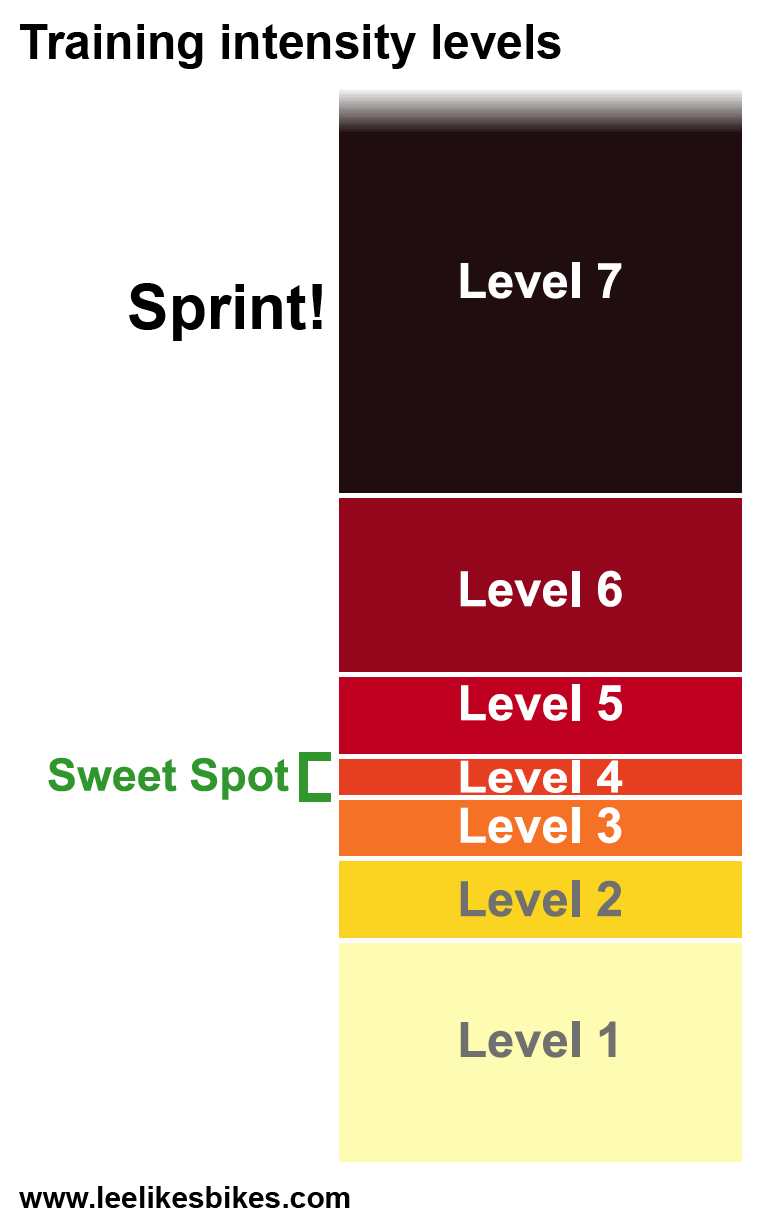 What is sweet spot intensity? Sweet spot intensity is medium-hard (dark orange in the chart). If you have a power meter, it's 90-100 percent of your 20-minute average power. If you have a heart rate monitor, it's 80-85 percent of your max heart rate. If you have lungs and a voice box, it's as hard as you can go while speaking in short sentences.
Why work in the sweet spot? Working in the sweet spot gives you the greatest increase in your sustained power with the least amount of fatigue. Less fatigue means you can finish your workouts and finish this program. Believe it or not, you don't have to pedal harder – into the red zone – at this time. That will come in the ramp up phase, after the base period. Check out the Prepare to Pin It training program.
How much do I have to do? Throughout the base training period, you will learn to maintain more power for longer. In the 12-week Pump Up the Base program, you start with six three-minute efforts and build to three 20-minute efforts. These workouts will challenge you but not destroy you. You'll be mixing in sprints and skills drills, so you never get bored or waste a minute.
It's not just pedaling! As a mountain biker, you know it's all about Riding. Do some of your sweet spot intervals while pedaling (on a trainer, road or trail) and some on real terrain (downhill, uphill, pump track, etc.). The main goal is to maintain sweet spot intensity for the prescribed amount of time.
My favorite places to do sweet spot intervals:
• Trainer. There's no better place to work on pedaling skill. Watch MX and DH movies.
• Pump track. The ultimate builder of skill and strength. Sometimes I'll do a few intervals on the trainer then do the rest on my pump track.
• Bike park. My favorite protocol is to rail the slalom course, climb to the top and do repeats. This is way more interesting – and way harder! – than riding the trainer.
Remember: We are mountain bikers. Pedaling is important, but so is overall skill and strength. Mix it up, build skills and have fun!
Sprint like a champ
As a skills coach, I work with all kinds of riders, and very few of them know how to sprint – much less how to sprint with real power. If you're riding for fun, a good sprint will help you make jumps and clean hard climbs. If you're racing, every second counts. If you're a pro, good sprint technique (and technique in general) is money in the bank.
Why should I sprint? This winter you are going to increase your maximum pedaling cadence and maximum pedaling power. This will translate to quicker, smoother pedal stroke and more power on tap when you need it. Over the past few years I have increased my peak cadence from about 120 rpm to 220 rpm, and my sprint power from about 1,000 watts to over 1,500 watts. If you do the work, and especially if you're a more gifted athlete, you should see even higher results.
How hard should I go? Exercise physiologists refer to the all-out intensity level as neuromuscular power. Neuromuscular power (black on the chart) has nothing to do with aerobic or endurance fitness. It's more like the power you see on weight lifters and dirt jumpers. How fast can your legs move? How much freaking power can you produce, even for just a moment?
Focus on quality. As soon as your power drops in a sprint, that sprint is over. As soon as your power drops during a workout, you are done sprinting for the day. If you can't reach your peak numbers in another session, you're too tired. Take it easy that day.
What does this mean to me? When it's time to sprint, you are going to pin it. Full gas – all or nothing – until you peak. Maybe five seconds. That's it. We want high rpm and huge wattage.
When should you sprint? I suggest sprinting at the beginning of each sweet spot interval. Give it everything you have – 1,000, 1,200, 1,500 watts — then settle in and try to maintain sweet spot power. This is great practice for competitive shredding.
Rip it up! Any aggressive riding builds and uses neuromuscular power. Pump a section as fast as you can. Snap some corners. Sprint then do a huge bunny hop. Mix it up!
Won't I burn myself out? These violent, short efforts are demanding on your muscles and connective tissue, but not on your system as a whole, so you can do them year round. Later on in the build phase (Prepare to Pin It), you'll do intervals in the red zone. These are incredibly effective at increasing your power, but they are very hard on your body and can only be done for short periods. During this base period, focus on sweet spot intervals and max sprints.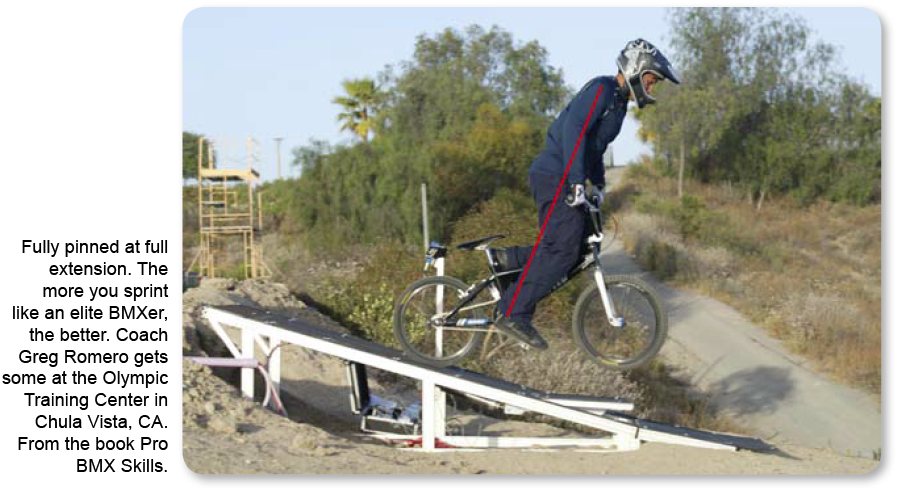 Pedal more efficiently
Pedaling is a skill, and we can all get better at pedaling.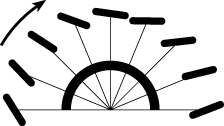 During your sweet spot intervals, focus on some aspect of your pedal stroke.
The first and best pedaling tip: As your foot approaches the top of the pedal stroke, drop your heel and push across the top. This lengthens your power phase and erases the dead spot at the bottom of the other side. Yes, this works with flat pedals.
Pump Up the Base has more pedaling tips plus detailed drills for each workout.
Ride better
When you're doing your intervals on real terrain (and riding in general), always focus on some aspect of riding skill: position, cornering, pumping, etc. When you're racing, focus on riding smart and pinning it!
The best all-around riding tip: Heavy feet, light hands. Drive all your weight into the pedals. Use the bars to maintain balance and create angles.
For lots of riding skills tips, check out
• https://www.leelikesbikes.com/category/skillstraining
• Mastering Mountain Bike Skills
• Teaching Mountain Bike Skills
• Pro BMX Skills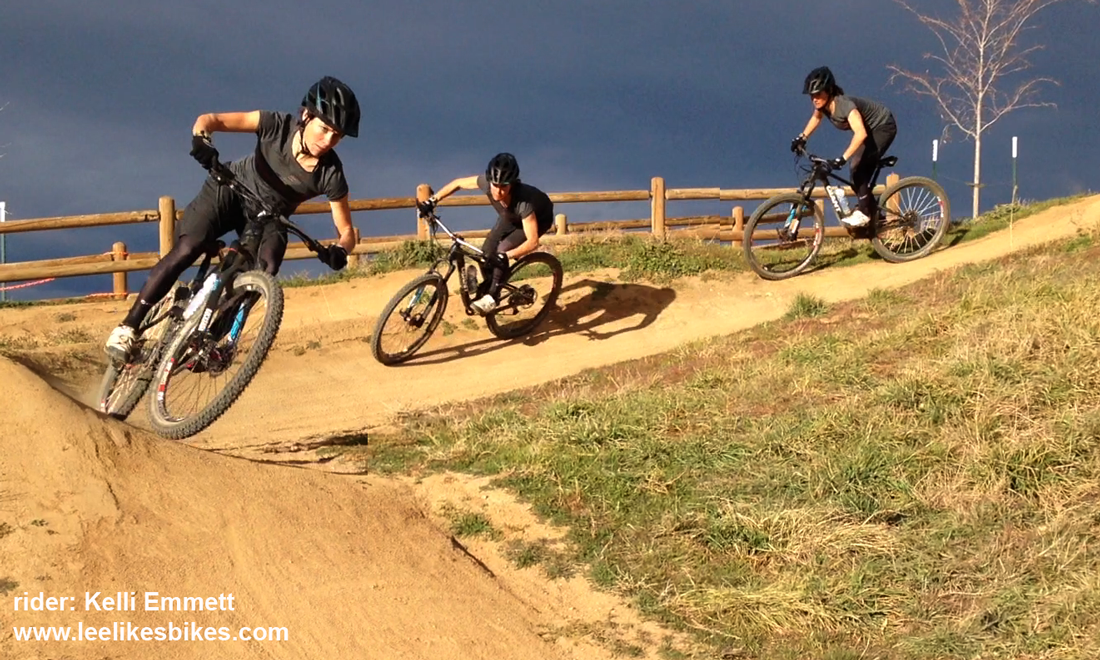 Pro enduro racer Kelli Emmett is no dummy, and this winter she's working on her skills. In a 90-minute session this week, we took 10 percent off her time on the Valmont Bike Park dual slalom. Skills clinics with Lee. BTW: Check out the pro vision and line choice!
Put it all together
Based on my work with Lester Pardoe and master trainer Erin Carson at RallySport Health and Fitness, I suggest doing two Pump Up the Base or other focused bike workouts each week. In addition to these workouts, try to do:
• Two stability/mobility/strength workouts.
• A long ride.
• Recovery, skills and fun! Go to yoga with your wife. Play at the park with your kids.
After your base period, it's time to step into more intense intervals and more race-specific training. The Prepare to Pin It program covers this phase and helps you maintain fitness throughout the season.
This stuff works! Over the past few years my pedaling power – both sustained and sprint – has increased 50 percent, and I'm riding stronger than ever.
Please give this approach a try, either on your own, with your trainer or using Pump Up the Base.
Have fun!
Lee
---
Know more. Have more fun!
Join the leelikesbikes mailing list:
---
https://www.leelikesbikes.com/wp-content/uploads/2018/08/leelikesbikeslogoheader.jpg
0
0
leelikesbikes
https://www.leelikesbikes.com/wp-content/uploads/2018/08/leelikesbikeslogoheader.jpg
leelikesbikes
2013-11-21 15:26:34
2014-01-20 11:07:24
Build your base for a sweet 2014