Week 10 of Pump Up the Base — Can I stop now?

Hi Lee
I'm on week 10 of Pump Up the Base but its now nice enough to ride outside and I don't know if I can mentally handle riding the trainer when the trails are money. Don't you think it'd make more sense training-wise to get out for trail rides now even though I'm not all the way done with the program?
Mark
---
Hey Mark,
Thanks for this great question.
I recently finished the full 12 weeks of Pump Up the Base, and — despite the fact I seldom trained for more than an hour — I'm able to bang out consecutive 8-hour days teaching on the bike. They key is spending progressively more time at Sweet Spot power (plus working the sprints and technique drills). PUTB works. Plain and simple.
At 10 weeks the workload gets more serious:

The workouts get significantly longer near the end of the 12 weeks.
The purpose of PUTB is to prepare you to have fun on your bike. If the trails are money, go outside.
Within that, here are a some options.
Just ride
You've put in 10 weeks of quality work, which is pretty darn good. You have a solid base.
Have fun out there!
Honor the PUTB spirit
While you're out riding on the road or trails, try to spend the prescribed amount of time in Sweet Spot. For example, if the protocol is 20 minutes x 3, can you work that into your ride?
During the riding/coaching season, I think in blocks of 20 minutes. I have confidence that if spend that much time in Sweet Spot a few days a week, my aerobic system (which is sucking less than it used to) will stay sharp.
You can do this "work" however you like. Some options I enjoy:
Rowing machine. It feels good to mix it up.

Pump track. You gotta be smooth to ride 20 minutes at Sweet Spot.

~10 laps of the dual slalom at Valmont Bike Park. This is real, hard work. Depending on my mood, I pin the descents and recover on the climbs, or vice versa. When I'm coaching, this is 80% of my training.

~12 laps of the slopestyle at Valmont Bike Park. I think it's funny to pin the climbs then drill the XL line … on a 29er trail bike.

I live in the hills above Boulder, CO. I can coast to Broadway in five minutes, then climb back to the house in 20-25 minutes. Efficient for sure.
Do whatever you enjoy.
If you want to get the most out of your body
Check out the Prepare to Pin It in-season training program. P2PI hits all of your energy systems on a regular basis. This gets you maximally fit without beating you to death. Yes, you can do P2PI outside on your trail rides.
Most riders settle into their normal routine and actually get slower over the season. No matter how busy I am with teaching, I always hit the core P2PI workouts. This keeps me as sharp as I can be.
Check out this chart from two years ago. After doing PUTB then five weeks of P2PI, my power increased 25 percent!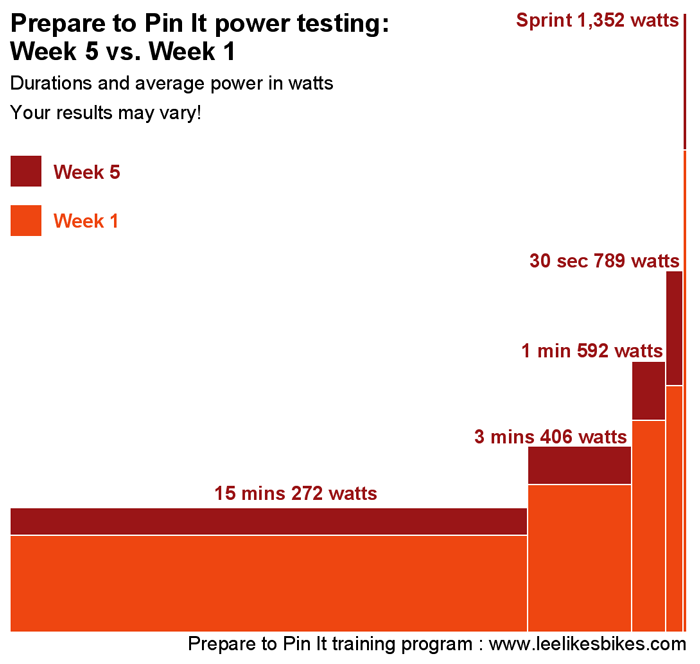 Read Your results may vary: P2PI week 5 power testing
Bottom line: You've done the work. Go have fun. If you want to have maximum fun, weave some focused work into your rides.
Lee
---
Know more. Have more fun!
Join the leelikesbikes mailing list:
---
https://www.leelikesbikes.com/wp-content/uploads/2018/08/leelikesbikeslogoheader.jpg
0
0
leelikesbikes
https://www.leelikesbikes.com/wp-content/uploads/2018/08/leelikesbikeslogoheader.jpg
leelikesbikes
2015-03-19 09:43:05
2015-03-19 10:07:37
Week 10 of Pump Up the Base — Can I stop now?