Three days on a Pivot Mach 4 Carbon

Last weekend in Arizona I trained 38 high school coaches and worked with 11 shredders like you.
The coach training was held at Pivot Cycles headquarters and … you know … when in Rome … so I rocked the new Pivot Mach 4 Carbon all weekend.
---
This promo video nicely sums up the Mach 4 Carbon:
2015 Pivot Mach 4C from eXposureTheory on Vimeo.
---
The Pivot site
has a full description, specs, geometry and even FAQs. Here are some highlights of the MACH 4 Carbon 27.5 XTR/XT 1x Pro build I rode:
Carbon frame with 115 mm of dw-link® suspension

FOX FLOAT CTD KASHIMA shock with two sag settings: race and trail

FOX 32 FACTORY CTD 27.5″ 120 KASHIMA fork

68-degree head angle

27.5-inch wheels

2 sets of water bottle mounts!

Complete bikes weights starting at 22 lbs
More info at the Pivot Cycles site >>
My loaner bike, with a KS LEV dropper post, XT pedals and PRO 50mm stem.
Some perspective
Bike reviews generally contain a high density of male bovine excrement. I'll do my best to leave that out.
This fall, winter and spring my main coaching machine has been a 2014 Specialized Camber Expert Carbon (29er). It has a Shimano PRO cockpit, XT pedals, XT brakes, XT drivetrain, Roval carbon wheels, Command Post seatpost, a Butcher front tire and a Slaughter rear tire. The geometry and travel are stock at 110mm. Mild suspension tuning has made the bike softer early in the travel (for my shoulders) and firmer deep in the travel (for Beautiful Violence). My Camber is a rock solid, dependable and capable trail bike. In the past six months it's worked very well on pump tracks, dirt jumps, slalom tracks, slopestyle, smooth trails, rocky trails and even DH shuttle trails. I know this bike well. It's my current baseline.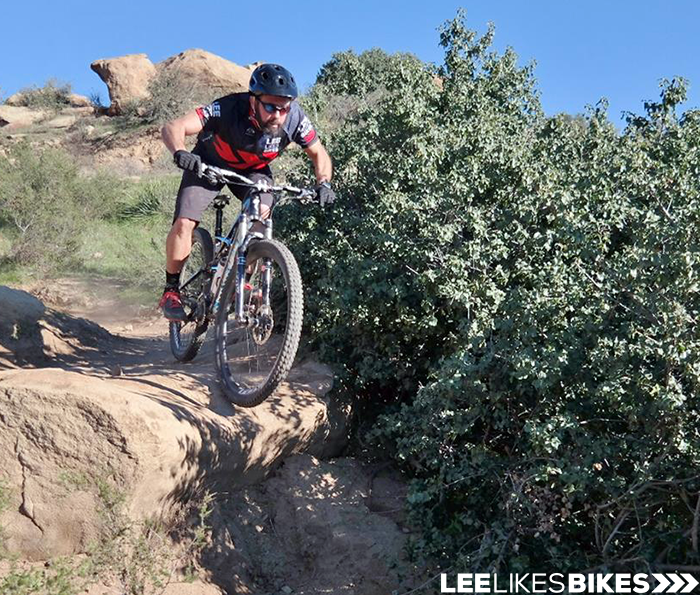 The Camber takes on a SoCal DH shuttle trail.
Because I am used to the Camber, this review compares the Mach 4C with the Camber.
I rode the Mach 4C in parking lots, pump track, dirt jumps, the Desert Classic trail at South Mountain and the Technical Loop at McDowell Mountain. Overall I'd say the riding was mellow with lots of great corners and a few rough sections. We're looking at three days with about 20 hours on the bike.
What's noticeably awesome about the Mach 4 Carbon
Light! This was the low-middle end "MACH 4 Carbon 27.5 XTR/XT 1x Pro" build, and it feels snappy. I'm sure the more expensive models are even lighter, especially with the optional Reynolds Blacklabel carbon wheels.
Stiff! The whole chassis feels solid and relatively wiggle free. Maybe it's the smaller wheels, but I believe the Mach 4's frame structure is burlier than my Camber.
Pedaling. The DW Link makes for a taught, quick pedaler — especially on smooth ground. The wallow that I've gotten used to after 12+ years on FSR bikes … just isn't there.
As they say in the video, this bike rides bigger than it is. On most 115mm bikes, you get say 90-100mm of travel on most rides. This bike uses all 115mm all the time. Every chance I got, I plowed the Mach 4C through the worst lines I could find. What happened? I'm not gonna BS you with details that were being handled by the bike and my cerebellum, but full travel was used, without harsh bottoming and with no loss of control. Win.
Yes, I'm saying this bike pedals as if it has less travel and blasts through rocks as if it has more travel. That's a pretty neat trick.
XTR 11 speed! The shifting, as you might expect, is flawless. The 11-40 cassette with a 30t chainring was geared low enough for the riding I did. If I was in a hurry I'd want a bigger ring. If I was riding longer/steeper I'd want a smaller ring.
XT brakes. Powerful, predictable and reliable. These are my little security blankets. If I have my index fingers on those levers, I know everything's gonna be all right.
27.5 wheels. This is my first real trail time on the middle wheel size, and … well … the bike feels quick, and it generates more focused pump than my 29ers. If you drive this bike into pockets, it rewards you with nice bursts of speed.
Fun! That's the bottom line. The bike felt easy to ride in the easy sections, and it felt completely competent everywhere else. From a handling standpoint, I never gave the bike a thought. I got it as close as I could to my optimal setup, focused on executing my skills and basically enjoyed the ride.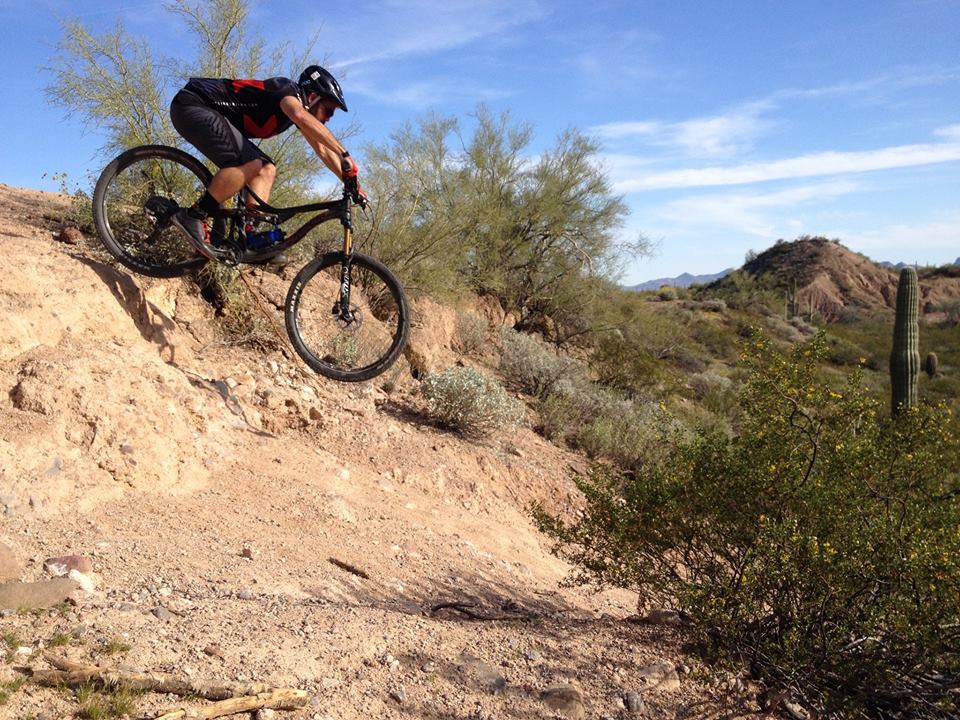 Whether rolling or flying over these rocks, the Mach 4C did its thing — and let me do my thing. In moments like this you do NOT want to be thinking about your bike.
What's noticeably … different … about the Mach 4 Carbon
Nothing on this bike is bad. Actually, everything on this bike is very good. What matters to those of use with preferences is, how does This Bike compare to That Other Bike?
Compared with my Camber:
The seat angle feels slacker. According to the websites, the Mach 4C's seat angle is 72°, while the Camber's is almost 75°.
My 45-year-old, much abused knees, hips and low back hurt within about 10 minutes of pedaling. Sliding the saddle all the way forward on the seatpost made pedaling easier, but my body never recovered from the initial insult. Could I get used to this position? Yes: If all my bikes were set up the same way. Please know that I'm very sensitive in this area.
The cockpit feels smaller. I brought my PRO Atherton 50mm stem 'cause 1) it's sweet, 2) it has a little Gee, Dan and Rachel graphic and 3) I run this on all of my bikes. With a medium frame and my standard stem setup, the bars felt low and close. Which makes sense when you look at these numbers:

The Mach 4C's reach is .6 inches (15mm) shorter than my Camber's. The 4C's stack is .7 inches (17.5mm) lower than my Camber's. One solution is a longer stem (the stock Pivot stems are longer than my 50). The other is a longer frame.
The shock tune feels softer. When you are plowing though randomness, that's a very good thing — and I'm confident the Mach 4C was tuned this way on purpose.
When you're pumping terrain with your Awesome Power, it's very easy to blow through all of the suspension. With the shock air pressure on the high end and the shock set as firm as it gets, I could easily bottom the bike by snapping downward with my legs.
When the shock is softer than the fork and you pump a corner, the rear end tends to collapse and slacken the bike. This can become a riding style, but I'm used to a more balanced feel. On the last day I set the fork full soft and the shock full firm, and the bike carved like a champ. Just ask my students!
What I still wonder
How does this bike handle true gnar? A run down National Trail would have told that story. Based on the way the Pivot guys ride (Ken Bennett is a trail ninja), I'm guessing it'll do fine.
How does it handle hyper-technical climbing? On one sustained, choppy climb I felt the little wheels hanging up. I love the pump of the little wheels, but how would I fare riding up a pointy, rocky mess? The supple suspension might offset the smaller wheel.
How does it feel on a long ride? I'm digging the little wheels for focused shredding, but, again, how will I feel after a few thousand tiny bumps?
If I get more time on this bike I'll let you know.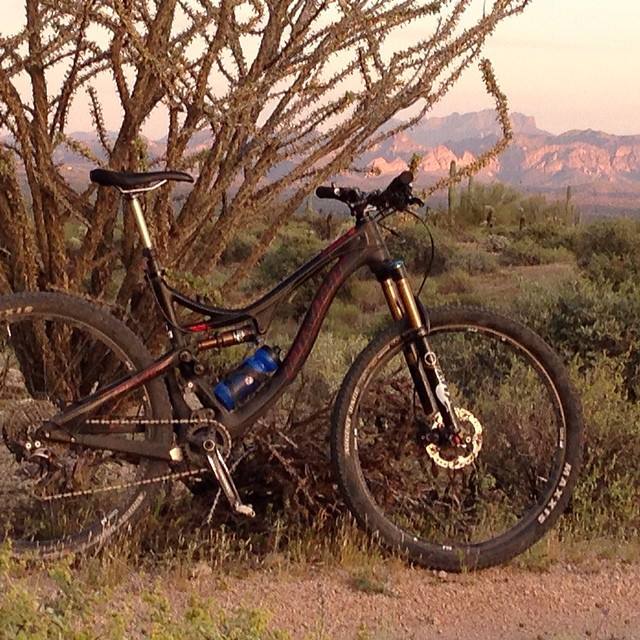 At the end of each long coaching day, I took the Mach 4C for a fun lap. What a smooth, efficient and fun way to explore. It made me think: "Big wheels for work, little wheels for play."
If I owned a Mach 4C
I would gratefully and humbly wring the heck out of it. I would also:
Consider moving up from a medium to a large. This would let me run a super-short stem and get the fit I'm used to.

Run the shock on the stiff side and probably get a custom tune to make it firmer when pumping.

Ride wider bars and a shorter stem than stock.

Dropper post for sure! The stock build kits don't come with droppers.

Ride meatier tires. The stock Ardent Race tires rolled fast and gripped fine, but I appreciate more bite on a trail bike.

Either run a smaller ring for bigger climbs or — ideally — ride with two chainrings.

Run the saddle forward.
These are all personal preference. The Mach 4C pedals like a small bike and shreds like a big bike, and it's just plain fun. If you have any issues with your pedaling position, definitely try before you buy.
Have fun out there!
Lee
---
Know more. Have more fun!
Join the leelikesbikes mailing list:
---
https://www.leelikesbikes.com/wp-content/uploads/2018/08/leelikesbikeslogoheader.jpg
0
0
leelikesbikes
https://www.leelikesbikes.com/wp-content/uploads/2018/08/leelikesbikeslogoheader.jpg
leelikesbikes
2015-03-28 14:35:00
2015-03-30 07:52:58
Three days on a Pivot Mach 4 Carbon