Testing the off-mountain training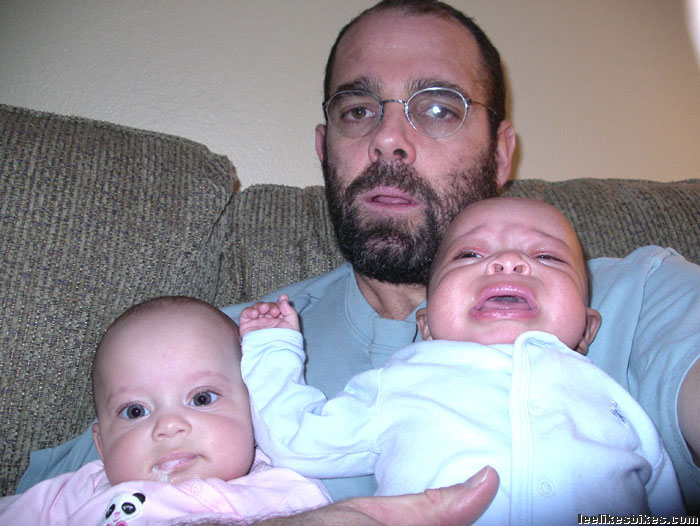 It's been the toughest but most awesome winter of my life. I did tons of work, finished two books and helped create and maintain two humans. That meant six months of training "off the mountain."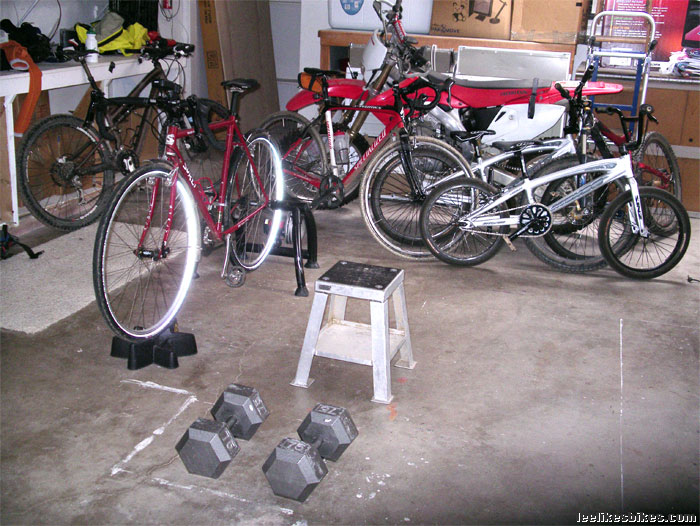 The means, surrounded by the ends.
The program: In a good week it was two gnarly trainer interval sessions, two gruesome dumbbell circuit sessions, some basic yoga and hopefully a freezing mountain-man 'cross ride.
There were plenty of crazy days and lots of compromises. What can I do with babies in my arms? Baby squats, baby lunges, baby presses, baby rows … One night a few-week-old Fiona couldn't sleep, and I did at least 300 baby lunges trying to soothe her. She said "Daddy, man up!"
Monday I finally got a chance to ride "on the mountain."
Route: Short road climb, short technical singletrack climb, 1,000-foot steep-raw-flowy-then-jumbly descent, long road climb back to the start. The loop takes about an hour.
Setup: 2010 Stumpjumper with 70mm Point One Racing stem, 2007 Fox 32 Talas, prototype Fox shock, Maverick Speedball seatpost and Specialized Lo Pro Mag flat pedals.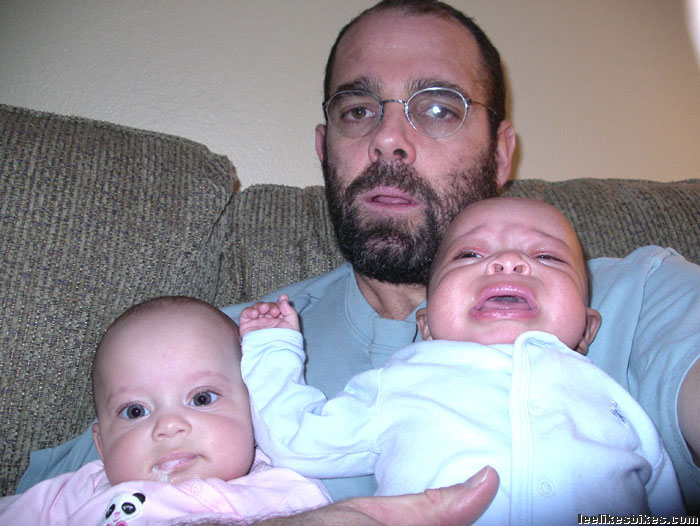 Finley is puking. Fiona is crying. Max intervals are way easier!
This new trail bike feels balanced and plush; more DH-ish than my 2008 Stumpy Pro Carbon with Brains front and rear. I think I might race it at the Ranchstyle dual slalom. (I'll be teaching at RanchStyle 2010; stay tuned for clinic info.)
Down: Yay, I didn't forget how to ride a bike! I felt very loose, very smooth and not very slow. There were moments of beauty: pumping a pine-tree slalom; foot-out drifting across moist needles, plopping on the seat, rear wheel hooking up with a definite braaap.
Up: Yay, I feel great! Even with the flat pedals (because of them?), I climbed smoothly and easily. My riding partner, a former road racer who always KILLS me going up, could not hang on. I made good power for 20 minutes in the saddle, then stood and easily cranked out the final super-steep pitch.
I'm not a fast climber, but it feels great to be able to bust out serious ascents — on any bike with any setup — and feel comfortable.
And: I could have done it again.
Lessons:
– Skills don't go away with time off the bike.
– Intense intervals work. Especially if you simultaneously hone your pedaling technique.
– Strength training works.
– Days off, while they make me crazy, are probably good.
– It's all about the baby lunges.
Have fun out there,
— Lee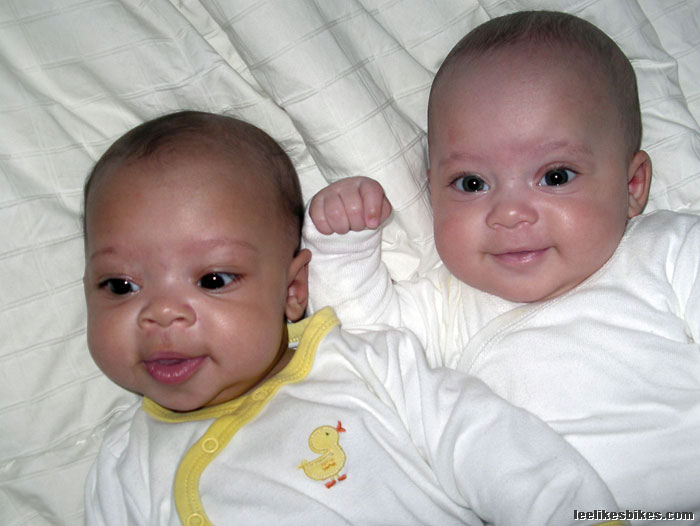 Cuties! Fiona and Finley at four months. Their Mommy is way more bad ass than I'll ever be. Yay Mommy!
---
Know more. Have more fun!
Join the leelikesbikes mailing list:
---
https://www.leelikesbikes.com/wp-content/uploads/2018/08/leelikesbikeslogoheader.jpg
0
0
leelikesbikes
https://www.leelikesbikes.com/wp-content/uploads/2018/08/leelikesbikeslogoheader.jpg
leelikesbikes
2010-03-10 11:31:53
2010-03-10 14:42:13
Testing the off-mountain training