I've always wanted to do a 24-hour race, but I was afraid I couldn't go that long without sleeping.
For the past five months, the babies have made me tougher and tougher.
I'm ready.
3 a.m.
The alarm goes off.
Whu? Whasit? What's going on?
Oh yeah, Ian is at basketball regionals in Durango. This is the farthest his team has ever gotten. Go Mustangs! We missed yesterday's game because the car broke down, but we're gonna pin it to see today's game.
4:30 a.m.
Babies are finally changed, fed and dialed. Load 'em in the car and leave Boulder.
The loaner X3 mini-SUV is a lot smaller and taller than The Wife's 530xi sedan. It's somehow more cramped and it handles worse.
5:30 a.m.
Cruising I-70 at about 90. A WRX whizzes by and folds into a sweeping corner. I dive after and — yikes! — the X3 wallows. I back off.
8 a.m.
Stop at McDonald's in Rifle. An hour of parking-lot feeding and changing, then some drive-through action, then back up to crusing speed.
Noon
Driving Hwy 550 over Red Mountain Pass. Oh yeah baby! Tight, curvy and exposed — all good traits in a trail, a road, a … never mind, this is a family site.
By now I have a feel for the X3, and we are flat pinning it. Gobbling up all sorts of vehicles, subjecting the babies to sleep-inducing Gs, getting it done like a 450-mile Super D.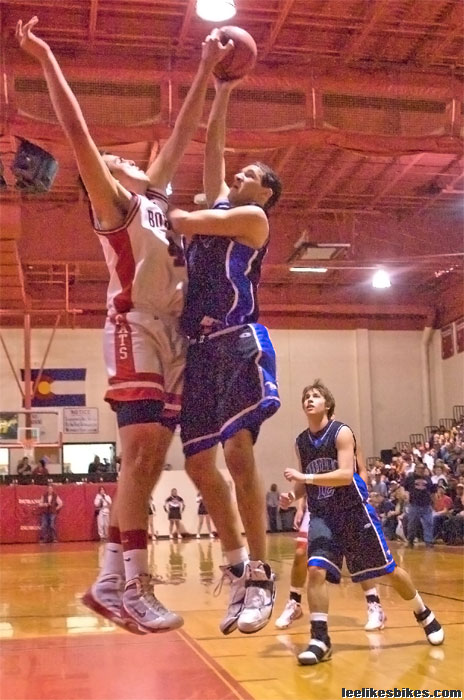 This is hard to compete against. Our big guy gets crushed by a bigger guy.
1:30 p.m.
Park at Durango High School.
Mess with babies.
Go into the gym. A girl's game is in the third quarter. The local favorite is down 15 points to a Denver powerhouse. They fight back in the fourth and get two points up with a minute to go. The powerhouse ties it up with 20 seconds on the clock. Please don't go into overtime …
The local fave shoots at the buzzer and … it's good! They win! The gym erupts. A tear rolls down my cheek. Great stuff.
2:30 p.m.
Our Dawson Mustangs face the Ygnacio Bobcats. Their players are big, fast, fit and work well together. Their 6'8″er won't let us shoot or rebound anything. Our guys fight hard and make us proud. But we get killed.
Mess with babies.
5:30 p.m.
Leave Durango.
Knock 30 minutes off our Red Mountain Pass record. Power out of the corner, nip some seconds on the straight, brake late and hard, fold in, repeat. The babies are sleeping. The Wife is all too aware of the cliff to her right. I feel like I've been riding all day, and I'm settling into a quiet flow.
8 p.m.
Wendy's in Grand Junction.
Mess with babies.
Try the new Bacon & Blue burger. Drier than I expected. Not worth the guilt. I'll get back on the program tomorrow.
1:30 a.m.
Get home. Oh man, I'm tired and ready for sleep. But babies must be messed with. The Wife and I tag-team the unpacking, feeding and changing. She gets them to bed.
3 a.m.
I'm washing bottles.
The alarm goes off.
---
https://www.leelikesbikes.com/wp-content/uploads/2018/08/leelikesbikeslogoheader.jpg
0
0
leelikesbikes
https://www.leelikesbikes.com/wp-content/uploads/2018/08/leelikesbikeslogoheader.jpg
leelikesbikes
2010-03-09 11:56:03
2010-03-09 11:56:03
24 hours of pinned-ness