P.Bike vs. P.All Mountain?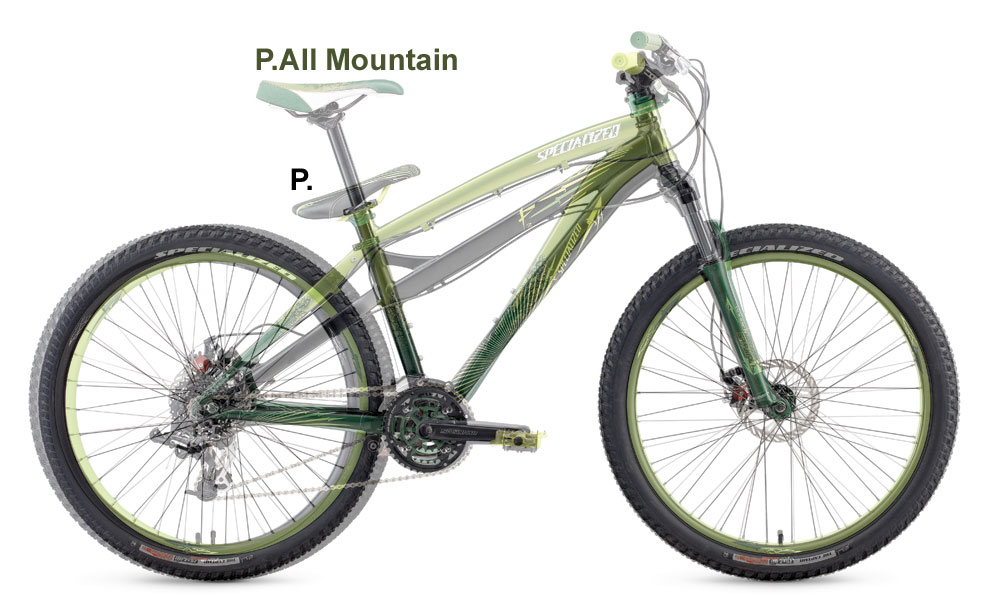 Hey Lee,
I may be selling my full suspension bike this year and I am considering going back to riding a hardtail. I'm pretty interested in the P.1 All Mountain after seeing it on the Specialized website. Have you gotten a chance to ride it yet? If so I would like to know how it compares to the other P.1 as a one-bike quiver.
By the way, Welcome To Pump Track Nation rocks! I start construction on my pump track my next day off!
Mahalo,
Keoni
Hey Keoni,
I've not ridden a P.All Mountain, but I've been thinking about a related matter: How would an XC hardtail like a Stumpjumper HT work for all-around kung fu including road, trail, pump and jump? Pretty well, I would think, especially given this:
Comparing a P.All Mountain and a P.Bike
In this image I laid a P.All Mountain on top of a P.Bike. With the bottom brackets lined up, you can see that:
– Most of the key measurements are very similar: bottom bracket height, seat tube angle, top tube length, head angle. That should make the bikes handle similarly.
– The P.All Mountain is taller overall. Higher top tube and head tube. This makes it more suited to riding with a high seat.
– The P.All Mountain has much longer chain stays. This makes the bike more balanced on raw terrain, but it won't manual as easily as the P.Bike.
– You can get the P.All Mountain's seat almost as low as a P.Bike's. In order to position the bars as low and as far back, you'll need a shorter stem and lower-rise bars. But you can make the cockpits feel very similar.
– P.All Mountains come with triple chainrings and full gears. That makes them more versatile — especially for riders who can't pull single speeds or single rings up the hills.
What this means:
The P.All Mountain appears to ride a lot like a P.Bike, but with a more all-around purpose: city, trail, urban, pump, jump, etc.
Because of its low price point ($480-$590), the P.All Mountain seems intended for kids and recreational riders. The P.Bike ($940 to $1,560) is aimed at serious "progressive" riders. The less expensive frame and components won't work as well — or last as long — under hard use.
So:
If you're a kid or a gentle rider on a budget, a P.All Mountain seems like a great all-around bike.
If you're going bigger/faster/harder, you're probably better off with a P.Bike.
Wondering: How would the P.AM frame work with high end parts? …
Rip that pump track,
— Lee
---
Know more. Have more fun!
Join the leelikesbikes mailing list:
---
https://www.leelikesbikes.com/wp-content/uploads/2018/08/leelikesbikeslogoheader.jpg
0
0
leelikesbikes
https://www.leelikesbikes.com/wp-content/uploads/2018/08/leelikesbikeslogoheader.jpg
leelikesbikes
2010-03-13 12:28:04
2010-03-13 12:28:04
P.Bike vs. P.All Mountain?