Sunday morning Colorado adventure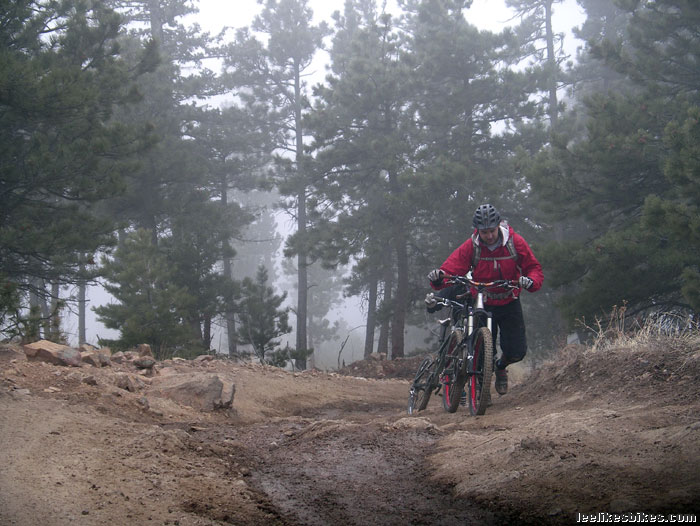 Oh yes, 'tis good to ride the bikes on real terrain. Today we had a good little adventure at Left Hand Canyon OHV area outside Boulder.
Crew
– The Mighty Farid, who is climbing WAY faster today than just a week ago. When you have that many miles in your legs (ex-roadie), it doesn't take long to wake them up for spring duty. Rocking a new Specialized Enduro.
– The Ever Enthusiastic and Ludicrously Talented Nick Simcik. Best known for his slopestyle style, but strong and skilled enough to ride whatever he wants. Ripping a Transition Covert.
– Me. Feeling pretty decent considering my new lifestlye, and STOKED to be outside on a bike. Rolling a 2010 Stumpjumper with Fox suspension and flat pedals. Yeah man, flat pedals. I'm working on a looser style. Two O's.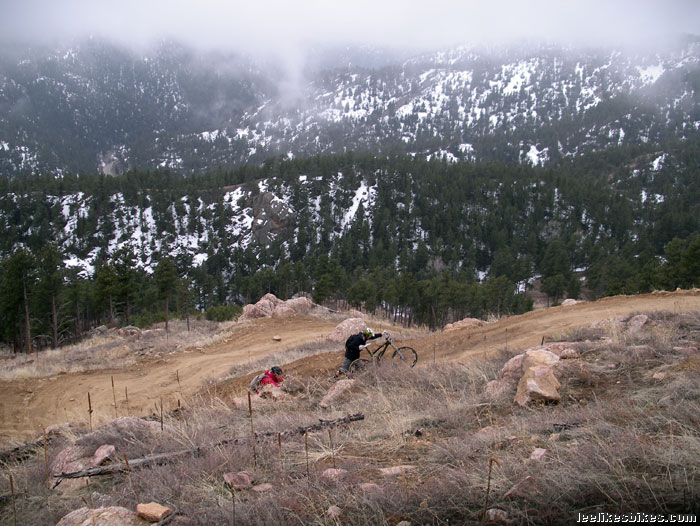 I didn't stop for a rest. I stopped for a photo.
Ride
30 degrees at the van. Brr.
Spin up the main access road, drop across to the eastern slope then grind up, Up, UP a coarse dirt road.
Steep! Farid is pulling strong.
Walk as needed. Nick is feeling grumpy.
Skirt the valley on a very rocky dirt road. Snow! ICE! Stay loose, pump everything, love it all.
Traverse a pumptrack-doubletrack to the new singletrack. Rail, pump, braaap! Nick is bristling with excitement. What a treat to ride with a rider of his level on your wheel; it will definitely keep you on task.
Rip the new singletrack descent. Flowy, steep, just raw enough. Miss a corner. Pull off to see Nick whipping his bike between steep turns. Powerful transitions on the Transition.
Finish in an intensifying snow storm. 2.5 hours total. Feeling warm and lovely.
Great fun is all I can say.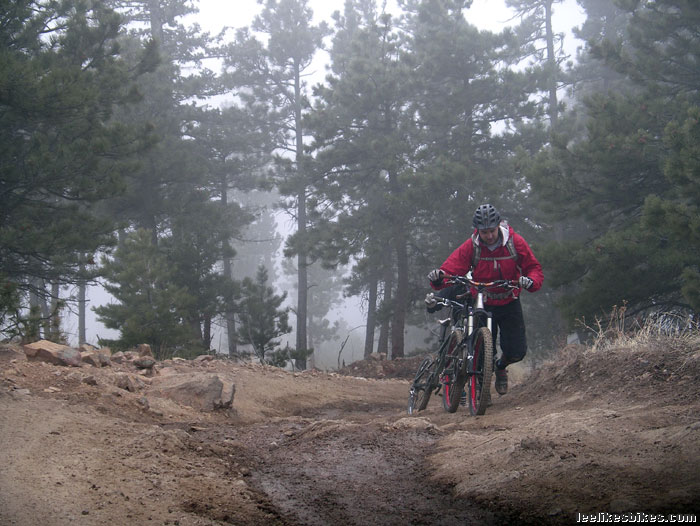 Nearing the top.
But I will say this:
– I am stoked that my short/intense training program is translating into pleasant long rides. I've ridden with enough elite riders to know what fast climbing is. I am NOT climbing very fast, but I'm getting it done and feeling good.
– The new Stumpy is working very well. It climbs as well as I deserve to, and it descends … well … Left Hand Canyon is usually explored on a moto or DH bike. While I wasn't pinning it DH style, I was pulling a decent pace, and the bike wasn't holding me back. More precisely: The bike feels quick and connected, yet it feels open and capable. I should be getting a new Enduro soon; this will be an interesting comparison.
– Flat pedals baby. They didn't hold me back on the climb (except two rock-bonks where my feet slipped forward), and they felt great on the descent — especially in the snow/ice and in some of the crazy corners.
– I love riding my bike!
– It's extra sweet to come home to The Wife and Twins. They put the braaap into new perspective. It's less the focal point … but more focused.
Get some,
— Lee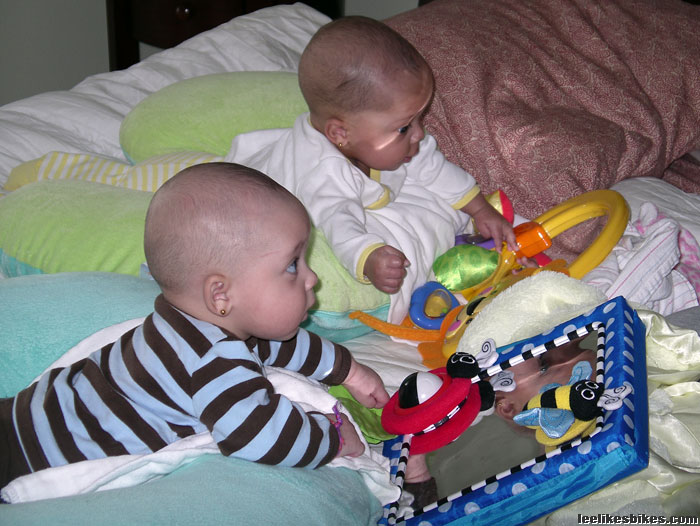 Everybody is busy working. Finley and Fiona are collaborating on a book: Mastering Vomiting Skills.
---
Know more. Have more fun!
Join the leelikesbikes mailing list:
---
https://www.leelikesbikes.com/wp-content/uploads/2018/08/leelikesbikeslogoheader.jpg
0
0
leelikesbikes
https://www.leelikesbikes.com/wp-content/uploads/2018/08/leelikesbikeslogoheader.jpg
leelikesbikes
2010-03-14 13:41:07
2010-03-14 13:45:43
Sunday morning Colorado adventure