Specialized Camber vs. Stumpjumper in Texas (and elsewhere)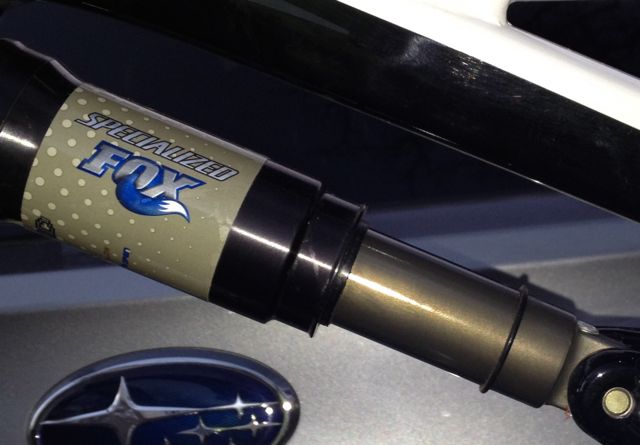 In Bike for Texas (and other) trails?, Scott asked about switching from a Stumpy 29 to a Camber 29 for the rocky trails in Austin, TX. I told him I enjoyed the Camber on his terrain, and that he should give one a try.
Well, he did.
---
Lee,
Test rode a Medium Camber 29 this afternoon. Definitely one sweet ride! It comes with a very short stock stem (not sure why), but it steers really well, especially at low speeds. Had no trouble handling the rocks and I thought that it climbed very well. Shallow, technical descents were no problem, though on a steep stair-step section I didn't feel anywhere near as confident as on my Stumpjumper.
My real concern is that the ride of the Camber was noticeably less plush than the Stumpy, even though I never blew through all of the Camber's travel. I started with Specialized's recommended pressure settings which ended up being spot-on after confirming with O-ring measurements. Never bothered with Pro-Pedal. What do you make of this?
Compared with the Stumpjumper 29, the Camber felt rough. My concern is that, since I ride on the rocks 5 days a week or so (and am not getting any younger), that the Camber will beat up my 40-year-old body in the long run.
What do you think? Is this a matter of setup? Or do you think that there is something about the way the Camber suspension is designed that makes it a rougher ride even when you're not using all of its travel?
Thanks in advance.
Best,
Scott
---
Hey Scott,
Thanks for the follow-up. My 43-year-old body is breaking down (a shoulder replacement is imminent), so I hear you.
Let's get after this:
Short stock stem
Cool. That's the way it should be. I'm thinking 70mm for your up/down techy riding.
Camber vs. Stumpjumper
The Stumpy has slacker geometry. That will make it feel more stable in the steep stuff.
Of course the Camber felt rougher. It has 110mm of suspension vs. the Stumpy's 130mm. If you were using the same relative amount of travel, the Stumpy absorbed impacts across an 18 percent greater distance/time.
Be sure to check tire pressure. This is huge. On your trails you're not going super fast, so I can see running low pressure. I would ride in the mid 30s. You might go into the high 20s, especially if you're tubeless. That will help a lot in the rocks.
How much suspension you used
Thanks for sending these photos.
The most important thing about suspension is balance. You are using about 70 percent of your fork and 80 percent of your shock.
I'd expect a normal rider on a normal ride to use about 80 percent of his shock. Specialized and Fox work closely together to create a stock setup that delivers a nice ride for most riders and can deal with the occasional hard hit. Ideally, you'd use full travel on every ride, but then we'd be talking about changing your riding style and maybe some custom tuning. We will leave that alone for now. Things look good with your shock.
Regarding the fork: The Specialized/Fox guidelines are usually spot-on. I'd consider 1) reducing fork air pressure, 2) backing off the low speed compression if you have that adjustment, and DO THIS FIRST 3) making sure you're not hanging off the back of the bike when you get scared. We have not ridden together, but — based on working with hundreds of riders like you — I'm going to assume you lean back too far when you're nervous. This will take weight off the front and and make any bike feel terrible.
Getting beaten up
Ultimately, getting beaten up is a matter of balance, range of motion and power — in short: technique.
Start with Mastering Mountain Bike Skills 2nd Edition.
After that makes sense, work your way through the drills in Teaching Mountain Bike Skills.
For ultimate kung fu, take a clinic with me. I will return to Austin this year to teach high school coaches. I will rock some public clinics while I'm there.
Which bike is right for you?
The smoother and more aggressively you ride, the less suspension you need. The more passively and stiffly you ride, the more suspension you need.
If we could do a clinic together, I'd show you about balance and pump, and you might decide you like a shorter-travel bike — or you might decide to truly rip your longer-travel bike.
I think, especially as physical durability becomes an issue, we need to find a bike that protects our bodies and encourages our minds.
Since your main concern seems to be smoothness and comfort, rather than all-out snappiness or pumpability, I think you'll enjoy the longer-travel Stumpjumper over the Camber.
Braaap!
Lee
BTW: If all goes well, I will soon be riding a Stumpy 29.
---
Know more. Have more fun!
Join the leelikesbikes mailing list:
---
https://www.leelikesbikes.com/wp-content/uploads/2018/08/leelikesbikeslogoheader.jpg
0
0
leelikesbikes
https://www.leelikesbikes.com/wp-content/uploads/2018/08/leelikesbikeslogoheader.jpg
leelikesbikes
2012-01-05 10:25:08
2012-01-05 10:27:26
Specialized Camber vs. Stumpjumper in Texas (and elsewhere)