Last weekend I was in NorCal teaching and doing a RipRow™ demo at Trail Head Cyclery. Thursday Lars Thomsen and I talked business, assembled the machines then went for a ride. It was getting late.
We drove to Santa Teresa and parked at the "Lover's Lane" lot near IBM. The sun was setting. I told Lars:
"I don't want to be afraid."
Over the past several years, as my shoulders have deteriorated, rocks have become painful, and I've become very afraid. But I've been doing the REVO physical therapy and RipRow work. My shoulders are stronger. My Specialized Enduro Öhlins Coil is the most capable trail bike in the world. I want to ride aggressively and not worry about the details.
---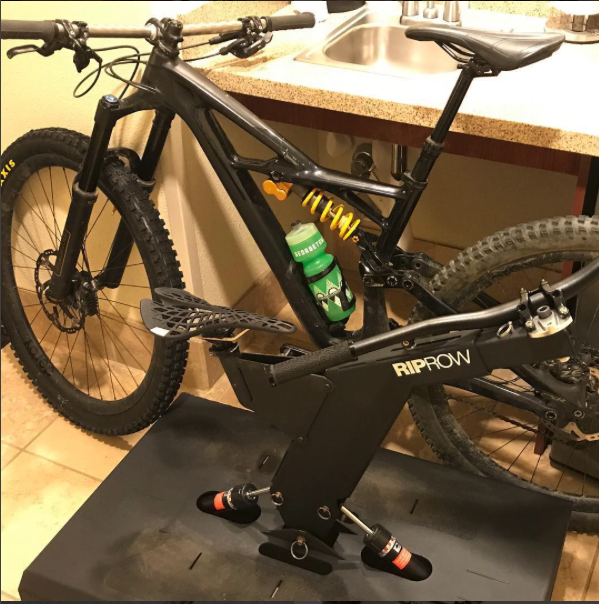 RipRow™ + Specialized Enduro Öhlins Coil = Safe, mindless fun.
I dive ahead, down a dirt road, no brakes, edge the turns, covering the Zee levers but there's so much traction I carry full speed into a valley, pump through the bottom, and coast up the other side.
Wow! That was fun!
Lars is on the other side of the pendulum. Dude, this way.
Climb. Follow Lars to the Stiles Ranch trail. Up some switchbacks then down some rocks. He's leading on his home trail and he's putting on a show and I'm following and it's fun and easy and the bike is doing its job wonderfully. The descent gets rougher and we enter a series of switchbacks. He lines up wide like you're supposed to, but my attack lizard dives inside and blocks him. I'm passing you! And then I go straight. Over crazy rocks. And the bike is dancing and I'm dancing and I'm laughing and Lars is laughing.
And we climb Rocky Ridge. It's a ridge and, yes, it's rocky. On the flight to San Jose I was dreaming of this climb (not the descent, which is strange). Lars dances up as always. I grab a couple more gears, flip the rear shock to open, and RipRow my way up the crux section. Easy peasy. Wow. Hastag getting stronger, hashtag great equipment, hashtag coming from altitude.
It's getting really dark. I say I'm worried about the light on the way down, which is a passive way of asking to turn around. Lars replies silently, saying basically: Shut up you wimp. We're riding. So we crank our way up the hill.
16 years ago I won a race down this trail. It's the only race I've ever won outright for all classes. So, somewhere in my subconscious, I know the trail. But in my conscious I'm a stranger in a strange land, and it's getting dark. Did I mention it was getting dark?

Curtis Keene takes a race line back in 2003, when he was still the fastest electrician in Fremont, CA.
At the top. Copy the view to a mental oil painting. Drop in and just freaking attack. Pump, turn, pedal, repeat for the smooth opening sequence. Hop over a rock band, land heavy, redirect and hop over the next band. Pedal! The bike is planing like a supercross motorcycle in the whoops, and it's smooth except for the TWANG! TWANG! as carbon rims hit rocks. Back off … tires holding air … resume attack.
When we reach the crux section I can discern a light ribbon of trail with dark rocky blobs. By now I've done so many RipRow reps, the pump/hop/smash pattern is burned into my nervous system. I consciously pick the line. Everything else happens subconsciously.
Pump hop smash braaap it's over.
Yes! We made it. And it was rad. We climb back to the car. In the parking lot a dude is drinking beer and blasting Iron Maiden.
"Stranger in a strange land …"
---
Know more. Have more fun!
Join the leelikesbikes mailing list:
---
https://www.leelikesbikes.com/wp-content/uploads/2018/08/leelikesbikeslogoheader.jpg
0
0
leelikesbikes
https://www.leelikesbikes.com/wp-content/uploads/2018/08/leelikesbikeslogoheader.jpg
leelikesbikes
2017-10-30 10:28:40
2017-10-30 10:54:15
PUMP HOP SMASH BRAAAP!!!