Power testing: in two sessions or all at once?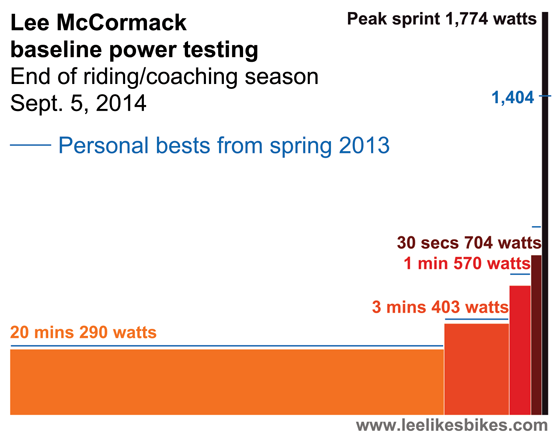 Hi Lee,
First of all, I just wanted to say thanks for the Pump Up the Base programme. It is the first bike related training programme I have done (although i have extensive experience with track and field programmes, predominantly sprinting) and was blown away by the progress I made over the 12 weeks; struggling to manage the 6x3min sets at 250w in the beginning and wondering how i was going to do 10 min let along 15-20 to being able to do the 3x20min reps at a significantly higher power output marginally lower heart rate, but even better is the look on my mates faces as they realise I've been waiting at the top of a climb for them for a couple of minutes and that I'm already to continue on down the trail.
Now I am about to start Prepare to Pin It, but I don't know quite how to approach the testing. The testing in the e-book appears to be broken up over 2 days (sub-max and speed endurance/ max power), however, the blog posts on your own tests appear to have it all on one day (the longer TT also appears be a FTP test rather than the sub-max in the e-book) is this correct and which one would you recommend over the other and why?
---
Dave!
Thanks for the great question, and for being a customer.
I'm not just the president of Lee Likes Bikes: I'm also a client. Over the past several years I've used both PUTB and P2PI religiously. Thanks to that structure I've gotten a lot stronger (and a bit smarter too).
Two sessions
In P2PI expert source Lester Pardoe and I describe a couple tests: one for aerobic fitness and one for high-end power.
In the aerobic test you warm up then see how much power you can maintain for 20 minutes.

In the high-end power test, you warm up then do 3-minute, 1-minute and 30-second tests, followed by max sprints.
From a practical, human perspective, it seems easier for many riders to separate the tests.
Mentally easier to do the endurance work. Easier to spend everything.

Sprinting when you're fresh. Perhaps easier to achieve higher ego numbers.

Less time on the trainer!
All at once
Lately, I've been doing all of the tests at once:
This is how Lester and the other physiologists at the Boulder Center for Sports Medicine do it.

It's a fuller representation of your fitness. How well can you sprint after doing all that other work?

Maybe it's just me, but I actually think I sprint better when I'm thoroughly warm and maybe even beaten down. I've been told there's less "inhibitory response" among the muscles.

Done once, and it's over!
The last time I did the full test (End of season power testing Sept. 2014), I was hurting: 20 minutes felt sluggish. 3- and 1-minute were agonizing. After the 30-second I wanted to puke. I was also bummed because my numbers were lower than my previous best. After a few minutes of recovery, I blasted the sprints and — WHOA! — hit a new PR of almost 1,800 watts. Crazy.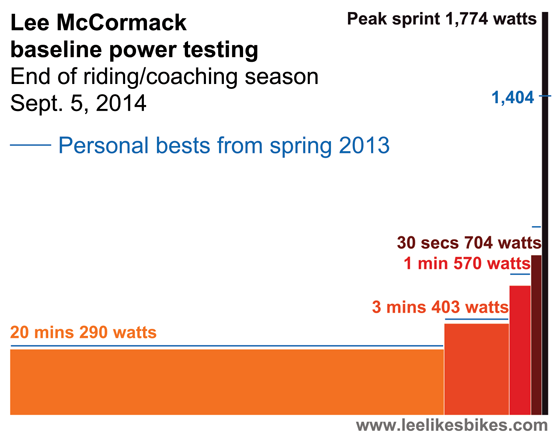 Even crazier to think about the warmup at my next BMX race!
Have fun out there,
Lee
Pump Up the Base off-season training program >>>
Prepare to Pin It in-season training program >>>
---
Know more. Have more fun!
Join the leelikesbikes mailing list:
---
https://www.leelikesbikes.com/wp-content/uploads/2018/08/leelikesbikeslogoheader.jpg
0
0
leelikesbikes
https://www.leelikesbikes.com/wp-content/uploads/2018/08/leelikesbikeslogoheader.jpg
leelikesbikes
2015-07-07 08:44:01
2015-07-07 08:48:25
Power testing: in two sessions or all at once?