End of season power testing for Lee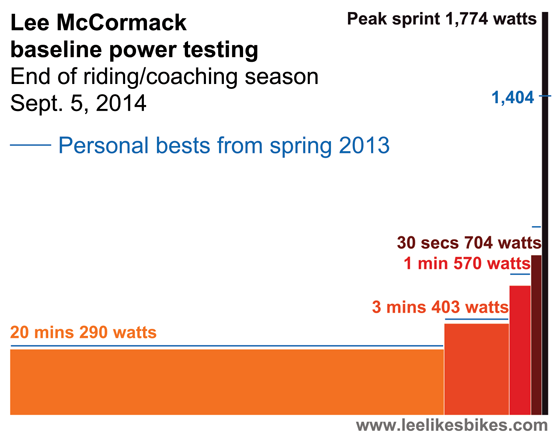 Yesterday I put Coach Kevin Stiffler through the gauntlet: 20-minute, 3-minute, 1-minute, 30-second and peak power tests — all on one sitting. This test is tough. Truly miserable.
Fair is fair.
---
I did not plan this — I'm tired from lots of coaching plus two back to back weights and hill-climbing sessions — but Kevin got me thinking about it, and it's time to lay down the baseline numbers, so …
The protocol
Courtesy of our friend (and my fitness coach) Lester Pardoe and the sadists at Boulder Center for Sports Medicine. This tests the whole range of energy systems, plus endurance and toughness. How hard can you sprint — after more than an hour of punishment?
This is a certain cure for stress and anxiety. There won't be anything left in you but love.
• Warm up 15 minutes. Start easy and build to threshold, with some bursts mixed in.
• 20 minute time trial. Record average power.
5 minutes easy
• 3 minute time trial. Record average power.
5 minutes easy (not enough for full recovery)
• 1 minute time trial. Record average power.
5 minutes easy (not enough for full recovery)
• 30 second time trial. Record average power.
5 minutes easy (not enough for full recovery)
• Full-out sprints for just a few seconds each. Record peak power.
A couple minutes between each sprint, keep sprinting until power starts to drop.
I put a moto movie on the 30-inch computer display and got to work.
Results
Age: 45
Body weight: 175 pounds
Warmup felt good. Unlike Kevin, I wear Lycra for this adventure.
20 minutes – 290 watts average
I started at 300 watts, which would be a PR, but at 10 minutes it got hard. By 15 minutes I was just hanging on.
Heart rate settled to 160 bpm, which seems to be my red line.
I normally lose fitness during the riding/coaching season, so I'm happy with 290 watts.
3 minutes – 403 watts average
Youch! This is always the hardest one. Massive loss of power as I went.
Heart rate 171 at the end. That's 97 percent of my theoretical max.
Feeling pretty woozy.
1 minute – 570 watts average
Started so heroically, then … the … legs … just … wouldn't … turn.
Yep, OK we're tired over here.
30 seconds – 704 watts average
Dumbass started at 1,039 watts then blew up.
How the hell am I gonna sprint now?
Peak sprint – 1,774 watts max
Wow! SUPER STOKED! My previous best on this trainer was 1,404.
The sprints went 1,039 (wrong chainring), 1,292, 1,667, 1,774 then 1,313.
Lee Likes Infographics: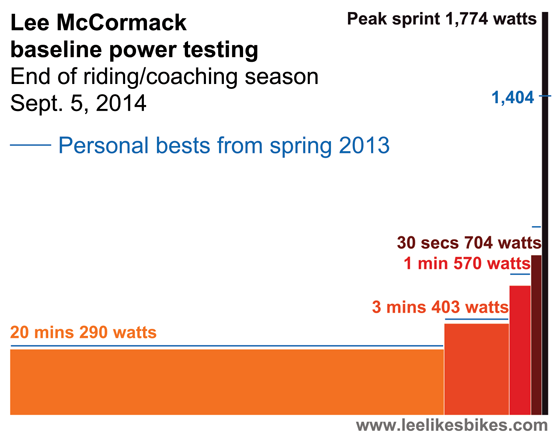 The 20-, 3-, 1- and .5-minute results are what I expected. Not terrible, but not peak. This time of year I'm not following a structured training program with planned hard days and easy days. I'm teaching most days, doing strength every day, "training" when I can and basically gettin'er done. I expect to lose fitness compared to spring when I'm fresh off Pump Up the Base and Prepare to Pin It.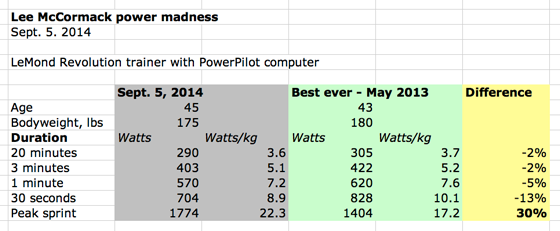 My watts/kg show what I've always known: I'm a decently good sprinter and an extremely so-so climber. But: I suck way less than I used to, and I'm having more fun than ever.
The sprints! 1,774 watts was surprising — and awesome! I braced my shoulders and hips the way I've learned from Dee Tidwell at Enduro MTB Training, and I think that helped me find the extra 30 percent. I've done a basic version of Dee's program every day since April 1, and it's making me much more stable, less miserable and more rugged. Brace your shoulders, brace your core … and BAM!
The good news
I'm getting older and my body is not getting more awesome, but I'm riding decently and having so much fun! I'm ending this season fitter than last season, and the previous one … and the one before that. This winter, I'll try to get even stronger. I really, truly believe in:
• Pump Up the Base for base fitness, pedaling technique and sprint power. I do this each winter.
• Prepare to Pin It to build overall badassery. I do this each spring. As much as I can, I fit in the crucial workouts (red intervals!) during the summer.
• Enduro MTB Training for overall stability and strength. I've only done remedial exercises to help my broken body, but they're really helping.
• F6 for bike-specific mobility. I still do a lot of these movements, and I teach the crucial ones in my clinics.
What are your plans this winter?
When you're training and practicing, be systematic.
When you're riding, forget all that stuff and PIN IT!
Lee
---
Know more. Have more fun!
Join the leelikesbikes mailing list:
---
https://www.leelikesbikes.com/wp-content/uploads/2018/08/leelikesbikeslogoheader.jpg
0
0
leelikesbikes
https://www.leelikesbikes.com/wp-content/uploads/2018/08/leelikesbikeslogoheader.jpg
leelikesbikes
2014-09-05 15:06:27
2014-09-05 15:25:21
End of season power testing for Lee