How to ride a 29er fully on a pumptrack?


Hi Lee,
Reading your book on MTB skills and have just taken the plunge and swapped out my Stumpy Elite 26 inched with a Stump Comp Evo 29er (arrives next week).
Thing is we have a nice pumptrack near us and i still want to ride it with my two boys.
It got me thinking that there's going to be some differences now that i'm on a 140mm travel 29er! Any suggestions would be welcome – I'm guessing I can't be the only person in this situation 🙂
Cheers
Jase
---
Hey Jase,
Thanks for writing.
In my skills classes, I ride a lot of pump track on my Stumpy 29 Carbon "S-EVO." This bike has a Fox 34 with 140 mm in front and a Fox RP23 with 130mm in back. Carbon Roval all-mountain wheels and XTR components make for a super sweet and pretty burly machine. While the S29 doesn't rail pump tracks like my P3 or even my Stumpy 29 HT, it does just fine.
Bigger wheels dampen the pump effect, but not as much as more suspension does. Some tips for pumping with big wheels and big suspension:
Pick the right track. With big wheels, bigger/rounder shapes are even more important than with little wheels. Well, big/round shapes are always good: that's why we build our tracks the way we do. A track with abrupt surfaces will be challenging on your big bike. At Valmont Bike Park, the upper pump track is more 29 friendly than the lower one.
Optimize your cockpit. Pumping your 29er trail bike is gonna require maximum range of motion. Put on a shorter stem. I run a 50mm Shimano PRO DH stem with 30-inch Shimano PRO DH bars. Drop your seat! The Specialized Command Post is light and reliable. A quick release lever is fine. A hex wrench works too.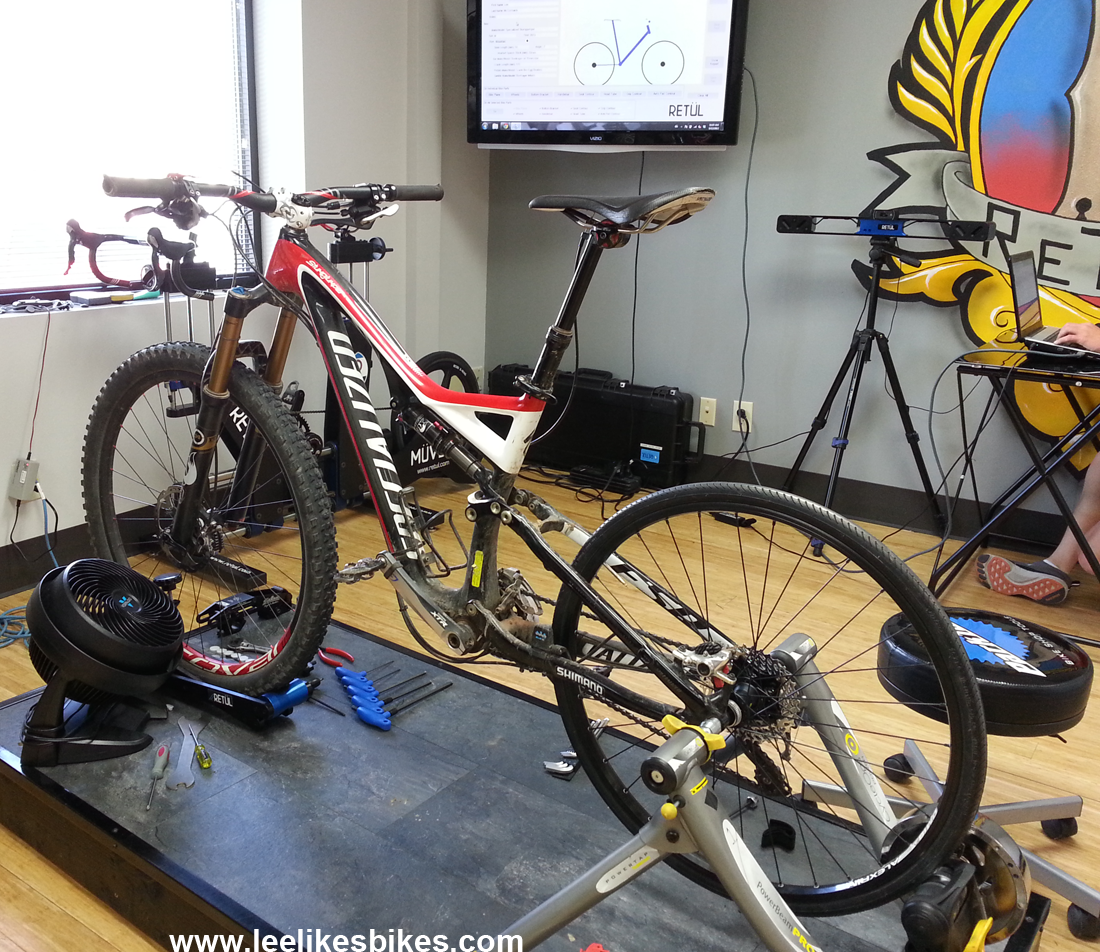 The Shimano PRO DH cockpit isn't approved by bike fitter Retul for pedaling in their studio, but it feels great on the pump track.
Add pressure. Not to your suspension; I think you should run standard sag so your bike always feels the same. To your tires: I run ~35 psi on trail and 40+ on the pump track. This is less about rolling speed and more about stability in the corners.
Learn your timing. A bike is a spring, like a trampoline. The bigger the trampoline, the slower the timing. A 6-inch 29er has much slower, more deliberate timing than, say, a DJ hardtail. The bigger wheels slow the timing too. If you don't know what I'm taking about, try riding a 20-inch BMX and see how quickly you get behind the wave.


Wait for it … edging along the spine before diving into the left.
Learn to cruise. For endurance pump track madness, learn to settle into the bike and push against your low speed compression damping. How much effort does it take to give you some pump but not blow through the travel? This is great practice for trail riding.
Turn your dials. Feel free to increase compression damping, aka ProPedal. This will give you a firmer connection to the track. However, I rarely do this because 1) I want to learn to ride the bike in trail mode, 2) I always forget to put the setting back and 3) if I push hard enough, I smash through the platform anyway, and I don't like that breakaway feel.
Smash it. If you want to go fast, you have to push through all that suspension and find the ground. This takes perfect timing and lots of power. If I'm really getting after it, I'll use almost full travel on the pump track.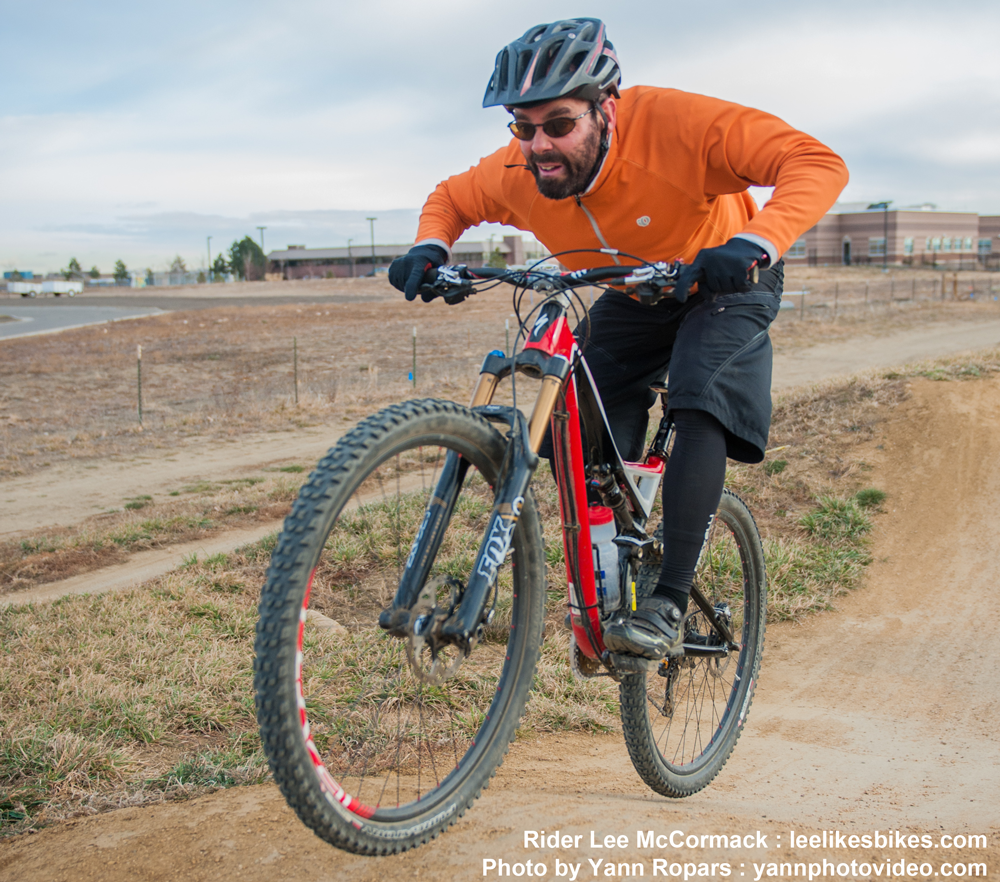 Completely light, preceded by profoundly heavy. Photo by www.yannphotovideo.com.
Learn to manual. There will come a time when you don't have time to drive that bike into every trough. That's a good time to throw in a nice manual. Jumping is cool, too, but hard on the big bike unless you have lots of speed.


Manual/jet hop on the slalom track, but you'd do the same on a pump track.
Dial in your kung fu. A big, hoopty bike absorbs a lot of your energy. The better your balance and the cleaner your movement, the more energy you can drive into the backsides and the more you can erase the frontsides.
It's all about the turns. Keep in mind that the first half of every berm is a long, mellow backside: a perfect place to crush with your monster bike. On most pump tracks, you'll generate more speed in the turns than on the bumps.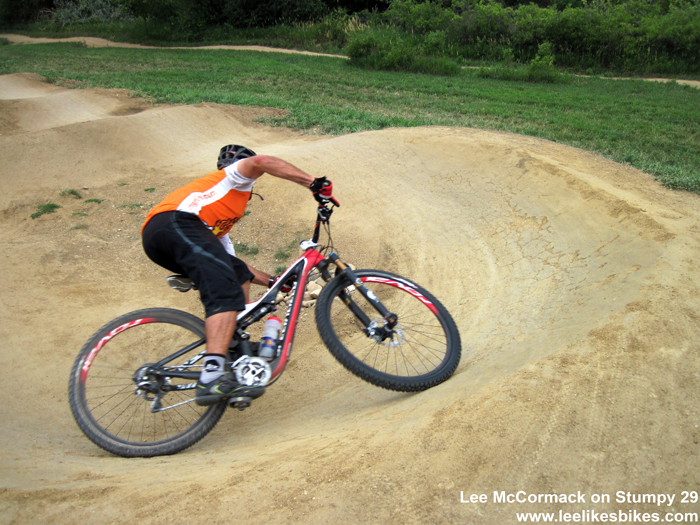 Low and driving into the pedals. Photo by Heather Irmiger, who was currently learning to pump her 6-inch 26er. This season she crushed the U.S. enduro scene.
Try the following idea at your own peril:
Get a custom tune. Out of the box, a stock Specialized (or any major bike) is gonna ride very well — exactly how its designer intended. Most 5- to 6-inch 29ers try to strike a balance between pedaling efficiency and trail plushness, and there's a good chance aggressive pump/jump will push through the travel. The stock Stumpy suspension is awesome for all-around fun. However, I'm currently experimenting with a firmer tune.
My tune: I freakin' love ripping trail, but most of my riding is at Valmont Bike Park, which is all about pumping, railing and jumping. In the 34 fork, we added spacers under the air cap to make the spring rate more progressive. In the RP23 shock, we added boost valve pressure. This makes the damping stiffer throughout the stroke, but lets the suspension blow off when I hit something hard. So far the bike feels way more lively in the jumps, and moderate pumping feels good. But, when I pump hard or press into the face of a jump, I smash through the platform, and — like I said — I don't like that breakaway feel. Also, the bike doesn't flow through natural gnar as smoothly. This was an interesting experiment, but I want to restore stock settings.
Leave your bike alone. Learn to ride it.
Braaap!
Lee
By the way, a Stumpy 29 HT is insanely fast for BMX and pump: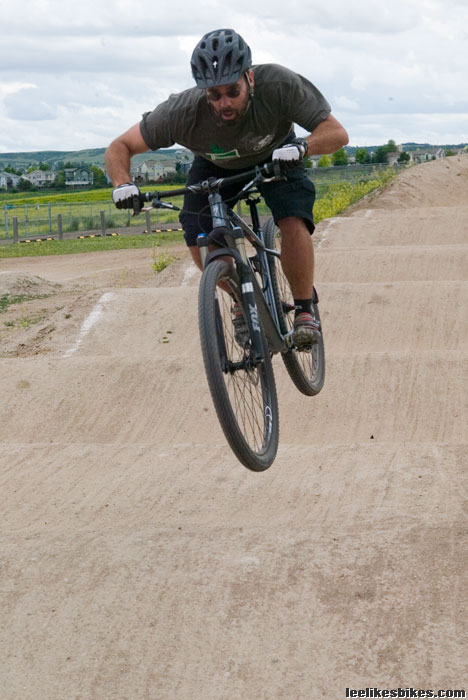 ---
Know more. Have more fun!
Join the leelikesbikes mailing list:
---
https://www.leelikesbikes.com/wp-content/uploads/2018/08/leelikesbikeslogoheader.jpg
0
0
leelikesbikes
https://www.leelikesbikes.com/wp-content/uploads/2018/08/leelikesbikeslogoheader.jpg
leelikesbikes
2013-11-07 15:39:49
2013-11-07 16:00:00
How to ride a 29er fully on a pumptrack?