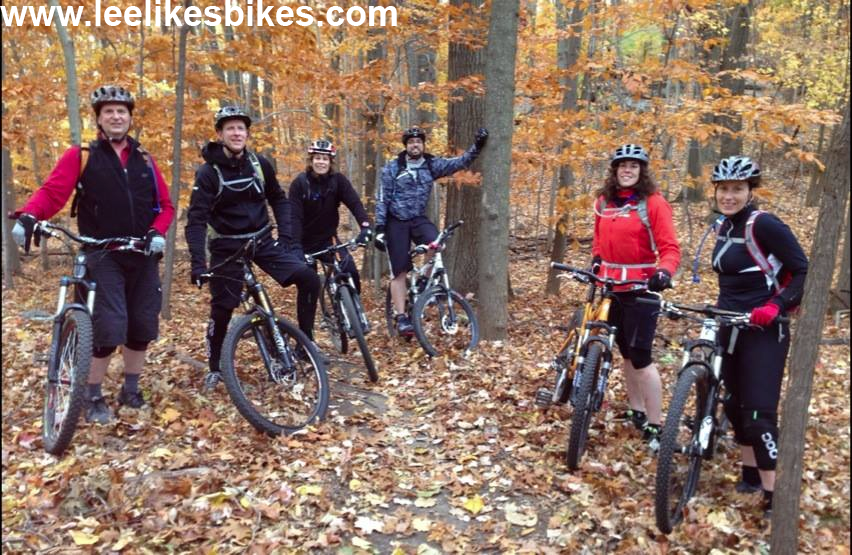 Last Sunday's clinic in Tarrytown, NY was windy and cold, but everyone held strong and had fun.
Check out these comments from stoked kung fu students:
---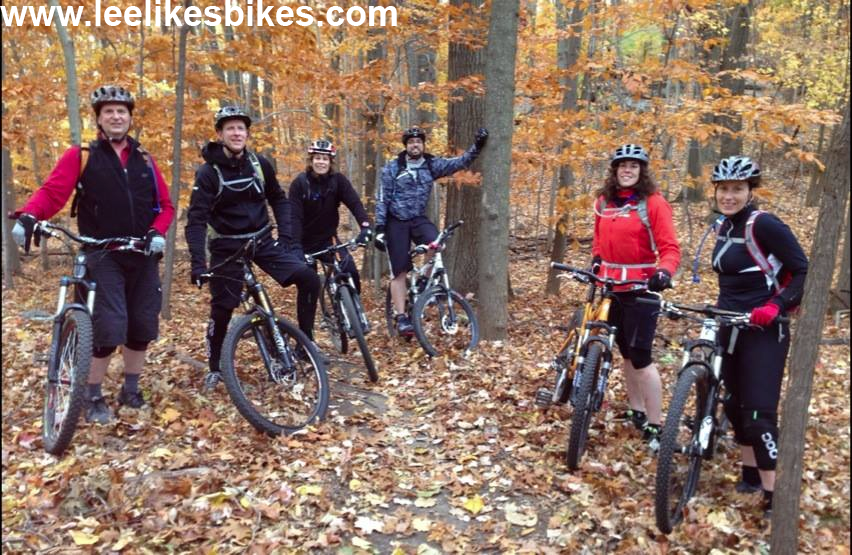 Jim, Jerry, Trish, Nick, Andrea and Heather. We covered core skills in the Marriott parking lot then sessioned local trails.
Hi Lee,
Just a quick note to say thanks for a great day of mtb training on Sunday. It was an invaluable experience and one that I wish I had the benefit of many years ago.
My sister (Andrea) was riding noticeably better by end of day and hasn't stopped talking about how much she learned since.
My brother (Nick) was so sore he couldn't move on Monday which I thought was pretty telling of how hard he worked.
Thanks again and I will keep an eye out on your site for East Coast sessions next year. Also will start spreading the word in Upstate NY and let you know if we have folks that would be interested in your training.
Have a wonderful holiday season Lee and thank you again!!
Trish
— — —
Lee! Man that was a life changing day yesterday. I'll be writing everything down as I keep thinking about all that we touched on and can't wait to get back out to start making it second nature – and I'll change out my Yeti's stem.
We'll definitely be crossing paths again somewhere down the line.
Be well and thanks again.
Best,
Jerry
— — —
Lee,
I can't tell you how much fun I had and how much I learned at Sunday's session. I mean that, I've tried to write this several times, but I actually can't express how much fun I had and I much I learned.
You had really simple, easy to get, explanations and descriptions. I loved the enthusiasm you brought and the people that came to the camp were great (are all mountain bikers awesome?)
I've been riding mountain bikes for nearly 20 years, I've been to a few other camps over the last decade or so and I learned tons in a one short day from you. On the trail ride, I rode the areas we sessioned with new skill and confidence. … I just had the first hint of success on pumping flat turns (and I've definitely tried before) … Riding off "drops" that are quite a bit larger than I would have … The idea of staying in a balanced position, and not doing so much with shifting my weight is new. Lots and lots of things to work on.
I was crazy happy all evening and I woke up crazy happy the next day. It was a fantastic way to spend the day!
My only disappointment is that it ended too soon. After the camp I felt happy and sore! The experience was one of my favorites that didn't have my family in it.
I hope to see you again!
-Jim
— — —
Learn more about skills clinics with Lee.
Yes, I travel. Email me and let's work it out.
---
Know more. Have more fun!
Join the leelikesbikes mailing list:
---
https://www.leelikesbikes.com/wp-content/uploads/2018/08/leelikesbikeslogoheader.jpg
0
0
leelikesbikes
https://www.leelikesbikes.com/wp-content/uploads/2018/08/leelikesbikeslogoheader.jpg
leelikesbikes
2013-11-08 09:32:03
2013-11-08 09:42:19
Success in Tarrytown, NY