Hello Lee,
This weekend I went to Rockville in California. There was a really cool jump there, and I took a video of it (link below). Can you watch the video and tell me if there is any thing I need to work on?
Ryan P.
---
Hey Ryan,
I'm violating my no-free-coaching policy because 1) you've signed up for a class (not your fault you couldn't attend) and 2) you're a kid. Gotta help the kids!
OK, let's watch:
Pre-flight questions
Jumping (or sucking up a jump) should be a deliberate act, not an accident.
What is the goal of this jump?
Are you trying to boost it to clear a gap or reach a distant landing?
Are you trying to absorb it so you stay close to the ground?

Both options are viable depending on the situation. On this particular jump, you can go either way.
I teach riders how to fully absorb (aka pump) bumps as well as fully boost (aka jump) them. In real life on most features, the correct solution is somewhere in the middle.
What was good
It looks like you had fun, and you didn't get hurt, so that's a huge win!
Your overall balance looks great. You didn't lean back or get bucked forward. You stayed in the middle of the bike Nice.
You brought the bike toward you in the air then extended for landing. You could have done this more, but any movement is better than a dead sailor (when you're static in the air).
What can be better
Commit. Are you going to boost it or suck it up? To my eye, you sort of rode into the jump and waited for something to happen. You neither boosted nor sucked. When you're passive like this, it's easy to get knocked off balance (and get hurt). Practice committing to full boost, full suck and all points in between. This jump will feel even sweeter when you land a few feet farther down the backside.
Match angles. When you land, especially on a backside, your bike's angle should match the ground's angle.
When I teach people how to jump
I follow this protocol — with tons of success.
1. Dial in your riding positions. Notice I used the plural. Jumping is dynamic, so we have to evolve beyond "attack position" to the entire range of positions.
2. Make pumping automatic and perfect. If you imagine pumping a huge roller, a jump is the exact same shape — but without the top of the roller. We don't take to the air until you've proven you can make all the needed angles on the ground.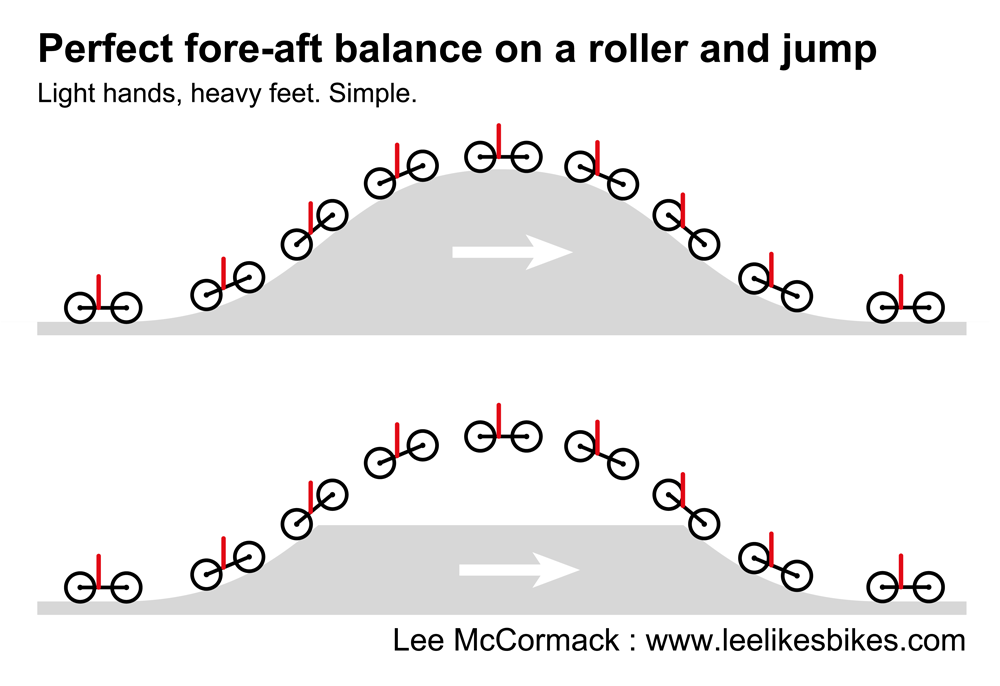 3. Drop smoothly. This is technically very simple, but some riders (mostly adults and smarter kids) freak out in the air. We apply the pump dynamics off the ground. When landings are consistently perfect, we take the next step.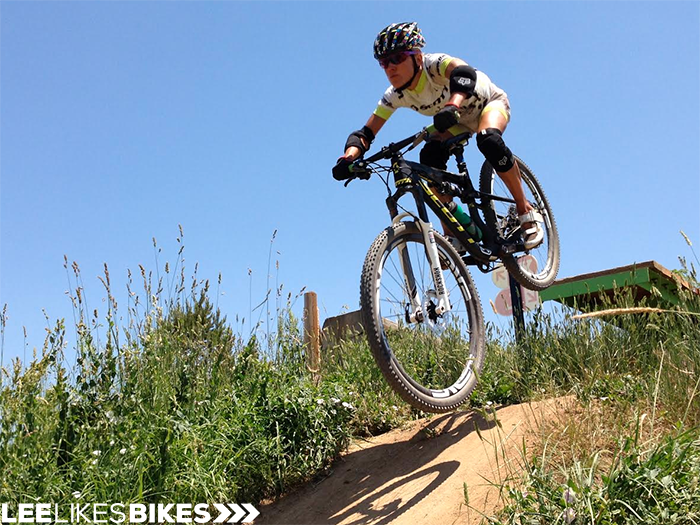 XTERRA world champion Lesley Paterson: perfect off Valmont Bike Park's large slopestyle drop.
4. Learn to jump. We start on something like your Rockville jump, or a nice little tabletop, then we progress gradually. Once the physical skills are in place it's a matter of managing the lizard who lives in the bottom of your skull.
Maybe I'm old and uncool, but I didn't try this until I knew I'd be perfect. Read Living in the sweet spot.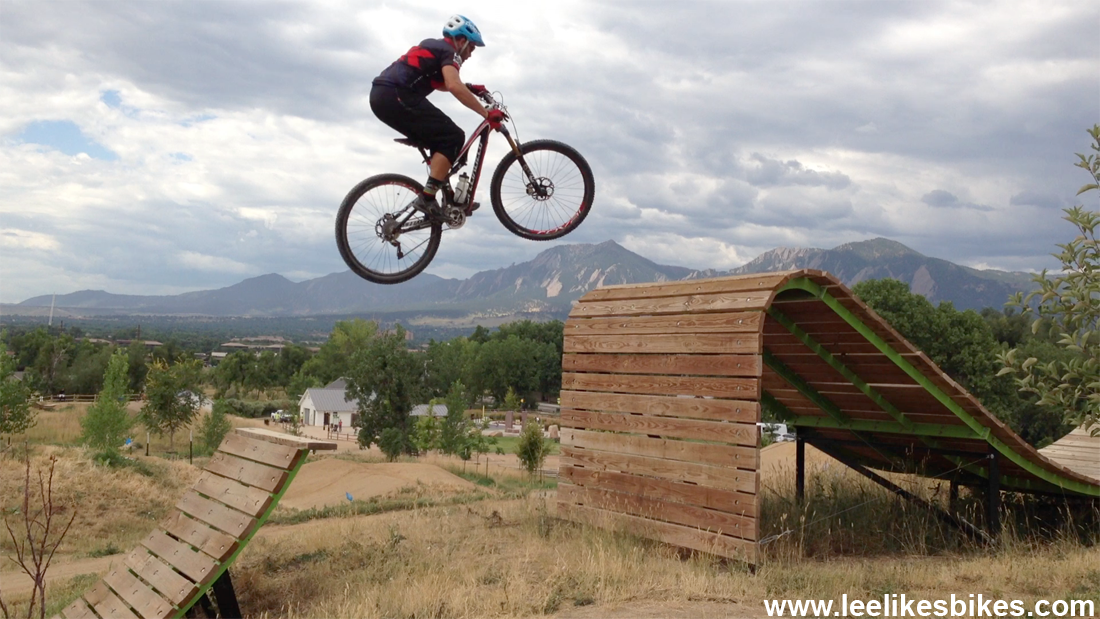 Learn how to jump safely
We hold in-person clinics all over the country, and I'll be in NorCal this spring.
You can learn this skill remotely. Check out the LLB Online MTB Master Class or, for a more custom program, LLB Remote Coaching.
If you can't do that, check out the book/ebook Pro BMX Skills. It has tons of detail about pumping and jumping.
Be careful and have fun!
Lee
Speaking of Rockville, my buddy Jim Norman and I used to ride there all the time. In this 1999 video — shot on a huge VHS camera! — Jim was a top semipro downhill racer. Jim's now one of the geniuses at FOX.
---
Know more. Have more fun!
Join the leelikesbikes mailing list:
---
https://www.leelikesbikes.com/wp-content/uploads/2018/08/leelikesbikeslogoheader.jpg
0
0
leelikesbikes
https://www.leelikesbikes.com/wp-content/uploads/2018/08/leelikesbikeslogoheader.jpg
leelikesbikes
2016-01-29 09:57:09
2016-01-29 10:05:51
How is this jump?